It's widely known that I love hats, and ANY book that brings more folks to the hat-loving fold is absolutely dandy with me!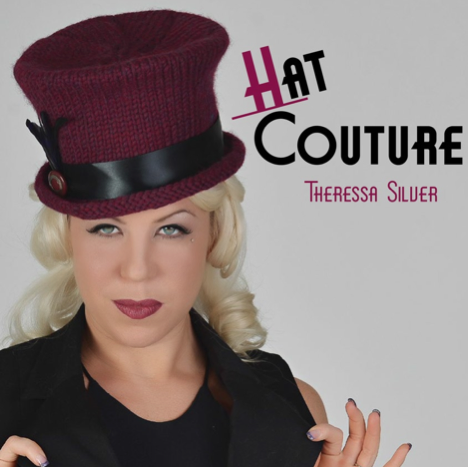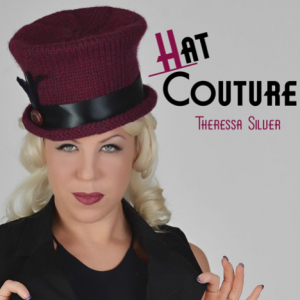 Cooperative Press is releasing a new book, Hat Couture, by Theressa Silver, which contains 13 hat patterns, all worked up in Cascade wool yarn.
I interviewed Theressa about her upcoming book and her designs process, here is the text of our chat:
What is it about hats that compelled you to put together this collection of patterns.
I've always loved hats, but the idea for making fancy knit hats came about 3 years ago when a knitter friend asked me to join her in a retail gallery show.  She makes purses and suggested I could make hats.

Since this was a fairly upscale place, I wanted to make something that was more than just knit caps.  I had a lot of fun playing around with shape, structure, and embellishment and came up with a collection of hats for the show that became the inspiration for the book.
Was there a certain technique or point of view about hats that you would like to share with your readers?
I'm having a blast playing with structural, 3-dimensional shapes.  I create them by choosing yarns with lots of body and then knitting them at a very tight gauge.

Making knit objects that stand up on their own is really cool!  I like knitting things that make you do a double-take.  I mean, who expects a knit top hat?
What is your millinery background?
None, other than looking at a lot of hats.  I do have a sewing background, but really I taught myself by trial and error.

I'd love to take a millinery course and learn some of the tricks of the trade.
What millinery techniques are used in the book?
Shaping the hats during the blocking process has quite a bit in common with shaping a traditional millinery hat over a hat block.

I also used buckram to create a frame for one of the hats.  But mostly it's about capturing the feel of classical millinery in the shapes and decorations of the hats more than actually trying to transfer techniques.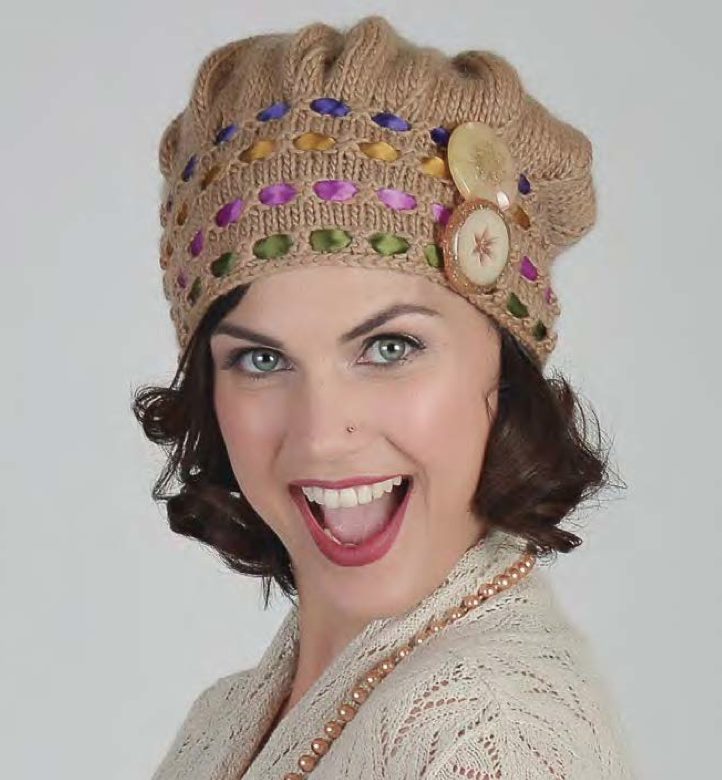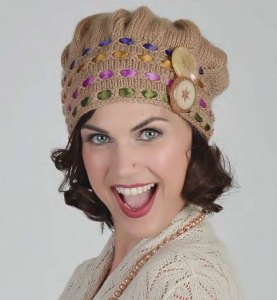 What is it that you consider has raised your knit hats to a 'couture' level?
Each one is lovingly hand made, that's "couture," right?

Seriously, I wanted to distinguish my hats from the more typically casual knit hats.  I love a good slouchy beret or cozy beanie and wear a lot of them, but these are special, more elegant.

I encourage the knitter to indulge in lavish materials for the embellishments.  It's about taking the knit hat to the next level.
Do you have plans for any future books?
Theressa Silver

I have a couple of ideas, but nothing for sure yet.  There will be a piece coming out in Knit Edge Magazine Issue 3 discussing this knitting tight technique and applying it to the construction of knit bowls.

I'd like to curate a group book next.  I like the idea of blending many artistic visions into a coherent whole.
GIVEAWAY!
If you enjoy creating unusual knit hats, I feel that you'd really enjoy this book!  I'm giving away an ecopy [pdf] of Hat Couture to a lucky [random] reader who leaves a comment answering the following question:
Have you ever worn a hat specifically for an Easter Parade, and if not, would you?
I can't wait to read your comments – and good luck!  I'll declare a winner by Tuesday, 3/26/13.
If you're interested in reading about Theressa's tight-knitting technique in Knit Edge magazine, a new online-only magazine brought to you by Cooperative Press, you can get $2 off a subscription by using the code "modeknitsilver" when you subscribe.