Busy, busy, busy! But busy is DEFINITELY better than the alternative!
Virgo's Horoscope (Aug 23 – Sep 22)
by Rick Levine
Sunday, April 7, 2013 – Running willy-nilly into the day by doing one thing after another may not be the best use of your vivid imagination today. You are in the midst of a busy time, and the more structure you give to your calendar, the more time you have for fun and relaxation. You won't have to sidestep any of your responsibilities, but you need to cultivate your creativity if you want to do it all.
Well, I don't know about 'doing it all' – but I certainly want to get it ALL done!
Oy, it's been an insanely busy time, a good time, but very busy.
Spring is always a little crazy because the magazines are preparing their Fall & Winter issues, which means a lot of colliding deadlines.  I'm sure that as crazed as I feel with 16 designs on the needles right now, the yarn companies are feeling even MORE pinched for time!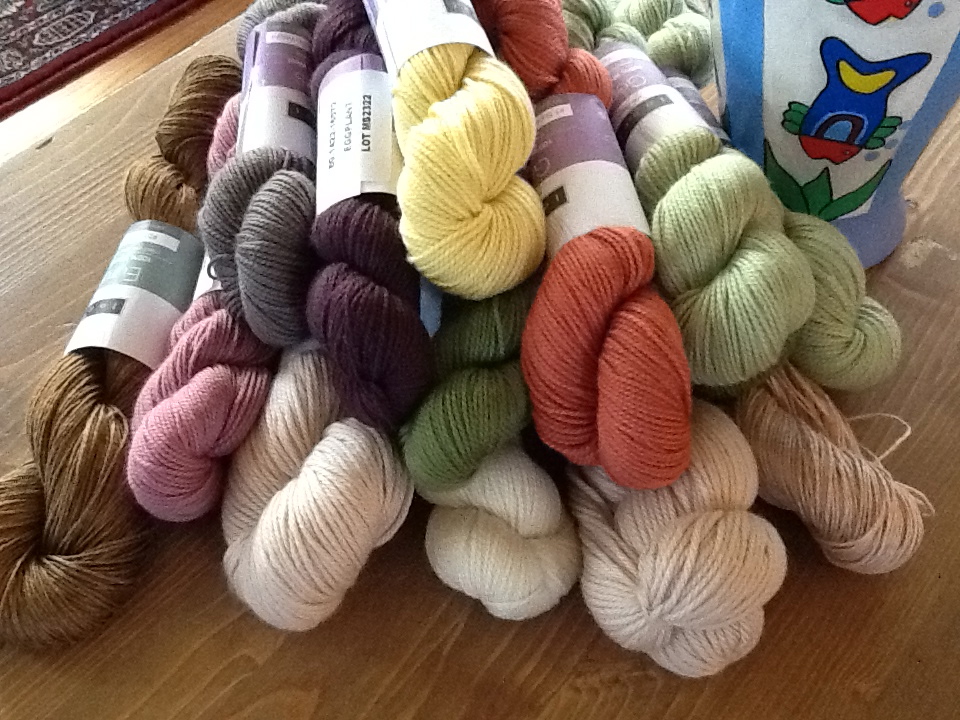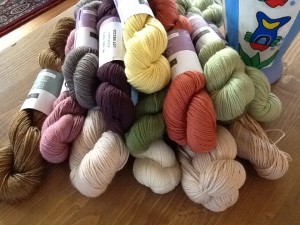 Every time the mailman comes by with another package I feel a mix of excitement (oooh, what yarn is it THIS time!?) and dread (oh, I hope they sent a yarn that's easy to work with!)
The kids are totally OVER rolling yarn for me, it's no longer fun or profitable at 25¢ a ball.
Yarn selection is a huge part of any design, and a lot of knitters would be interested to discover how little control designers have over most yarn selections.
The Dream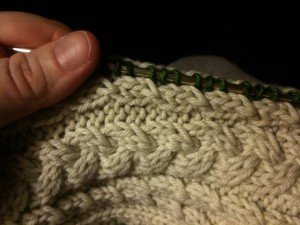 A designer sketches up a lovely sweater, drops their hand into a basket at their side and pulls out the PERFECT yarn for the project, knits up a complete and perfect swatch in the first attempt, sends it off to an editor who says, "YES! We MUST have this!" and the perfect yarn and lovely sweater are married in a public ceremony on the pages of your favorite knitting magazine.
The Reality
A designer gets a call for submissions and after perusing the styles / colors / themes for the specific issue at hand has a few different ideas floating around in their head.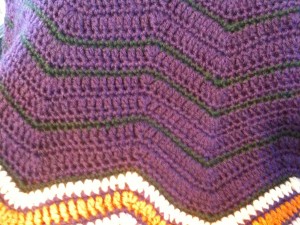 They do about a dozen sketches, each one with a variation on the theme of the issue, until some of them resonate with the designer.
The designer riffles through their working yarn collection (I keep my yarns in separate IKEA containers in bookshelves in my basement – er – office).  Every now and then I have to 'harvest' yarns that are no longer available (it's useless to swatch something for a magazine if the yarn isn't going to be available!) and contact yarn companies to send me a few balls of their new yarns.
This has become harder as more and more folks seem to be entering the designer fold and ask yarn companies for yarn.  Some companies outright refuse to send sample balls any more, they've just been overwhelmed with yarn requests.
With a selection of several yarns that MAY work for the sketch, the designer begins swatching.  So many elements go into this part of the process; is the motif a repeating one? If so, how many stitches repeat? Is it going to be too hard? Too simple (boring)? Is it memorable?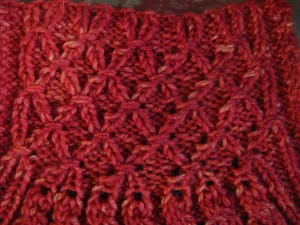 As the swatch is worked, notes and mini charts are sketched up.  I can't say how many times I've worked up the PERFECT swatch only to be faced with it in future with NO memory of how I actually created that pattern.
These days I draw a chart either in illustrator, or very quickly on my ipad using Procreate, then save it with a scan of the swatch in my database so I can access it (and remember it) easily.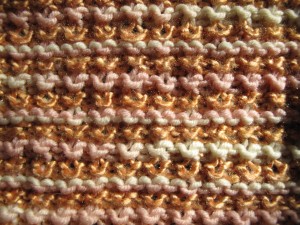 I put the swatch and sketch together, along with any design notes, and send it off to the editor. 
The Dream
In the perfect world the design is accepted, the editor contacts me and asks me which yarn I'd like to use.  I suggest a company, they say, "Perfect!" and the yarn arrives within the week and the sweater's finished by the following Friday.  This happened recently with a design in Lorna's Laces, and I was the happiest girl in the Twin Cities!
The Reality
In the real world the design may be accepted, at which point the editor may or may not contact me to ask my advice on yarn.
The editor must juggle the need to use the yarns of advertisers (it only makes sense!) and the need to use a wide variety of yarns in different fibers, price ranges, textures, etc.
Plus they have to fit whatever yarn they choose into their issue palette (finding the right yarn in the right color is harder than one would think)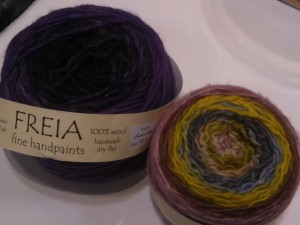 Sometimes an editor will just go with what I've suggested, which is great – and also forces me to OWN the yarn choice and make it work no matter what.
Other times the editor will suggest a different yarn, and contact me for my opinion and to help with color selection.  This is always welcome, I love having some input into the final design.
But often a box of mystery yarn will just appear on my doorstep, with no hint of which garment, issue or magazine it's to be used for.  Emails are sent, clarification is achieved, and sometimes it's a shock to see what yarns/colors have actually been chosen for a garment.
I've never been in a position where I thought the chosen yarn wouldn't work at ALL, but I have been close (not for a long time, though – thankfully!)  Once two different yarns arrived for the SAME garment when wires were crossed at the magazine and two folks did the sourcing. Hilarity ensued.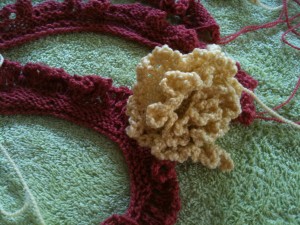 The Dream
Back in my perfect world, I have PLENTY of yarn in the right color, all dye lots match, and I'm able to knit up the piece so quickly my needles catch fire.
The Reality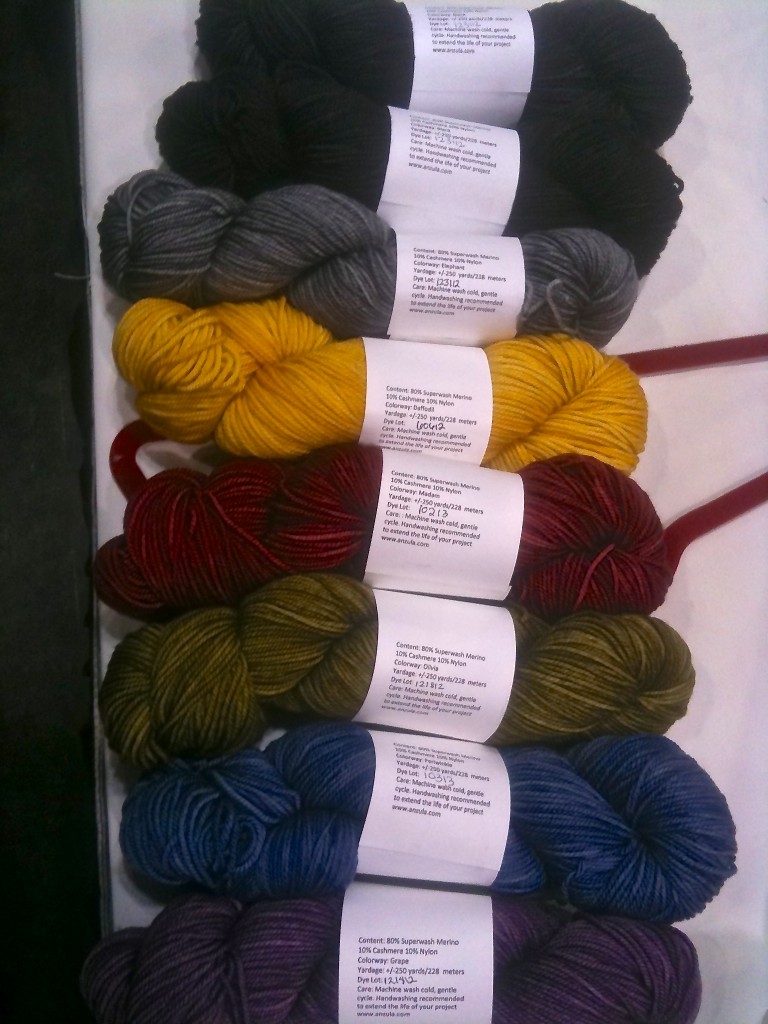 In the real world, often I barely have enough yarn for some projects (this is as much my fault as anyone else's because often I come up with the yarn requirements – something I'm not as good at as I'd like…) 
There may be dye lot issues (why this should be I do not know, but it's happened three times in the past month – it's an annoyance) and I either have to get new yarn all in the same dyelot, or deal work around the problem in some creative way (sleeves in one lot, front in another, back in a third – the difference is usually so small that it's not noticeable and can be easily corrected in pre-press.)
And that, my dear readers, is the yarn acquisition portion of a commissioned hand knit/crocheted design.
Next I'll write about the process of actually knitting up a sample garment, and keeping track of the instructions/changes as I work through the design.