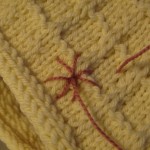 It's been an insanely busy few months, I sold a huge number of designs recently, and I've been knitting most of them up myself (I'm crazy fast, and I've been dealing with communication issues [my hearing is worsening, it makes me shy to communicate with anyone on some days] which makes me hesitant to contract knitters right now)
Things are flying off my needles and into the US mail so quickly I've broken three circular needles this week – no exaggeration! I'm very hard on my needles, this week is proof.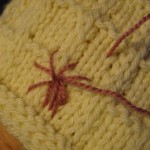 Six of the projects are for a magazine that's under wraps, so I can't speak about them except to say they're lovely. Two are men's pieces and embroidery is involved in several of the women's pieces.
Pansies and a sort of Art Nouveau vine are the embroidered motifs for a matching set – here's a brief tutorial on mistressing* a satin stitch flower which can easily become a pansy (or a rose, or daisy, or some other flower!)
You can see that I used my favorite technique of creating a knitted grid of rev St st rows and slipped st columns,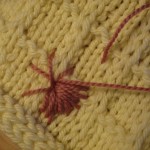 This makes placement of the embroidered motifs much easier!
After the satin stitch pansy is finished, I outline it with surface chain embroidery, then I use the ends of the outline thread to tie a few French knots for some texture.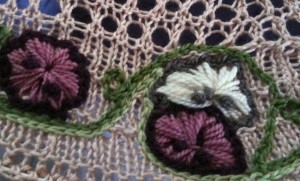 Spending so much time on knitting, I forget how much I love embroidery.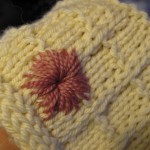 These projects are for an issue of Piecework, so I'm certain their readership will have no problem with some simple satin stitch, chain stitch and French knots!
Capelet
I'm also working up a few pieces for the next issue of Jane Austen Knits, I feel so fortunate to be part of this great collection again!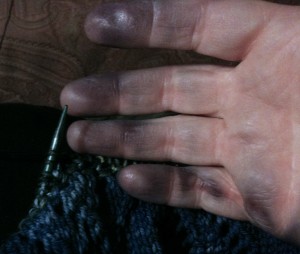 I just finished a short capelet using A Verb For Keeping Warm's lovely Annapurna in Indigo Blue Sky and Magic Bean.
The green ruffles look like lettuce, and the blue reminds me of Peter Rabbit's coat, so I'd love it if they called this design "Soporific" (but it's not going to happen!)
As with most true indigos, this one bleeds. (It washes off, though, making the suds in the sink a beautiful blue color…)
It was a delightful knit, making me feel that I should work up more shawls.  I also am GIDDY that I don't need to work up multiple sizes!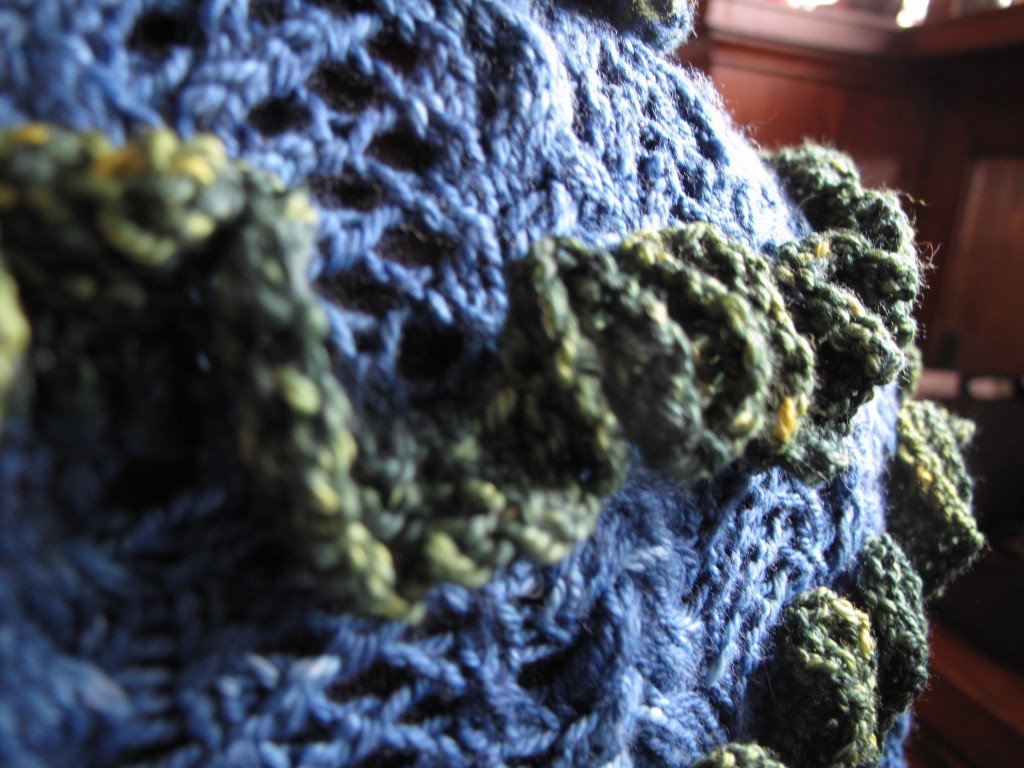 Pelisse
A lovely early 19th C garment, called a Pelisse, is the next up on the needles. I can't show you an image, but here's the extremely amazing yarn (Ensemble and Beaded Silk by Artyarns) that I will be diving into later today.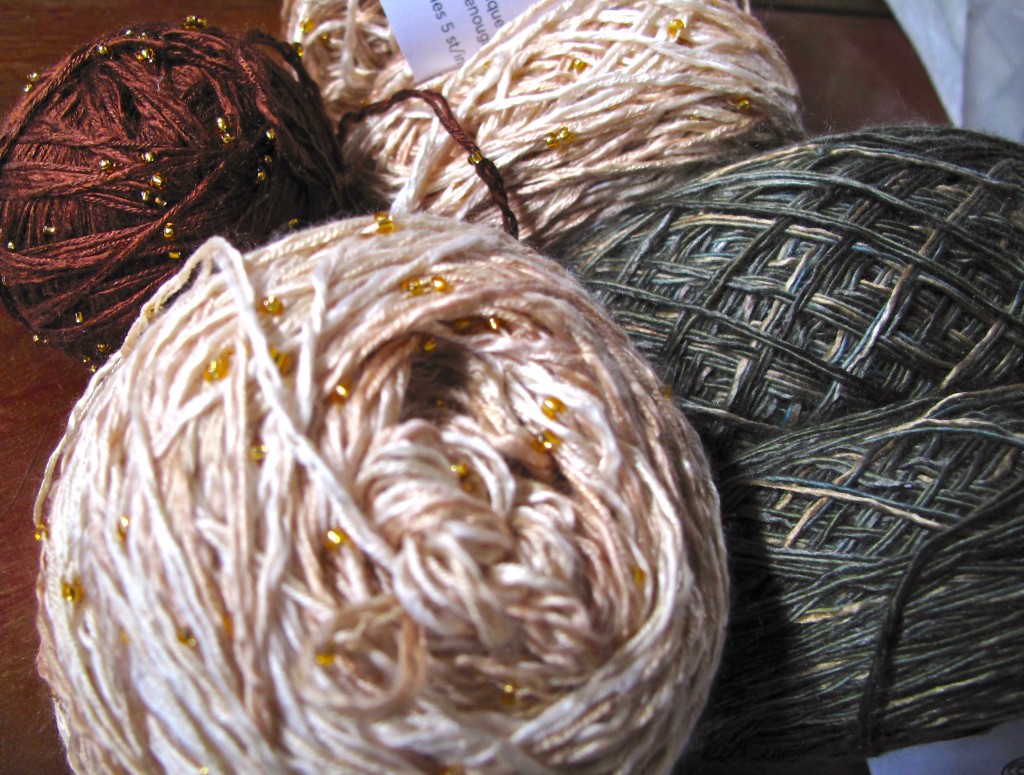 I haven't even opened the box of Sweet Georgia yarn that arrived for a Twist Collective garment, or the yarn for a cardigan for Interweave Knits.
I'm lucky – and how odd it is that while I'm in the midsts of all this work my mind constantly wanders into a place where I feel – well – not worth much.  I think it's the Winter that will not end.
And spending too much time with Twitter & Facebook can cause envy,
there are days when I just turn them off so I don't sulk.
*Yes, I like to use the work 'mistressing' I'm a rebel. And a heretic.