I read a comment recently that "Comparison is a Joy Killer" and I agree.
I spend way too much time comparing my growth as a designer, my abilities, my time, etc., to other folks, and I expect that all of us do that to some extent. Since childhood my most fervent wish (prayer at times) has been that I don't fall short of others.
I came to the conclusion that the only cure for this was to try – and succeed – to drown out the loud sounds of the comparisons.
My own personal 'voice of comparison' sounds a lot like my Aunt Lorraine, a truly sad woman who found joy only when others were sadder than she.
Twitter, Facebook and social median can be hard for this reason – I'm constantly reading about other folks doing great things. And I'm happy for them, and send along my "Go you!" and "Congrats!" messages whenever I can.
I realize that my natterings about my own successes can be causing the same grief, so I try to keep them circumspect and not too braggy. We all deserve our moments in the sun, and we shouldn't hide who we are and what we've accomplished. But we also have to be aware of our luck, good fortune and the fact that the sun may not be shining in someone else's yard today.
So that's my job – perhaps for this week, this year or the rest of my life – to celebrate ALL successes, without falling victim to a comparison trap. It's a game no one can win. Maybe I'll just run away and join a carnival.
My dad briefly ran a carnival after WWII. My dad did a lot of things, few of them entirely sober. I think he was, in no small part, escaping the judgement of his sister – the aforementioned Lorraine.
There's been a recent spate of questions posed to me, in person, via email or on Twitter, about how folks can find my Craftsy classes.
I don't have any.
Stefanie Japel is a designer I admire, and a personal friend. When she started with Craftsy she asked our design group (Stitch Coop) if anyone would be interested in submitting a class, but I had too many other irons in the fire and begged off.
Later they asked me again, and after some negotiation on a topic at TNNA last year, we decided on an intarsia class (not my first choice, I wanted to do a plaid knitting class…)
The first producer assigned to me was very nice, and dealt with my oddities (I can't speak – or rather, hear – clearly on the phone. I get confused very easily when someone calls me, especially if I don't know their phone voice – I'm in the process of acquiring hearing aids, which is just – odd.)
But then my producer was changed and the new producer had no patience with my lack of phone ability, and with lightening speed (or so it seemed to me) I received this email, which broke my heart a little.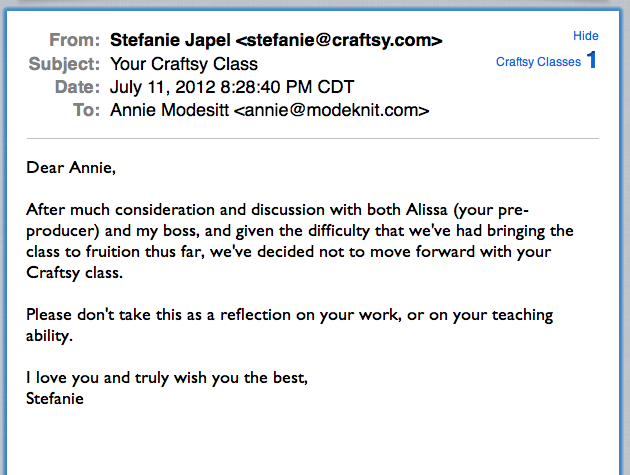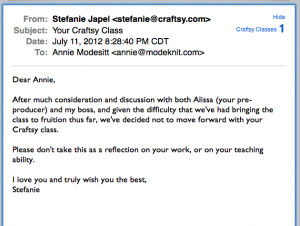 So, the answer is that Craftsy won't have me.
It makes me sad, and the week after I received this email I flew out to Denver to shoot a video for Interweave on Double Knitting (which has been doing really well in sales – yay!) That was a bit of a boost to my bruised ego.
My own online classes continue to do very well, although I'd love to re-shoot them soon with a higher resolution camera so they're better to watch. A project for future! And I'm in the process of offering some classes via Udemy (right now I have a free how-to-knit class up at their website)
So when I see all of the news about Craftsy, the classes my friends are teaching, the Twitter and Facebook posts, I'm both very happy for my friends whose classes are doing well, and very sad that I'm not in their ranks.
I'd hesitated to blog openly about this, but so many questions have come to me ("Why can't I take a class from you at Craftsy?" is the most popular query) that I thought I should try to explain. I hope I've been fair in my post!
And you're always welcome to contact craftsy directly to let them know if you would like to take a class from me via their website.
I don't honestly think it would make any difference, but it would have more of an effect than writing to me to tell me "You should teach a Craftsy class.!"