Saturday I helped out My Friend London at Craftstravaganza in St. Paul at the MN State Fairgrounds. I biked there and home in a chilly wind, but it was worth it for the pain relief!
Sunday I spent Mother's Day with my darling daughter and two great friends at Shepherd's Harvest in Lake Elmo, MN, doing a book signing and making some fun purchases.
I also got to be part of the Homespun Journey Podcast, which was great fun!
It's always great to meet a passionate fiber lover!
My friends Kathleen Pascuzzi and Karen Ryan are so great! As the four of us (Kathleen, Karen, Hannah & myself) sat at the Louisiana Cafe enjoying a delicious breakfast (Hannah's intro to hollandaise sause!) I reflected on how fortunate our family has been in our Minnesota friendships.
Where were Gerry and Max on a lovely Mother's Day? At the TWINS game! They were gifted tickets by another great St. Paul friend, Robin Mayfield
BTW, if you're looking for a compassionate, respectful, brilliant and diligent divorce attorney, Robin's your woman!
I misted up a bit thinking what  friendship like theirs, and London's, has meant not just to me, but to our entire family. It's been six years since we moved here, and the folks who have befriended our family have made our lives here VERY rich and full.
When I wander a craft fair or fiber show, I LOVE to connect with folks who make exceptional things, and I especially love to write about them later. Although, I must admit that I often feel badly when I post about cool makers, KNOWING that I've missed many folks who were also exceptional.
I hate that feeling that my oversight could be taken as a judgement. If you were at either show and I missed you, PLEASE feel free to add a link in my comments to your site!
So, with the caveat that there were probably folks who were doing AMAZING things and I may have missed them, here are some of the cool and beautiful things I've seen over the past two days!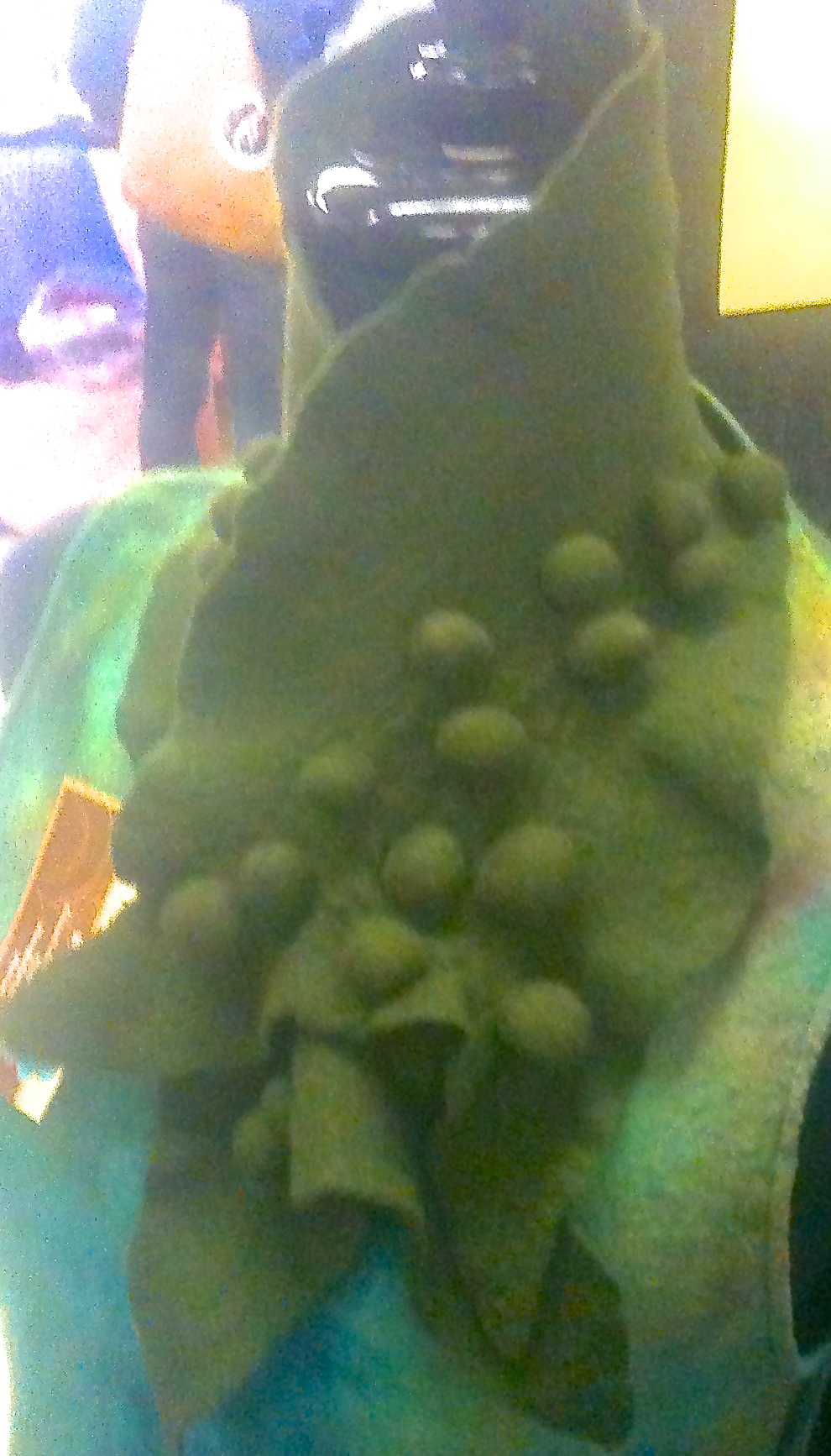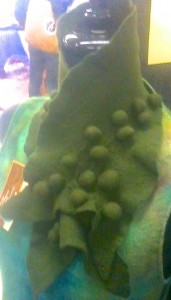 Jill Lynn
Fiber Artist
Jilllynn.com
Jill works with felting, and sells finished items and materials to create your own beautiful felted items.
She was exhibiting at Shepherd's Harvest, and I was in love with her skill, designs and her color choices!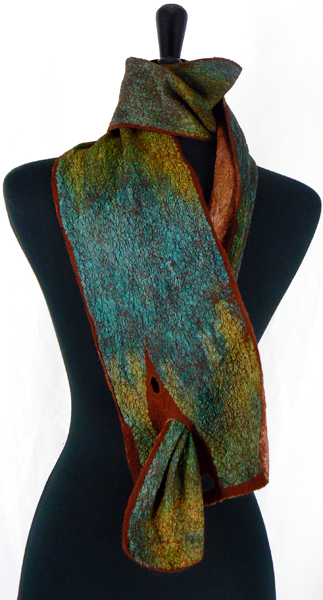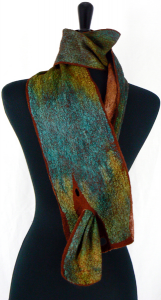 One of her repeating themes was a lovely scarf which looked like leaves folded around a neck, with felted bobbles.
One version was double sided, with two colors and so much depth.
Jill's work was skillful and joyful – it's times like these that I wish I had an unlimited bank account to buy pretty things whenever I see them!
Devin Johnson
MakeShift Accessories
I couldn't tear myself away from Devin's booth at Craftstravaganza, and I wasn't the ONLY one! Many folks recycle industrial items in their art, but I've seldom seen it done with more finesse than in Devin's cuff bracelets.


I have SUCH a love for machined signs – I photograph them wherever I see them (there's a terrific one in the elevator at the Minneapolis Institute of Art) and they make me smile. To me, work like this represents a love for your craft, no matter how pedestrian it may seem, which really resonates with this knitter.


Devin's pieces are DEFINITELY going onto my "What to do with extra cash" pinterest board!
Cindy's work is exceptional, and I'd seen it around in various Twin City gift shops without realizing it  was hers.  I was so happy to be able to meet her in person, and just sorry that my pocketbook didn't allow me to indulge my love for her clear, precise, well colored and love-filled art.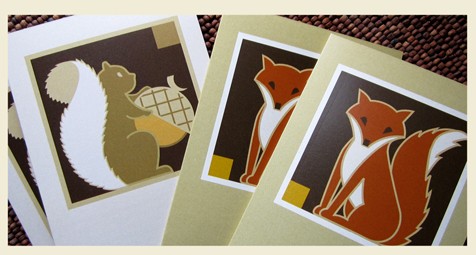 Visiting her website, I discovered that she ALSO designs fabric – WAHOO!!
I have placed my order, I'll be wearing a skirt made of Cindy Lindgren fabric at TNNA, be warned!
After meeting Cindy, I realized that I had wandered onto her Etsy shop earlier and had favorited her – it was just lovely to meet her in person!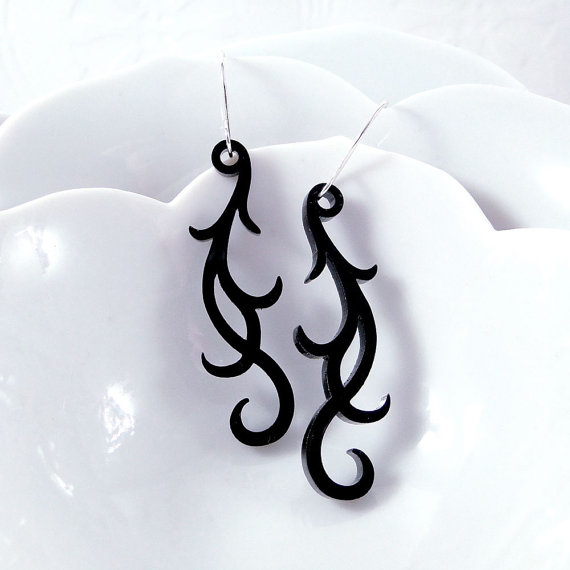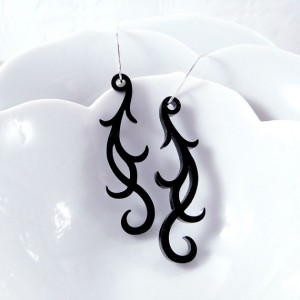 Delicate yet very strong, the lovely pieces crafted by Jennifer are lightweight and graphic, very compelling, and VERY wearable! Many of the pieces seem to be inspired by typography, used very effectively. These are not pieces that fade into the background, these are lovely pieces that make a statement!
In addition to the beautiful jewelry, Jennifer sells tiny lightweight wood cross stitch canvases which are exquisite (many were beautifully embroidered, and empty ones are also available for your own threaddy interpretation!)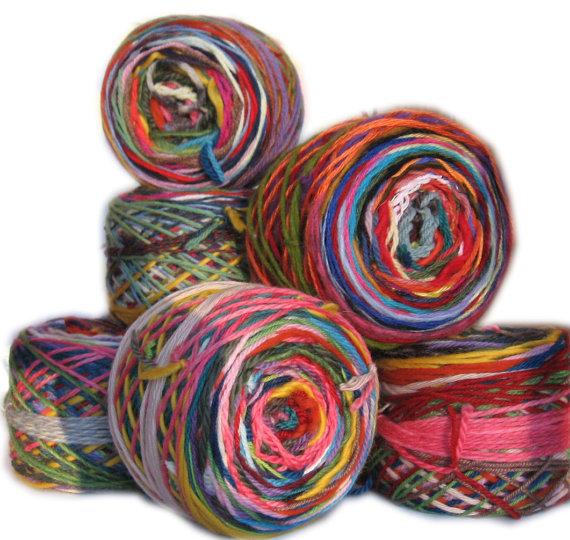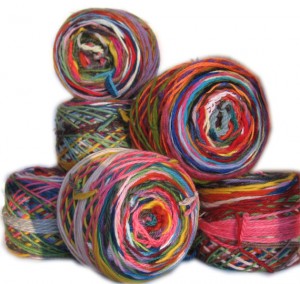 London Nelson
My Friend London
And, last but not least, my own good friend London was selling her exquisitely scented candles and beautiful hand-spun yarn.
If you didn't get that skein you were hoping for this Mother's Day, perhaps you'd like to pick up one of London's beautiful fiber poems?