I'm 52 today, and I baked a cake earlier this week.
I can't eat gluten – I'm not celiac, but I do have fibromyalgia and I've noticed my pain increases and my mobility decreases when I eat even a tiny bit of gluten. So I avoid it, and overall it's been good for me.
My mind's been on cardamom — heaven knows why — and so I rode my bike down to Penzey's (near my home, how lucky can a girl get?) and bought some green pods to open, crush, and make into a cake.
After experimenting with one of my favorite GF cake recipes, a variation on Gluten Free Girl's variation on Joy The Baker's Vegan Chocolate Cake, I came up with this recipe which I find delicious!
The rose frosting is a nice accompaniment to the sturdy cardamom flavor, they stand up to each other, and also complement each other. I used jasmine tea in my cake, but you can use any tea you like, the flavor isn't that noticeable.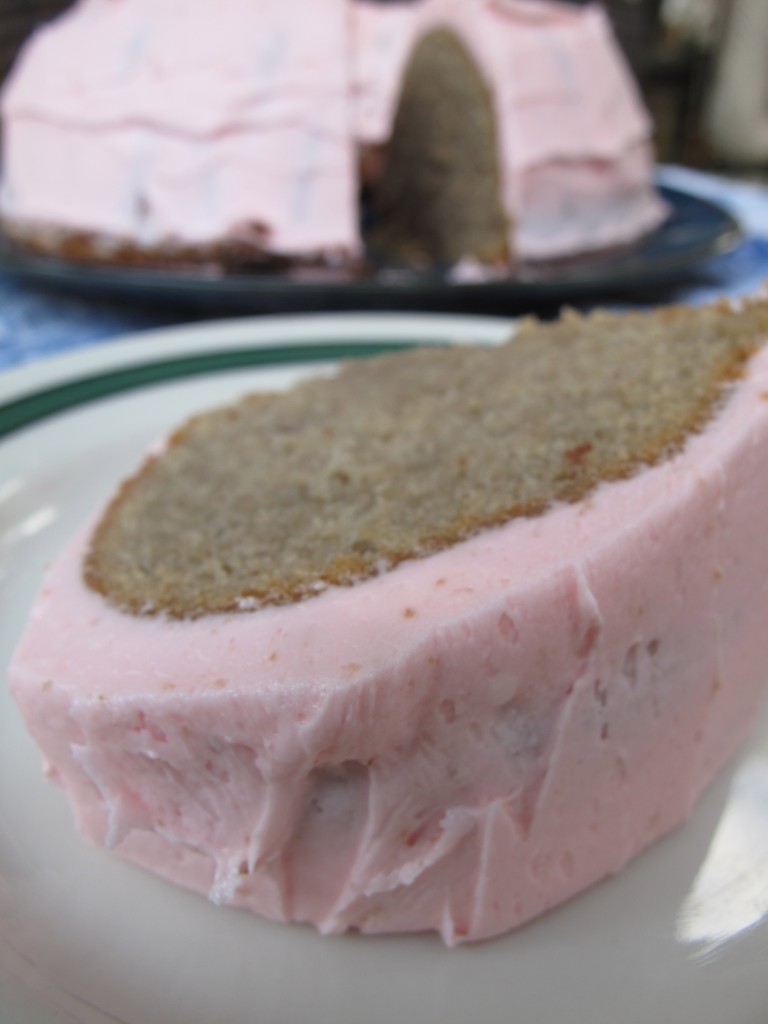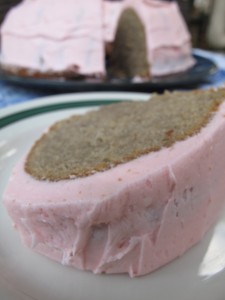 Cake Ingredients

350 grams GF Flour
(made of following flours, or your favorite combination)
150 gr potato flour
100 gr sweet rice flour
100 gr oatmeal flour
1 ¼ Tsp salt
2 ½ Tsp baking soda
1-½ Cup white sugar
12 Green cardamom pods,
seeds removed & ground into fine powder

1 Tsp vanilla
3 large eggs, at room temperature
1-¼ Cup sour cream or yogurt
1-¼ Cup vegetable oil

1 Cup hot jasmine tea
(1C water to ⅓ C jasmine tea leaves, strain & use only hot tea in recipe)
Rose Frosting Ingredients

3 Cup Confectioner's Sugar
1 Cup Butter
1 Tsp Vanilla Extract
2 Tsp Rose Water Flavor
1 Tsp cream
Preparing to Bake

Preheat the oven to 350°F. Grease a 10″ bundt pan with a neutral-tasting vegetable oil, then flour lightly with GF baking mix of flours used in cake. Pour 1 cup of boiling water over ⅓ C jasmine tea leaves to make a strong tea.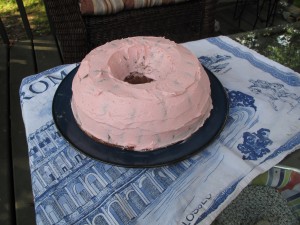 Flavoring the Sugar

Stir the cardamom powder and vanilla into the sugar and allow to set for 15 minutes.
Combine dry ingredients
Whisk together the flours, salt and baking soda, set aside.
Make the Batter
Cream sugar and eggs together until well combined. Add the sour cream and oil, stirring well. Whisk the dry ingredients into the wet ingredients. If you're using a stand mixer here, let it run for a while. Remember — you don't have to worry about activating the gluten and thus making the cake tough!
Make sure the dry ingredients are fully incorporated into the wet ingredients. You shouldn't see any hint of flour. Add the tea and stir until smooth. Pour the batter into the prepared pan.
Baking the Cake

Bake the cake until a toothpick inserted in the middle comes out clean and the top of the cake has an athletic jiggle to it, about 45 to 60 minutes. Remove the cake pan from the oven and allow it to cool for at least 20 minutes. Carefully invert the bundt pan onto a wire rack and tap the bottom of the pan. The cake should slide out easily. Allow the cake to cool to room temperature, about 30 minutes.
Rose Frosting

In a mixer, cream sugar & butter until well blended then mix another 3 minutes at high speed. Add vanilla, rose water & cream, mix for another minute. Add more cream if necessary for desired consistency.
Spread the frosting over the completely cooled cake.
If desired, you can slice the cake into layers and add frosting between the layers before covering the outside of the cake.
Place in refrigerator to set, this makes it easier to slice evenly.