I've been crazy busy this Summer, and it's one of those situations where the busier I am, the less time I have to write/blog about it, so I'm entrapped in a cone of silence.
I'm breaking the cone!
I've been working up a collection of patterns called, not very creatively, "Stained Glass Knits"
I love color – it's one of the most inspiring things in my world – and light traveling through colored glass is magical.  I wanted to catch some of that feeling in yarn, so here are a few of the pieces I'll be releasing later this month as a collection (and also as single patterns, if you're so inclined!)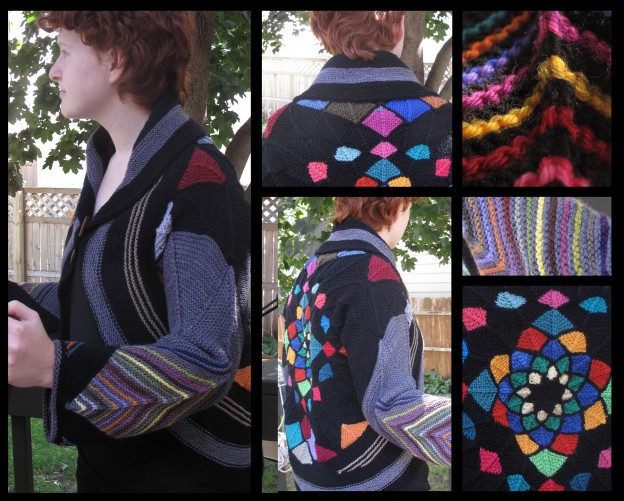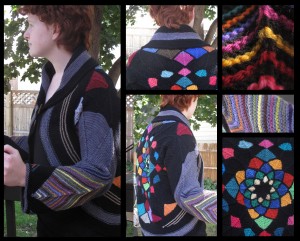 This first is a circular jacket based on a small circular window.
I am calling it, simply, "Rose WIndow."
I used Biggan Dup's beautiful yarns – 100% Australian Merino, soft and lovely to knit with. Biggan sells a set of mini-balls (it's the Wrap Yourself in Color kit).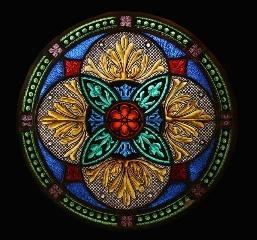 I used those yarns as a jumping off point, plus about 6 skeins of black and 4 of grey, to create this lovely jacket. 
I can't really capture how great it is in photographs, it's so much nicer in person!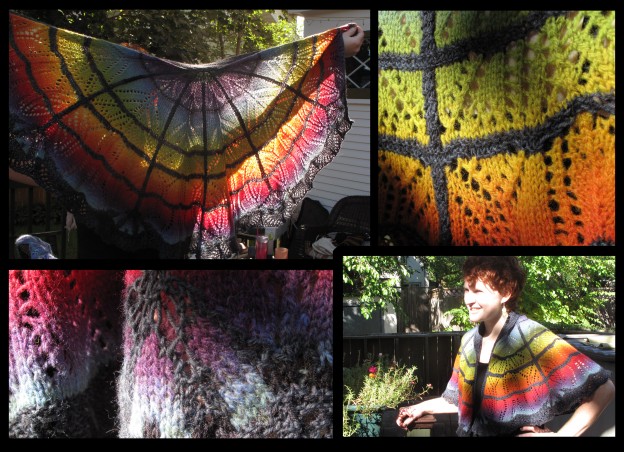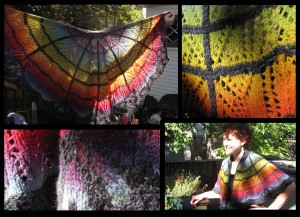 The next piece is "Strasbourg", a shawl inspired by the rose window at Strasbourg Cathedral, and a ball of Kauni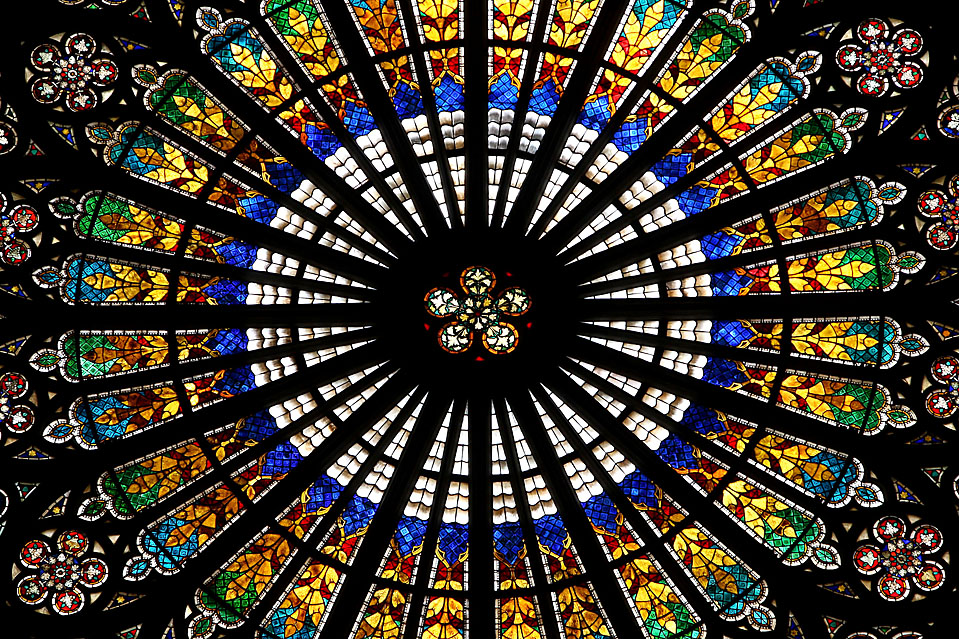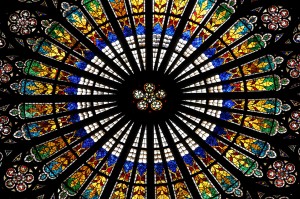 I love it when a piece has multiple sources of inspiration! Separate small balls of a charcoal/black yarn are used to create the 'leading'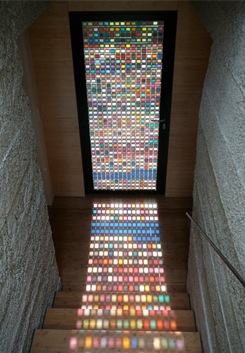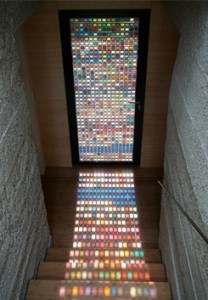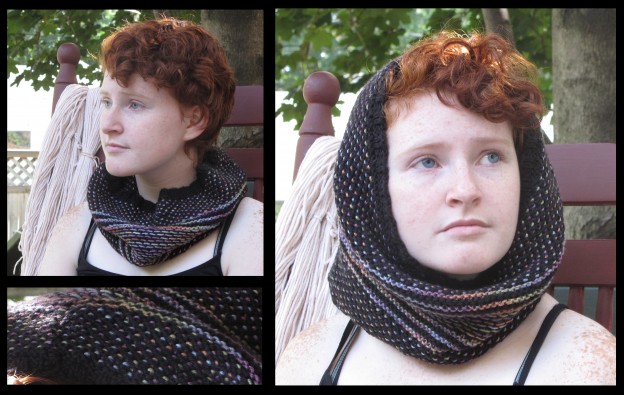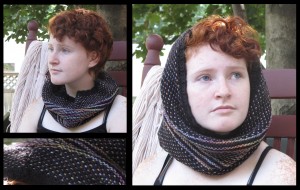 The third piece is a cowl I've named "Morse".
It's not inspired by traditional stained glass, but by a cool door created with transparent slides of Pantone colors.
I love the measured brightness against the dark (which is the joy of just about any stained glass piece!)
To create this dichotomy in color AND in feel, I've used two yarns by Lorna's Laces with a very different texture. The color is their shiny silk, Pearl, in colorway Motherlode. The dark is the lovely matte Shepherd Worsted, in Kerfuffle.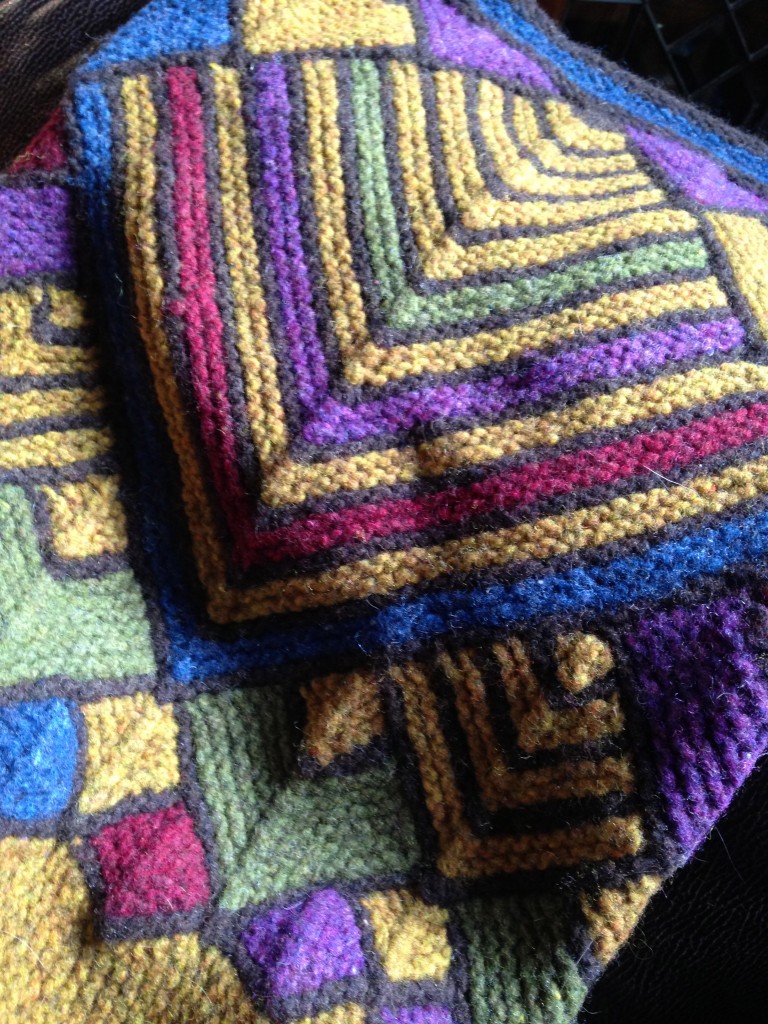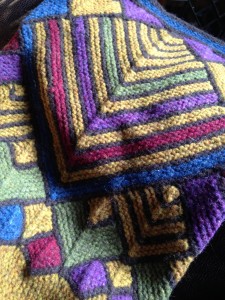 I'm just finishing up a bag and blanket set which I'm calling "Wright-ish"
It's loosely based on several motifs by Frank Lloyd Wright, I found myself more inspired by his use of color and leading weights than by any one of his beautifully designed windows.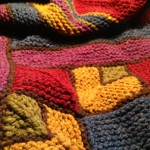 I've used Jared Flood's spectacular yarn, Shelter in a modular knit pattern. I love this yarn – it's bright and rich without being shiny. It's true and honest and warm and very loving.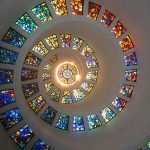 I have two other pieces I'm working through / designing. One's based on a lamp, the other on this beautiful image the stained glass in Thanksgiving Square in Dallas.
These patterns will all be available soon at my website, anniemodesitt.com, and also in my Ravelry store.
I just thought you'd like to see how I spent my Summer vacation!