One of the cooler aspects of the #CaribouKnits adventure this year is the inclusion of some unique Amy's Blend items for sale at Caribou Coffee houses around the country.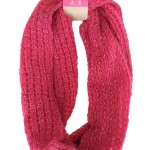 Although centered in the upper Midwest, you'll find Caribou Coffees all over the countries (I keep running into them in airports — that leaping Caribou is always a welcome sight!)
This year, in addition to coffee, teas, cups and mugs, CC is also offering a lovely Infinity Scarf (what we knitters call a Moebius) and I have a beautiful pink one I'd love to gift to one of you!
This time let's make it funny! Following in Kay Gardiner's footsteps (btw, if you don't follow her on Twitter you're crazy – FOLLOW THAT WOMAN!) please tell me something that Caribou are known to do while knitting*. Leave a comment with your funny faux observation, and we'll all enjoy it. After all, Caribou LOVE to laugh at themselves!
*Obviously Caribou don't really knit, but a girl can dream.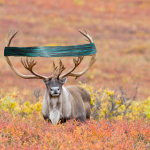 So leave your funny #CaribouKnits comment below, and I'll pull a name at random and will announce the winner next Monday.  I'd announce it sooner, but we're taking off for a college-visiting trip this weekend to Iowa, Illinois, Indiana and Wisconsin. This is what you do when you have college bound teens and a 4-day weekend!
In case you're not on Twitter, know that you can use the #CaribouKnits hashtag when you use Facebook, too!  And if you ARE on twitter, just drop the hashtag in a few times a day and you'll be making a small but lovely change a breast cancer survivor's life.