One of the really nice things about being in this biz for [mumble] years is that I get to make a lot of wonderful friends!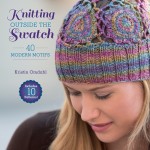 Designing hand knits and crochet can be solitary at times, so when we get together at knitting conventions it's great to see sister (and sometimes brother) designers and share our victories and war stories.
I am SO looking forward to this aspect of my upcoming trip to Interweave Knit Lab in San Mateo Oct 31 – Nov 4
Sadly, I won't be seeing my friend Kristin Omdahl there, and I love to see her pretty face!
Happily, I can drown my sorrows in the pages of her new book, Knitting Outside The Swatch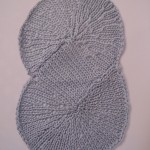 I'm an unusual knitter (aren't we all, in our own ways?) and I love the approach this books takes in exploring new techniques to create unusual knitted motifs.
One of the cooler motifs was the "Infinity Loop", which is shown in several incarnations (St st, garter, lace) and uses short rows.
I find myself wondering if it would be possible to join the 'points' of the piece as I work, instead of stitching them later – something to ponder on my plane trip out to San Mateo!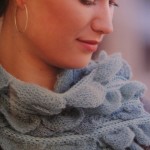 Once you've mistressed* the ins and outs of the individual motifs (many of which are worked from the center outward) Kristen provides 10 patterns you can use to show off your new mad skills!
My favorite pattern was the Mia Brioche-Stitch Scarf which utilizes small scallops worked together on a brioche-stitch spine, a lovely effect!
So, Would You Like This Book?
Leave a comment below telling me what your favorite knit technique, or knit fabric, is. It can be as simple as "Garter Stitch" or as complex as, "Triple-drop stitch short row shaping"
I will choose a comment at random, and F&W Media will send the winner their very own shiny copy of Knitting Outside The Swatch!  This contest will run until Saturday, so get your comments in!
*In a craft where 94% of the practitioners are women, I WILL use the term mistressed!