I have a great book giveaway, just in time to work up some fun items for your favorite Hannukah child (or any kind of holiday child!) Or for any kid for any reason!
The book is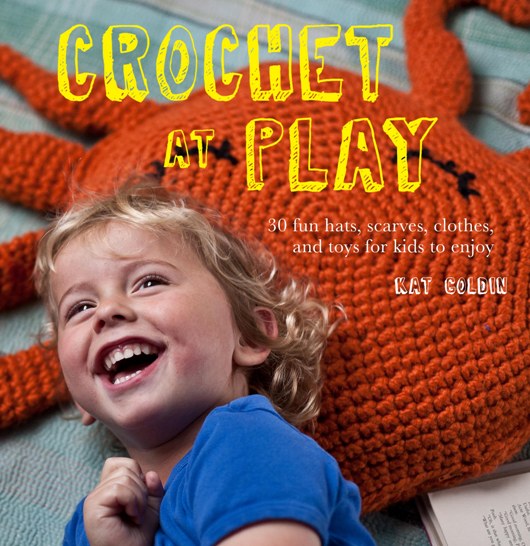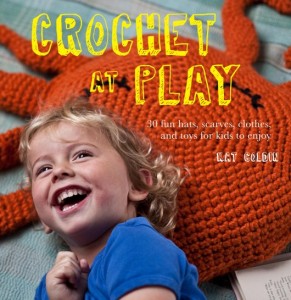 Crochet At Play by Kat Goldin.
Her stated goal in writing the book was to "keep the fun-factor at the forefront of my mind."
She strives to make the items in the book fun to make, fun to wear and fun to see.
I think for the most part she's succeeded quite well, there are many items I would have loved to have worked up for my own kids when they were smaller!
Among my favorite pieces in the book are the whimsical 'useful' items, the sorts of thing that can be worn every day, but with a cute little twist.
I LOVE the Hedgehog Mittens – so adorable that a child might actually keep an eye on them and not lose one! They're clever, simple, and absolutely delightful!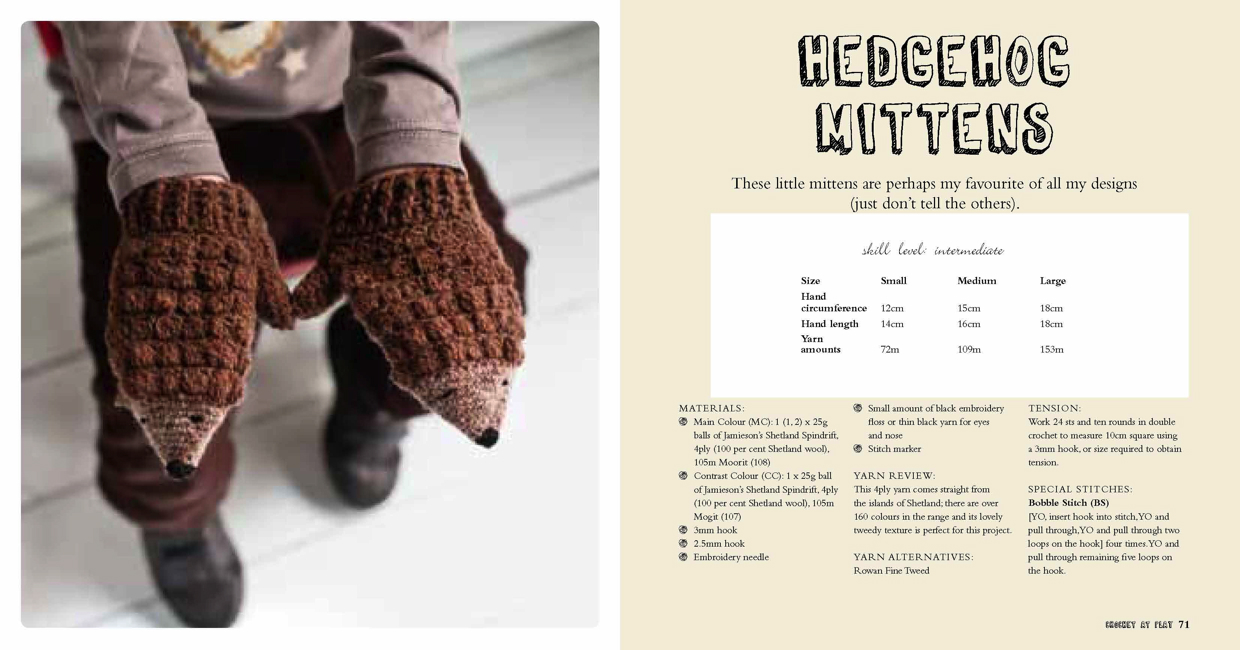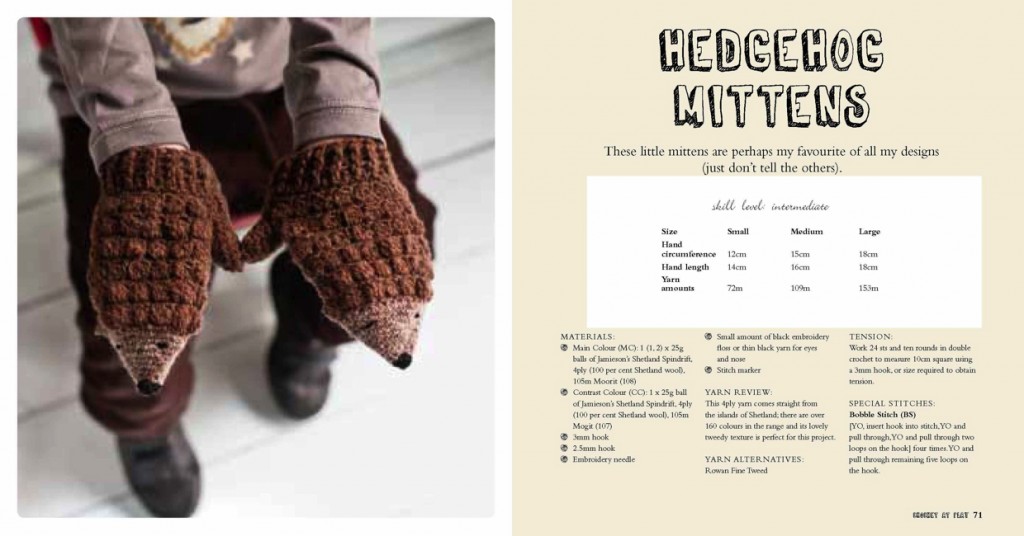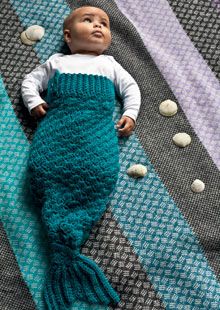 Another delicious item is the Mermaid, which is so silly but so fun that I'm afraid I'll be making them for new babies in my life for years to come!
I especially love the concerned look on the baby's face in the picture, "Hello… I believe the tide is coming in!"

Kids grow up way too fast. This book will help a parent, aunt or uncle, cousin or friend enjoy many moments of magic in their young lives.
The how-to crochet section is clear, the instructions are well laid out and the models are absolutely adorable.
The projects run from rather easy to slightly challenging, I didn't see anything that a committed and passionate new crocheter couldn't tackle (some with a bit more effort than others!)
Another lovely piece is the Leafy Cape.  I can easily see someone working this up for a new baby, it could easily double as a favorite blanket until the child is old enough to run around the house in it!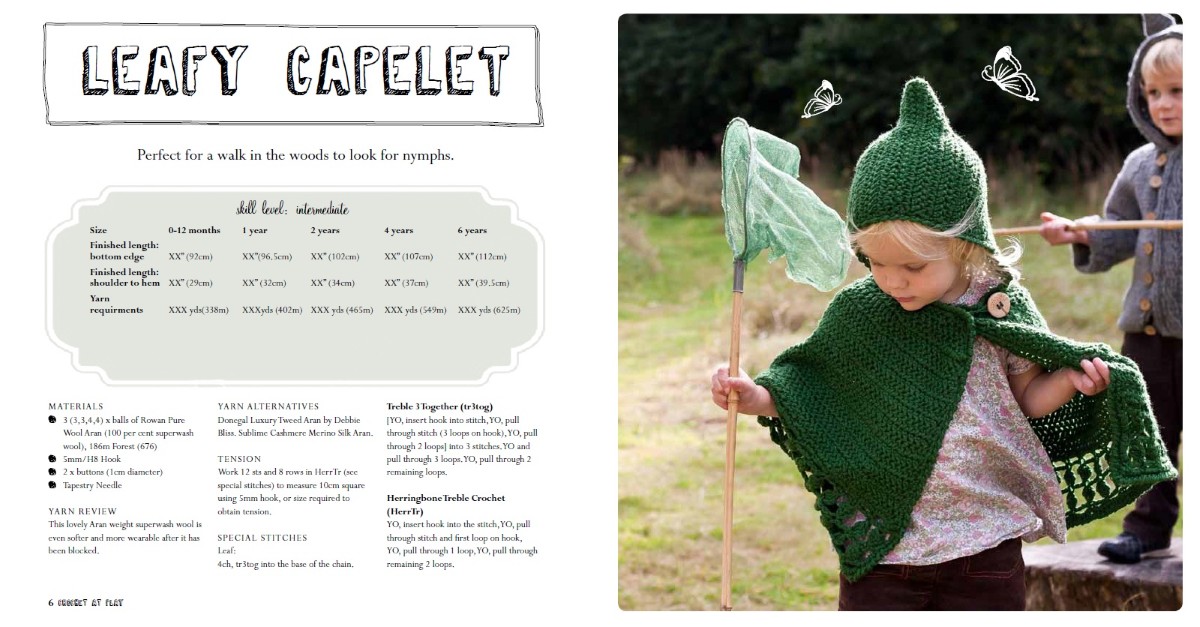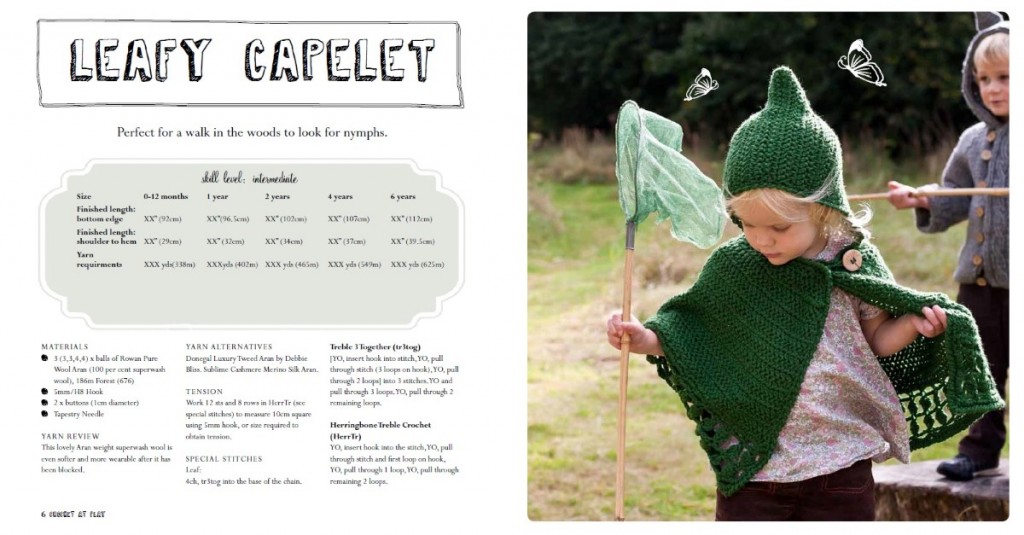 So are you enchanted?
Would you like a copy of Crochet At Play?
Simply leave a comment below telling me the MOST FUN ITEM you ever crocheted or knit. It doesn't have to have been for a child, just something that was a blast to work up, something you thoroughly enjoyed!
Double Vision
I've had a lot of press lately with many items showing up in various magazines and books, which is always terrific!
I wanted to mention two sweaters I've recently done which have more than a passing resemblance!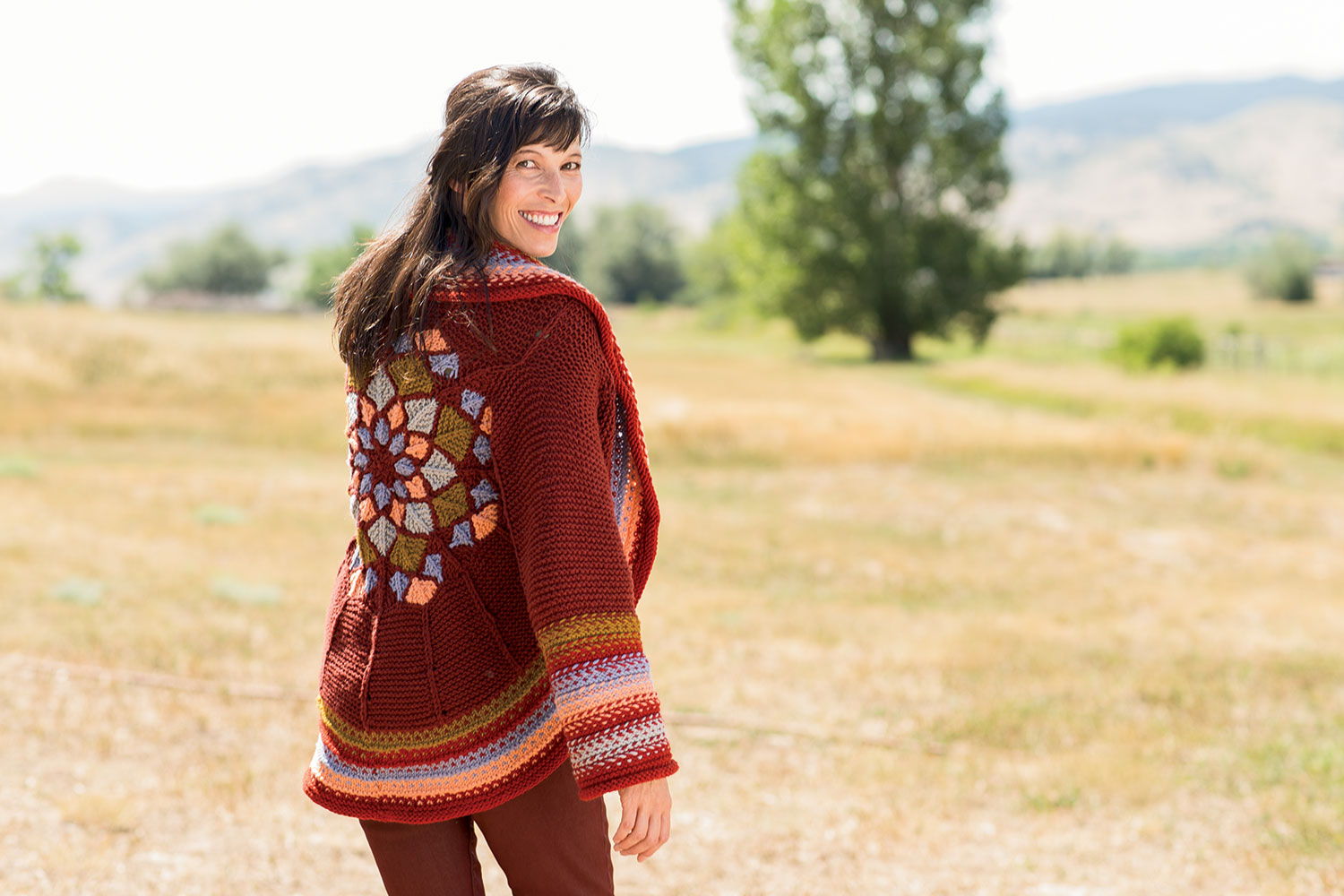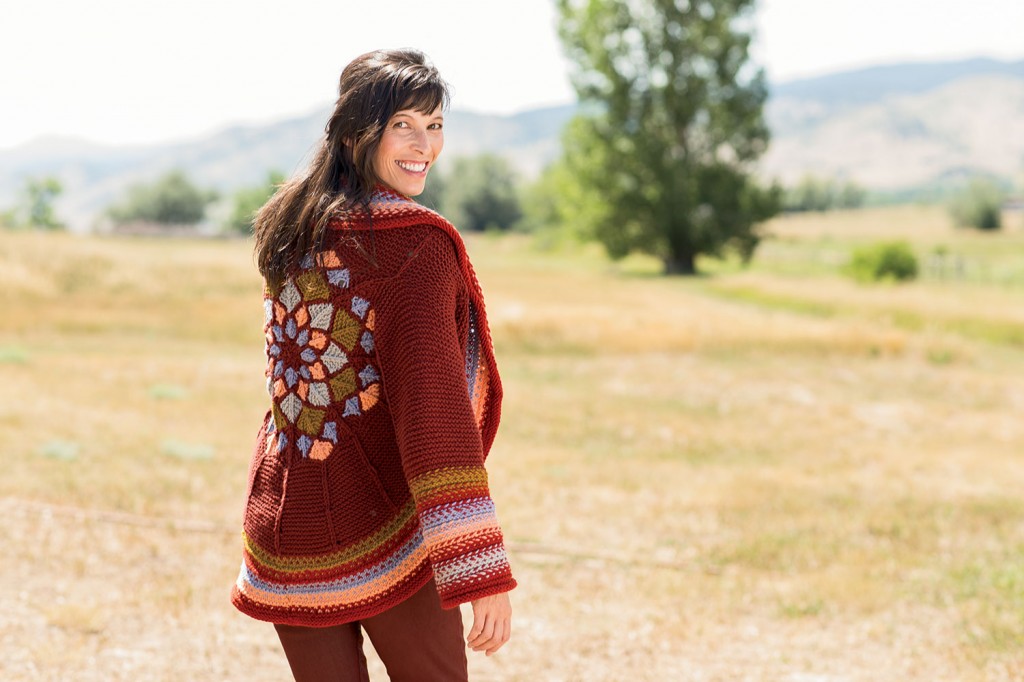 My Dream Catcher Cardigan in the Winter 2013 Interweave Knits is getting a lot of attention – it's a really fun knit, and it's worked up in a chunky yarn (Brown Sheep Shepherd Shades) and it looks a lot like my Rose Window cardigan I'm currently tech editing and test knitting for release next year in my Stained Glass Knits collection.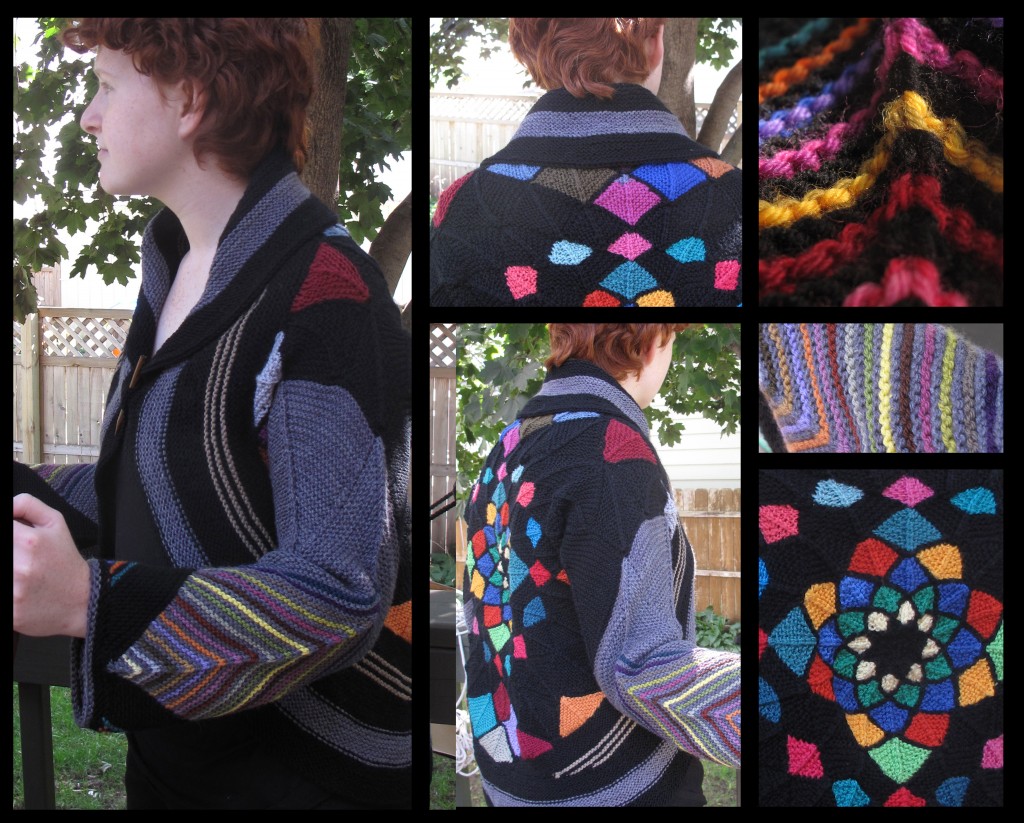 Rose Window was actually the original inspiration for Dreamcatcher, but aside from a similar center back motif, the differences in the garments are greater than their similarities.
The shaping is different (Rose Window uses short row shaping to create an oval body) and the sleeves are worked differently (Dreamcatcher is straight garter, Rose Window sleeves are mitered)
But the largest difference is the yarn choice – Bulky for one sweater, worsted for the other, with all of the associated pattern writing differences.
I don't really think of these as the same sweater, but as the same shape used in two different sweaters – rather like two Lopi sweaters with similar yokes, but which are entirely different garments.
I wanted to mention this here because I don't want anyone thinking I'm trying to slip anything by the knitting world! These are similar styles, but very different garments! This is something a lot of designers struggle with, I know I do! We come up with a unique shape that we love, we want to see it worked up in many different ways, but we want to be original, too!
The basis for these designs has become so much a part of my 'design language' that I will probably use it again. Maybe not in the near future, though!