So I promised to blog about our adventure in creating ModeKnit Yarn, and here I am to chat!
I just received word that our first shipment of yarn is on it's way to us – lovely, pale stuff that we'll infuse with rich, deep colors! I feel such a responsibility to this yarn (and the sheep from which it grew!)
So far I've knit up MANY swatches from several yarn sources to find a few yarns that do what I'd like them to do – knit well, create a beautiful fabric with good drape, take dye nicely, show great stitch definition and show off the colors. Not every yarn is able to tick all those boxes, and I'd rather offer very few yarns at the start than have too many which are unsatisfactory in some way.
Out of over 30 swatches we've narrowed it down to 3 yarns; 2 we're going to start with (a sock weight – yes, it has nylon – and a worsted weight) 
The third yarn is yummy, but we want to get the first two going well before branching off with yarn #3 (and #4, #5, etc.)
Our goal is to create a stable of rich semi-solids, then take these and create companion 'variety' blends, mixing some semi solids together into one skein of yarn. We're hoping the semi-solids and blends will work well together in many different variations.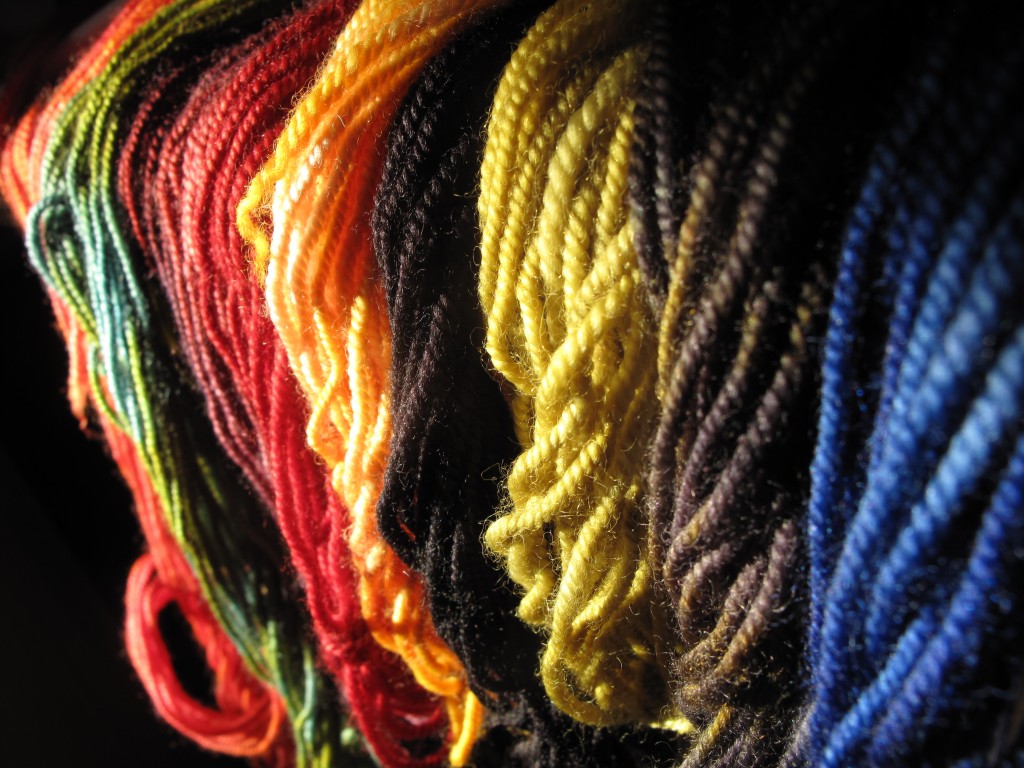 We're well on the way, we have 10 good base colors we feel are quite beautiful. We're basing the colors are gemstone and semi-precious colors (here's a link to our Pinterest Inspiration Board), which offers a very wide variety of colors to use for inspiration.
We intend to offer the semi-solids & "variety blends" in various pairings as part of the Morse Cowl Kit.  We're planning on offering the kit in both worsted and sock weight yarn, with matching mitts (also in worsted or sock weight)
Figuring which colors go together is a bit of a personal thing, and I'm the first to admit that my own taste in matching colors may not be yours (or yours, or yours!)
So along this trip we'll be offering different polls (Which colors do you like? Which ones do you hate? Which pairings make you giddy?) and we'll use this input to help us create combinations for a wide variety of tastes!
PARTNER
Kathleen Pascuzzi, a good friend with organizational skiills and solid retail experience, is partnering with me.
Today we met with an attorney to draw up a partner agreement, get our LLC on the right track, etc.
I can't deny this is scary – a little terrifying – but I guess anything in life worthwhile is bound to be a little frightening!
With Kathleen as my partner, though, I feel a bit less scared.
WHY?
The question I feel is hanging in the air, and which I ask my self, is – why?
1. I feel drawn to do this. I love color, I love fiber, and dyeing yarn fills a part of my soul that nothing else does in the same way.
2. I have a vision of color blends I haven't seen out and about yet. Maybe they'll be successful, maybe I'll discover that I'm color blind.
3. I want to work more productively at home. Since cutting down on my teaching to spend more time at home with Gerry (and during my own fibromyalgia flare ups) there's been a marked change in our income.
I'm hoping creating ModeKnit Yarns will allow me to use my flexible schedule to work at my own pace when I'm feeling strong (and back off a bit I'm not running at 100%) to augment our finances while staying near home.
4. My patterns already sell a lot of yarn, I'd like some of that to be ModeKnit Yarn!
5. I can offer pretty decent pattern support, and intend to CONTINUE designing – perhaps more than before!
I'm psyched for the next weeks when yarn arrives, MORE test skeins will be worked up, and our initial palette will be solidified. I'll keep you all up to date every step of our journey!
If I time it right, I'll have both kids home for Thanksgiving to help me with all that skeining!