College!
Yesterday we heard that Andy (née Hannah) has been accepted into one of her most desired schools!  I read about Earlham and it seemed like such a great match for her (they have a minor in Outdoor Education, and a fabulous Japanese Studies program) and once our family visited we all felt the pull of this lovely, Quaker school.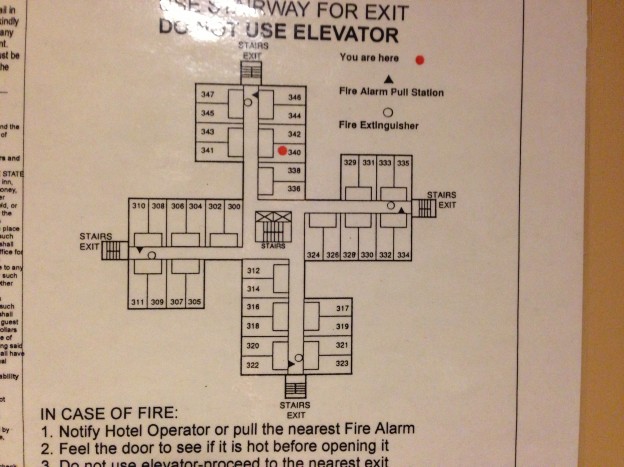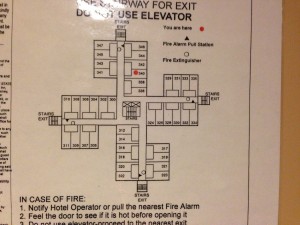 She's applied to several other schools, and we're crossing our fingers for a few in particular, but this is a huge weight off of her shoulders as we all feel that Earlham would be a tremendous fit for her, body and soul!
Of course, when we visited the school in Southern Indiana, we couldn't help but notice that our hotel was built in the shape of a swastika… 
But we prefer to believe it was in honor of the Hindu symbol.
Stackpole Bolero Book
The first part of my advance for my Stackpole book arrived, so NOW it feels official!
I've been working up garments for this project, I have a few finished and the rest pretty well mapped out.  It's all due in June, which will be a bit of a push (especially with other commitments I have this Spring) but not impossible.
I haven't submitted designs to any magazines this Spring so I can devote my entire design focus on the Shrugs & Boleros book.
I'll by flying out to Cleveland in late Feb to appear on Knitting Daily TV! I haven't been on the show in several years (except for a cool web appearance I did with Vickie Howell) so I'm REALLY looking forward to it!  I guess it's time to get my hair done again…
It's so easy when working from home to forget that other people have eyes, too!
The registration has opened for Interweave Knit Lab in New Hampshire, May 15-18, and I'll be teaching again!  I love the Knit Lab students, they're so informed and courageous, and if you're on the East Coast this will be my only teaching gig there this year!  So please join me for one of my classes – you can find all of them listed here.
As much as I love Knit Lab, it means I'll be out of town during Shepherd's Harvest this year [sad trombone] but ModeKnit Yarn will be there!  We'll have booths at both Yarnover  (April 26) & Shepherd's Harvest (May 16-18) this spring! Come on out and feel up some great yarn!
221B Sets Ready to Ship!
Another most exciting aspect to the day is that I FINALLY finished dyeing up large amounts of the two final colors in the 221B Series, and have put together sets to ship! I apologize for the several days delay in getting these out, but I feel it was definitely worth the weight!
These last two colors are based on points in the last two episodes of Season 3 of Sherlock, but I chose incidents which won't impact on the plot (NO SPOILERS!)  The colors will be revealed after each episode airs in the US (Central Time)
But if you can't wait…
The 8-skein sets feature all of the colors in the 221B series, and are available in either ModeWerk Fingering or ModeSock.  Choose 15gr/58yd skeins (120 gr/460yds total) or 30gr/116yd skeins (240 gr/930yds total)