I'm always so torn at Valentine's Day.  I love chocolate (too much!) and I love flowers, but if I'm going to be showered with gifts I'd love to get something less fattening and longer-lasting than the traditional Valentine's Day haul.
So – because my husband and I have a long-time, pragmatic marriage – he actually likes it when I tell him what would most appeal to me for Valentine's Day. And I'm happy to accommodate!
I present you with my 2014 Valentine's Wish List. I honestly don't expect to get all (or any) of it, but I figure if Gerry has good, firm hints I'm more likely to wake up on Feb 14th with something I can fully enjoy!
Remember, there's nothing more satisfying to a gift giver than the knowledge that their gift is appreciated and loved. Sometimes a well-placed hint can make this possible!
Work Bags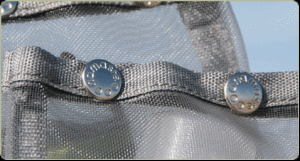 Oh, Snap!
Namaste is an amazing company.
They support good causes, they make some of the most beautiful vegan 'leather' bags around, and they truly GET crafters & their needs!  This year high on my list are the Oh, Snap! bags.
I am (in)famous for carrying around various ziplock bags filled with yarn and projects-in-process. Sometimes I seem to be more bag than knitter once I get all my work spread out. But not only is it a waste of plastic bags, they just look shabby.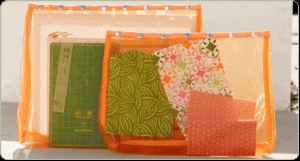 The Oh, Snap! bag is roomy, easy to get into, and – best of all – see through! I love to see what I'm working on, and show stuff off without taking it out of the bag! It comes in a variety of colors, in sets of 2 or 3 bags.
Reusable and STRONG, I have one long-wearing green one that's taken the place of at least 20 ziplock bags!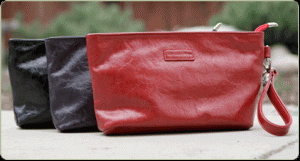 Wristlet
Looking for something less crafty, but just as utilitarian? I can HIGHLY recommend the Wristlet as one of the most useful small bags I've ever owned!
It's well designed,with multiple zippered pockets and credit card slots and a useful wrist strap. Along with the pockets are two separate compartments in the purse (I use one for personal items, the other for knitting tools) and to top the whole thing off it's absolutely charming.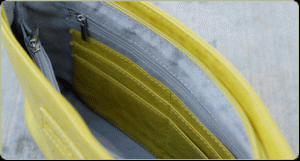 The exterior is made of PVC-free vegan faux leather, the interior  of PET microsuede in gray (made from recycled plastic bottles)
I am constantly getting compliments on this cunning little purse, and have no problem carrying it at a dressier occasion. If you have been wanting to give Namaste Bags a try, this is a great 'trial bag', and—highlight this sentence when you print this out to leave on your significant other's pillow—the Wristlet would make a GREAT GIFT!
Reference Book
Like many knitters, I have dozens of stitch dictionaries and pattern libraries on my shelf. Sometimes I wonder if it's worth it to get a new one, what could possibly be new?
Melissa Leapman's The Knit Stitch Pattern Handbook is remarkable. I will admit I got a free copy, but if I didn't believe that this was one of the most useful books you can get, I wouldn't write about it!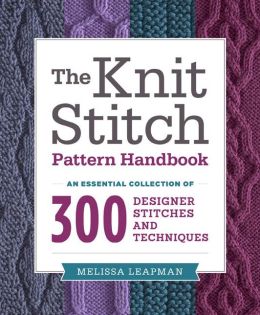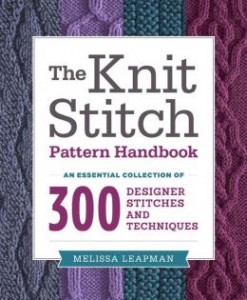 Not only is The Knit Stitch Pattern Handbook filled with different motifs (as you'd expect) Melissa offers excellent suggestions for USING the motifs in an actual garment, with tips on charting for a neckline, fitting motifs into a schematic and decreasing while remaining true to the stitch pattern.
This is a book every knitter should have!
And if you can acquire it as part of your Valentine's Day festivities, then everyone is happy!