Today I'm taking a mental health day! After the very busy few weeks I've had, I deserve it!
Amsterdam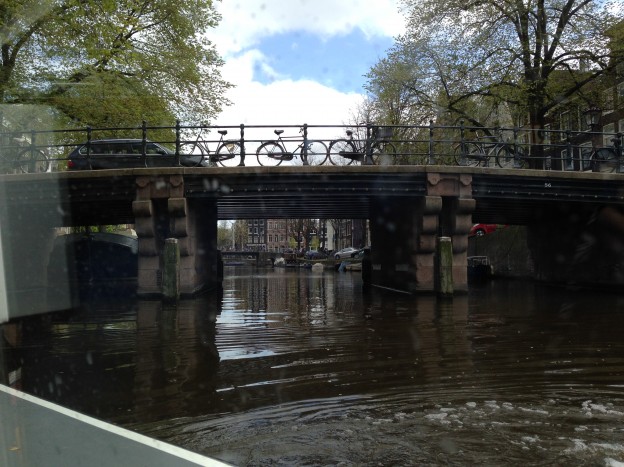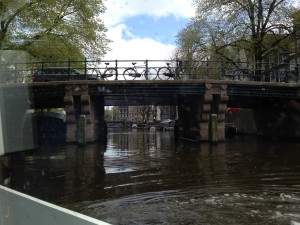 Gerry and I had a magnificent time! After I got my business out of the way (the reason for the trip) we did very gentle sightseeing (canal boats, trams, light walking and a bit of biking among the tulip fields) and spent some time in museums.
It was a VERY necessary trip for many reasons, not least of which to celebrate LIFE together, and the 7th anniversary of Gerry's Multiple Myeloma diagnosis (SEVEN YEARS – we are very fortunate!)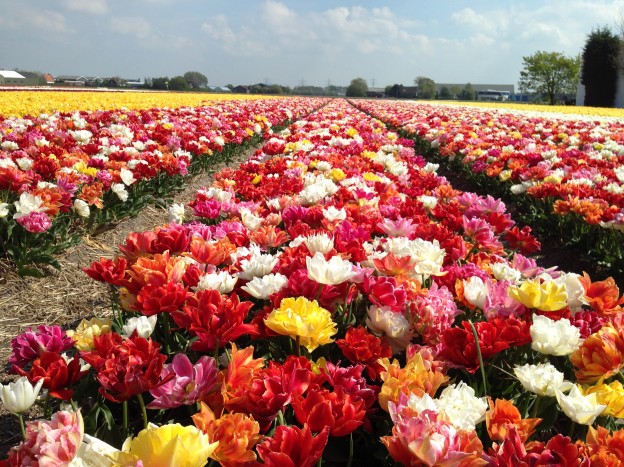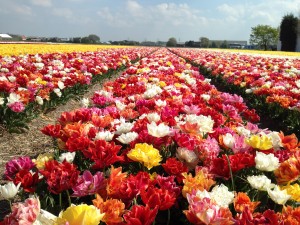 While we were away we learned that a very dear friend and the leader of our MM Support Group in Stillwater, MN passed away. It was a shock, Carl was so full of life and love and hope every time we saw him.
That's how this disease goes, though, the final decline tends to be rather quick when it comes, which made our trip take on another dimension; life is to be lived TODAY.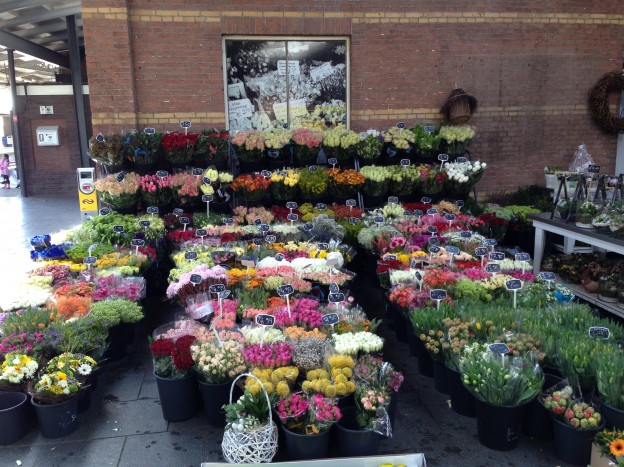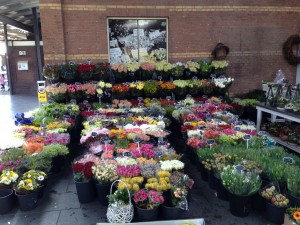 We visited good friends in Swalmen, down by the German border, speed knitter Miriam Tegels and her wonderful husband Frans! It was such a pleasure to meet their son, Thuur, but we didn't get a chance to meet their daughter.
We did, however, meet the ENTIRE extended family at an Easter brunch, and it was absolutely delightful!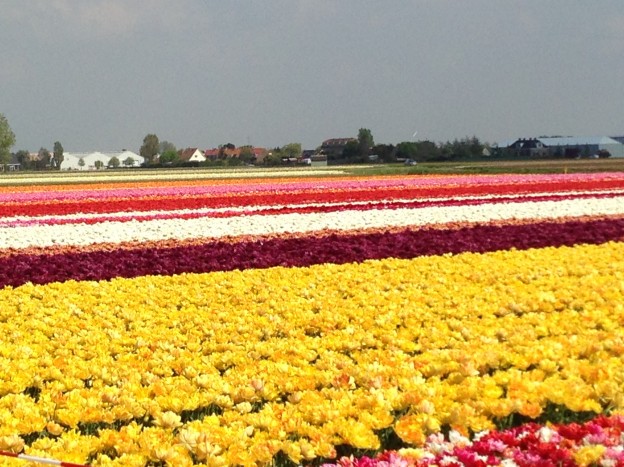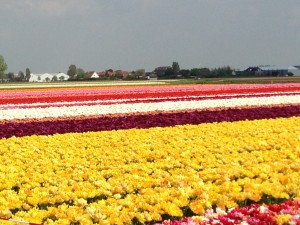 Back in Amsterdam we did a few day trips, one to Delft (more canal boat riding) and another to see the tulip fields in bloom (we took our bikes on the train and rode from one small station to another, through the fields on the way there!)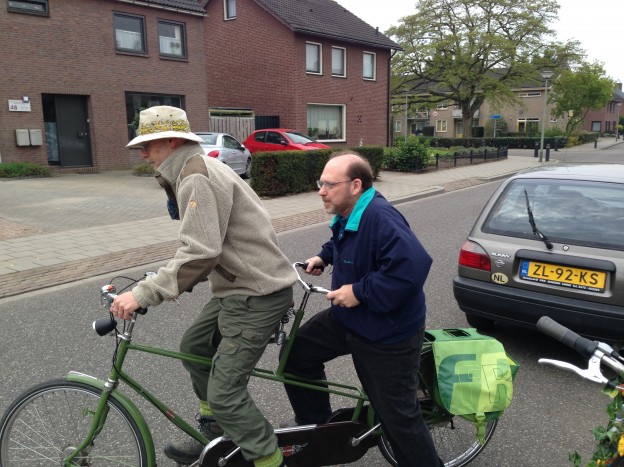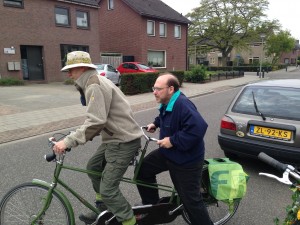 I was SO impressed with Gerry – with his stamina, his biking, and his general sunny disposition! I think he finally believes me that riding a mile is 7 times more efficient than walking a mile, but we both took it relatively easy and stopped a LOT on our short ride from station to station.
This slideshow requires JavaScript.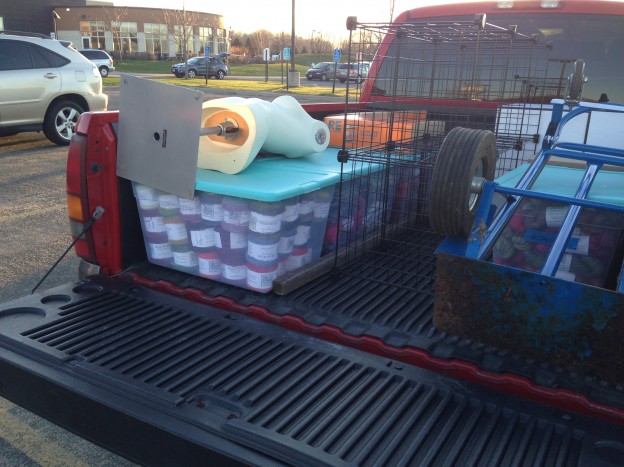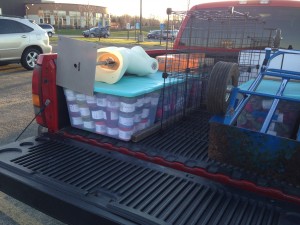 I returned home two days before our yearly fiber extravaganza here in Minnesota known as YarnOver! It's hosted by the Minnesota Knitters Guild and ModeKnit Yarn had a booth this year (well, more of a table…) 
It was wonderful – a great chance to see old friends and meet new ones, AND to sell a LOT of yarn! An exceptional show all around! I was still pretty jet lagged, but Kathleen Pascuzzi (my partner in ModeKnit Yarn crime) was stellar at prodding me into action!
TNNA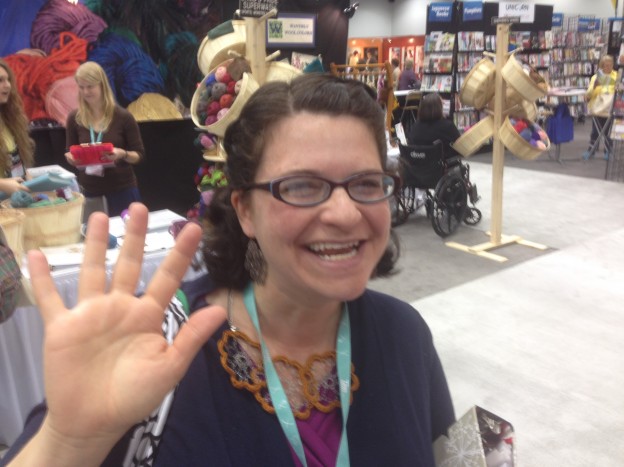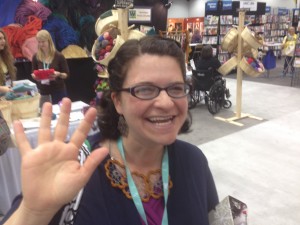 And, just a short 6 days after Yarnover Kathleen and I jumped in the car and drove 8 hours to Indianapolis for TNNA! I wanted her to meet many of the folks I work with in the industry, and I wanted to touch base with old friends (and yarn dyeing friends – to chat with them face to face as I jump into their own biz.)
Best among the interactions was a long, lovely chat with Jeni Hewlett from Fyberspates (NOW available in the US!) and Elliot from Artyarns. Thanks, guys, for so much help and love!
I also met with my editor for my upcoming Stackpole book. I'm rushing to get the projects finished so we can shoot them in June, life is busy (but very good!)
Perhaps most notably, Kathleen and I acted on our previous discussions to purchase automatic yarn skeining and balling equipment from Nancy's Knit Knacks, I'm still a bit in shock (it was a large investment) but – as I told Gerry – it's certainly cheaper than hand surgery because my arm stops working after all the skeining and balling I've been doing!
So today is just for me – riding my bike and thinking – and building up a bit of energy reserve for Interweave Knitting Lab in 1-1/2 weeks!  Check out my classes here – I think some are already sold out (or nearing it!)