Tonight I'm reveling in the enjoyment of an Epsom Salt bath, a nice warm dip on a cool, almost Autumnal evening here in MN, watching TV on my iPad while I bathe my sore skin. Absolute heaven.
If I could have another child I would name it Epsom.
I visited my acupuncturist (Susan at Crocus Hill Acupuncture) today for the first time in a LONG time, she said that she's seen quite excellent results with acupuncture and shingles, and also gave me an herbal oil essence (Yin Care) which does seem to help a bit.  Having said that, the pain continues in insane ways, but knowing what it is removes the mystery aspect, which is always the hardest part of pain (at least for me!)
I'll keep you posted on the efficacy of the above therapies; if I've learned anything, it's that – as Gerry's wonderful Aunt Arlene says – "EVERYONE gets shingles!"
If I can save someone some of this pain, I'll feel that it's been a bit worth it!
So with that squared away, I have dyeing to do!  We're having an EXCELLENT August, lots of great orders, and I think the excitement about our Caledonian Colors (in honor of the Outlander mini series) has a lot to do with our increased sales!  Our Lanark Plaid Cowl doesn't hurt, either!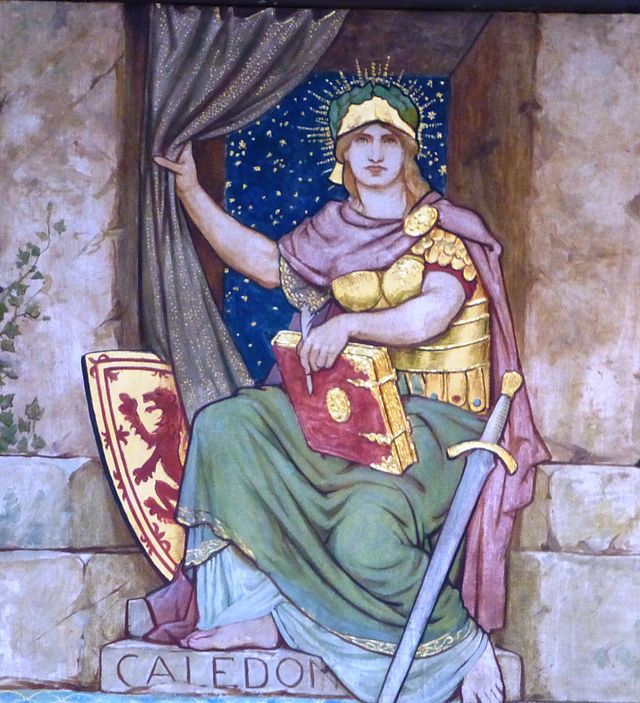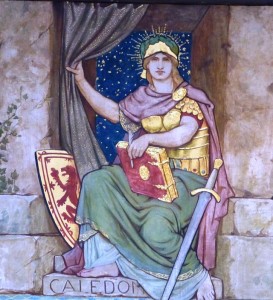 Caledonia is the Latin name given by the Romans to the land in today's Scotland north of their province of Britannia, beyond the frontier of their empire. The etymology of the name is probably from a P-Celtic source. Its modern usage is as a romantic or poetic name for Scotland as a whole, comparable with Hibernia for Ireland and Britannia for the whole of Britain. — Wikipedia, Caldonia
COLOR CHOICES
These colors are very close to my heart, as is Scotland (where I felt immediately at home the first time I set foot in St. Abbs to stay with Louise of Woolfish)  She runs an an amazing shop, by the way, you should stop by there if you're on the East coast of Scotland!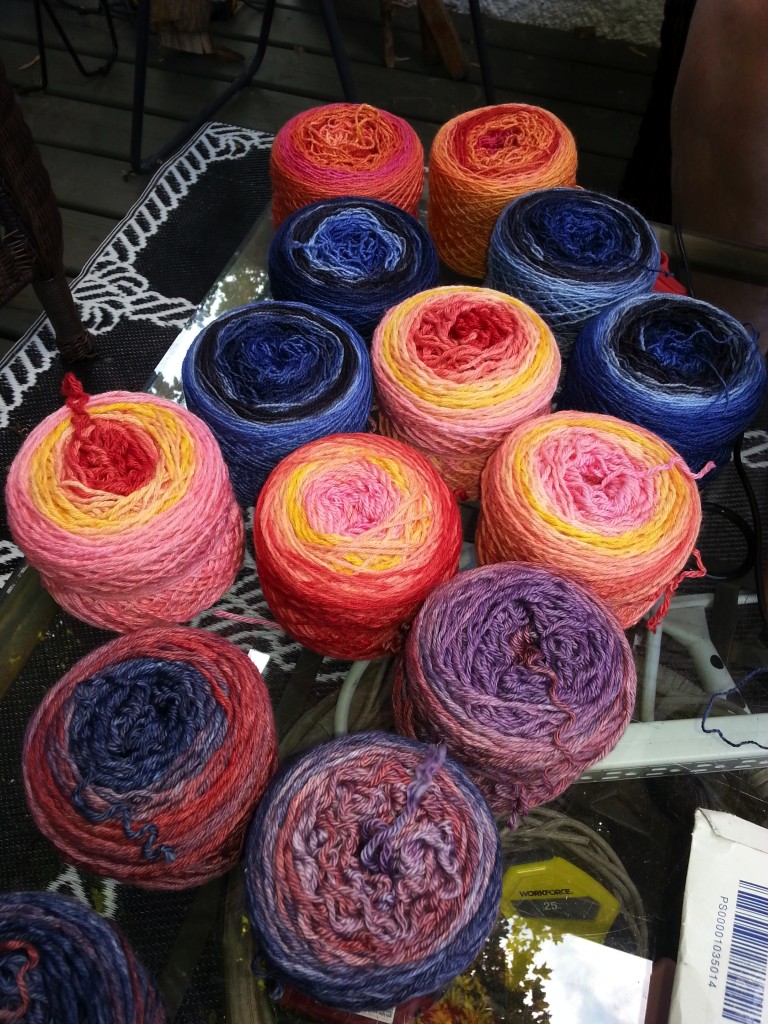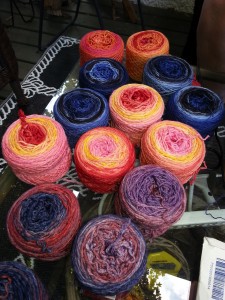 I'm enjoying working up our FLOW colors, creating colors that graduate in hue and value as the yarn is unwound. In fact, I find it more satisfying than the way I've been doing all of our yarns so far, so I'm trying to figure out a way to create our basic colors along the same lines of our FLOW colors.
The No Spoilers line is doing extremely well, and YES, we DO intend to bring the 221B Colors back.  We were going to wait until the next season of Sherlock, but we may break down and do a holiday run… Stay tuned!
All of this is exciting because it's pretty much exactly what we'd envisioned for this section of our business growth.  Our plan had been to develop some good base colors (our Semi Precious) then add new colors as they seemed pertinent (No Spoilers) and to introduce different ways to display those colors in the yarn (semi solid, chunky colors, blends and now FLOW)
I'm also working hard to develop uniformity, to make follow-able recipes and techniques to create our colors so that, as we grow, I can hire dyers and hand off some of the more physically difficult work.  The importance of this has become very evident these past 2 weeks.
I'm still learning, and as with any yarn there are differences from dye lot to dye lot, but my goal is to create colors that I can recreate with a certain level of consistency.
Finally my 20K graduate degree in "folding" (and dyeing) is paying off!
YARN CHOICES
We're offering five yarns right now
Before we offer a yarn we test it thoroughly for wear, washing, knitability and just general good yarn juju.  We haven't yet found a lace we love, or a MCN we want to stick with, but we promise that we won't add a yarn to our permanent line unless we LOVE it ourselves!
We are also working with suppliers who we feel will be able to continue to carry these yarns for a long time, it's so annoying to fall in love with a yarn only to see it head off to yarn heaven!
PROFIT MARGIN
As well as things are going, Kathleen and I keep reminding ourselves that we didn't intend to be able to pay ourselves quite yet, and that being able to pay off all of our yarn, dye, and the cool (but expensive) equipment we purchased in June (using only profits from the business) is actually a huge WIN!  Aside from our initial investment and a couple hundred dollars more a few months in, the business is paying for itself so far.  Now we have to grow it so the business can pay US, too!
CLUB, ANYONE?
To that end, we've been discussing different types of Yarn Clubs we might work up.  We'd love to have your input on the type of club that you would like to belong to – tell us in the comments what your 'dream club' would be!  Would you like it to be project oriented?  Yarn centered? Maybe a mini-skein club?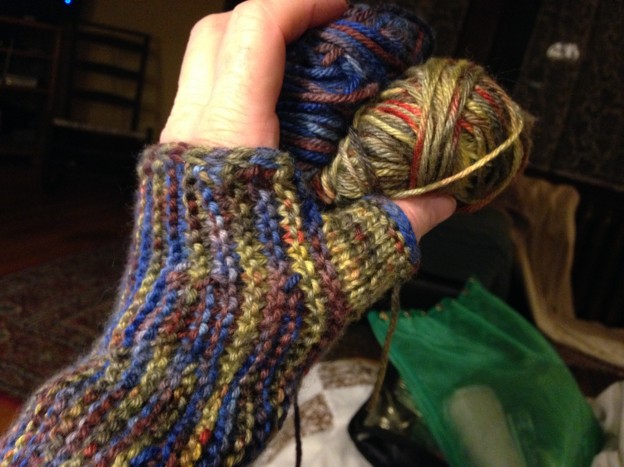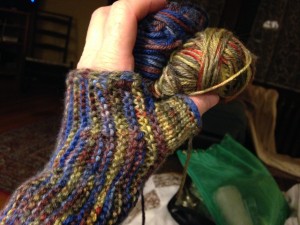 Would you like different weights of yarn in different deliveries of the same club, or would you prefer to have a sock yarn or bulky yarn only club?
And what do you feel would be a fair price for this dream club you may be envisioning?
Obviously I'm asking you for some market research, but any advice you'd care to share would be happily and gratefully accepted!  I've committed myself to making at least one pattern a month available for free (patterns move yarn!) and perhaps one aspect of the club would be patterns which are only available to club members?
So, friends, as we grow and develop and try to address the hand-dyed-easy-care market we're carving out for ourselves, know that we appreciate your comments, your business, your chatter and your good thoughts.  Thank you!