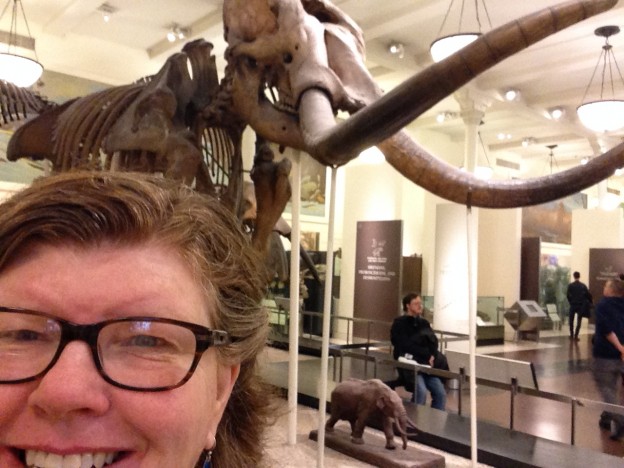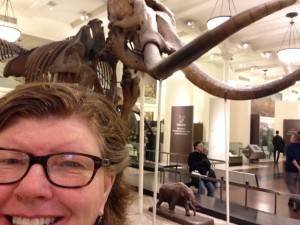 I have become a much more patient person in my 40's and 50's than I was in my 20's and 30's. I'm not unusual in this, it's a pretty widely recited truism that those with the most time (the young) seem to be in the biggest hurry.
I realized about a year ago that instead of seeing things as weekly or monthly deadlines, I was tending to see long term goals; yearly, decade-ly. Even century-ish.
The peace that this shift has created has become very important to me. I don't really care if someone gets somewhere ahead of me (well, unless the place we're going has a finite number of gluten free cookies, then I'll be early in line…)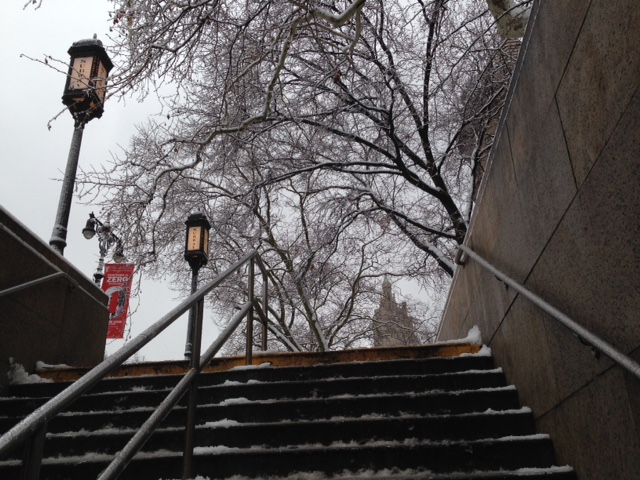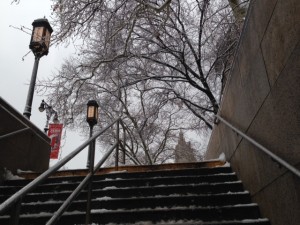 I'm just happy to get there eventually.  Or not. At least, that's what I work toward – especially when driving in rush hour traffic.
So when this weekend didn't go as I'd planned it, I tried to just swallow hard, accept it, and enjoy what DID transpire.
My classes on Saturday were, I think, good. It's always hard to judge myself, and although I try to write good, happy things about my classes, I am also my harshest critic.
The classes were mixed skill level; very new knitters, very experienced knitters, and all levels in between.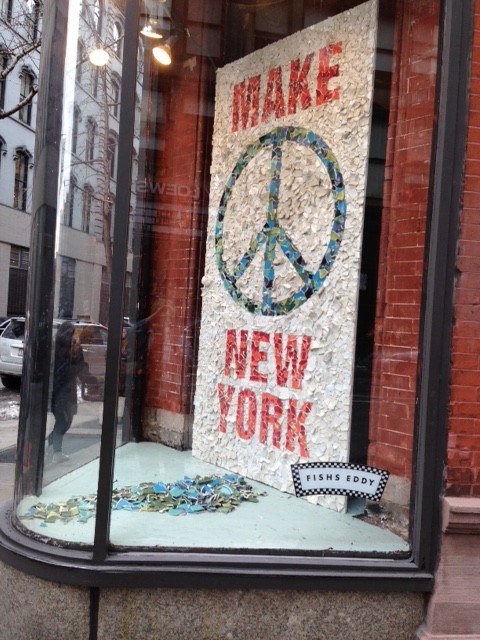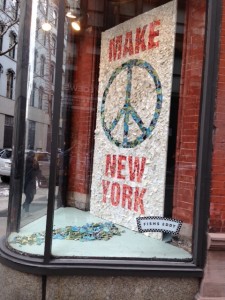 I LOVE these mixed classes, mostly for the interplay that can happen when knitters of various levels meet. But they can also be very draining, they take a LOT of energy.
It's like spinning plates, with each one turning at a different speed. Lots of running to and fro.
I left everything I had within me in that room for the students, and felt like a better teacher – and person – for it.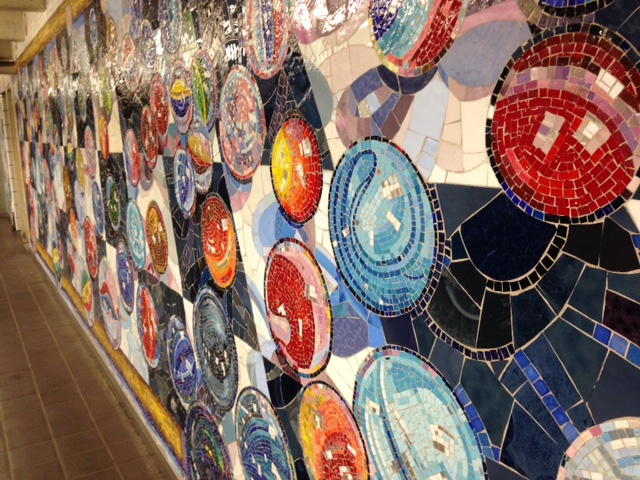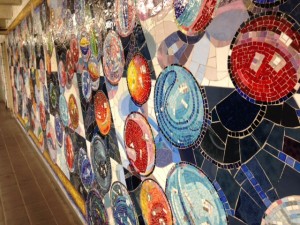 Unfortunately, because of the very hot room & the exhausting classes (and my habit of skipping meals on class days) I became very faint at the end of the day, as I discussed in my last blog post.
So the next day I rested – or I meant to.
A friend (my freshman college roommate) texted me, so we met for coffee and oatmeal.
I mentioned I wanted to pick up some bowls for Gerry's birthday, so we took the subway down to Chelsea to FishsEddy. We walked a bit, talked a lot about our kids (her daughter is 12, she – like me – is a late-in-life mom) and shared our war stories about the early teen years.
We also shared our complete disdain for "Thank You" notes. Yes, I'll come out here – I do NOT like the Thank You Note – or, rather, I don't like the expectation of them. I try to send them, and I ALWAYS say "Thank you!" for kindnesses. But I don't like getting wrapped up in some Miss Manners vision of what is the 'right' thing to do. It's exhausting.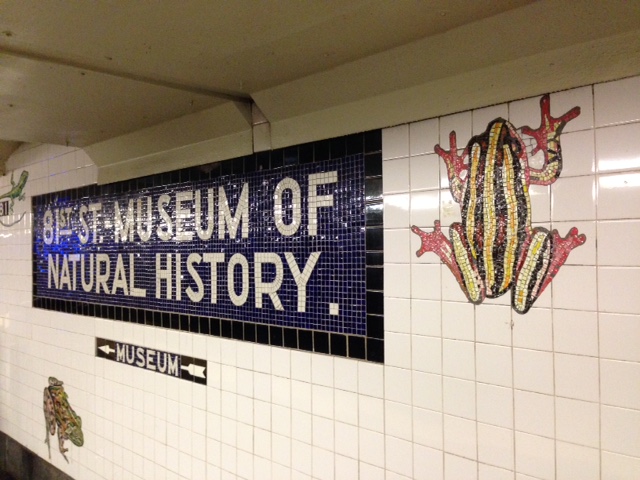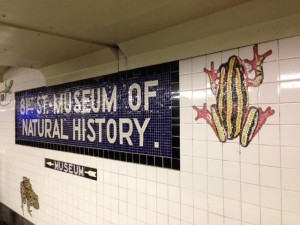 There, make of it what you will, I don't think I'm an ingrate, just often very busy…
My former roommate and I parted, and immediately I got a text from a friend in Brooklyn, a dear costuming contact from my Great Lakes Theater Fest internship days, who drove in from Park Slope, picked me up and we talked and talked in her car.
I miss my NY friends. I love Minnesota & my MN friends. It's the perfect place for me (and our family) in most ways, but I do miss my NY friends.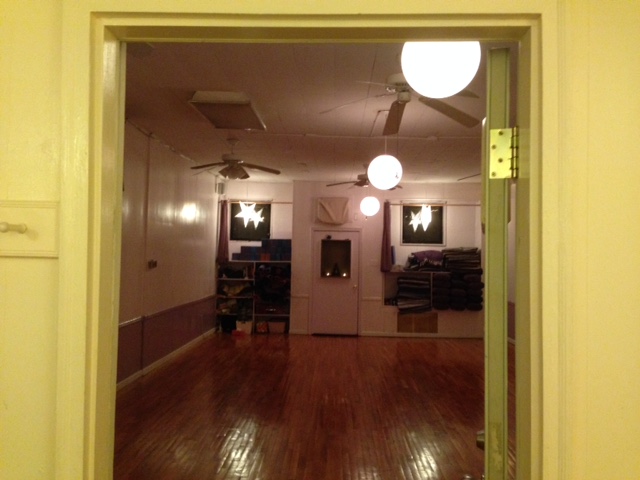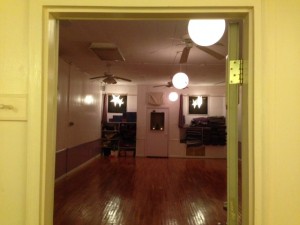 We drove to Brooklyn, to her "Restorative Yoga" class at the Jaya Yoga Center in Park Slope. When I realized the class was ALL floor work (stretching between power naps) I joined in, & enjoyed it thoroughly. David Figueroa's an exceptional teacher!
It was just what I needed, I felt energized, centered & happier than I had all day.
I also LOVED being a student, it felt necessary for my 'balance' (teaching so hard one day, learning the next!) My wise friend Sue knew what would be good for my soul.
In a perfect world, when we come together to teach anything to a group of receptive students, we, as teachers, would also be able to TAKE a class.
And we would be kind to ourselves, not judging ourselves, nor our teachers, too harshly. It never hurts to be a bit kind whenever possible.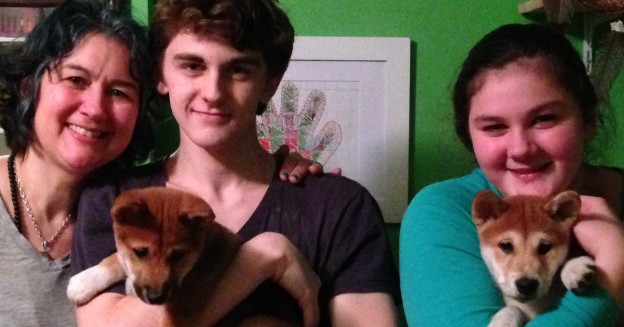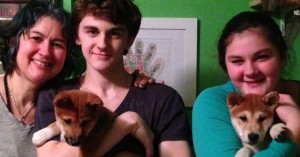 We went to Sue's apartment & I become reacquainted with her two teens, who I hadn't seen in over 12 years. We talked about kids, life & new puppies (a metaphore for my entire weekend.)
On the drive back to Manhattan we watched the colors of the Empire State Building change – a virtual scoreboard for the Superbowl!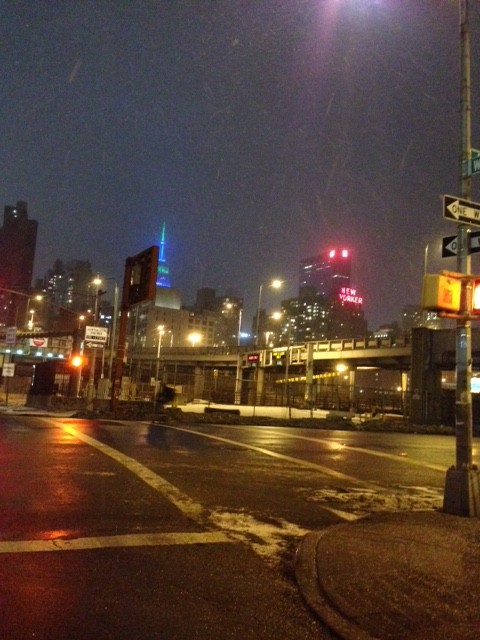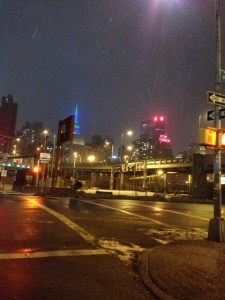 I was supposed to fly home the next day (Monday) but an ice storm cancelled my flights. Unfortunately, I didn't discover this until I was AT the airport. Had I known, I would have just stayed at the Hampton Inn on 39th another night (it was a really great hotel!) 
But once I was in NJ with the only open flight at 6pm on Tuesday, I had over 24 hours to kill.
Yes, I could have returned to NY, but the amount of physical energy it took to get from the hotel to Penn Station, then onto the train, then from the train to the check in counter had entirely drained me. Few things are as wearying as maneuvering through Manhattan in an ice storm with lakes of frozen water at each corner.
I'm a mass transit fan, but it can be exhausting. I was in FULL Fibro flare up – I still am – so feeling totally confused I called Gerry and wept, which is something I don't do very often.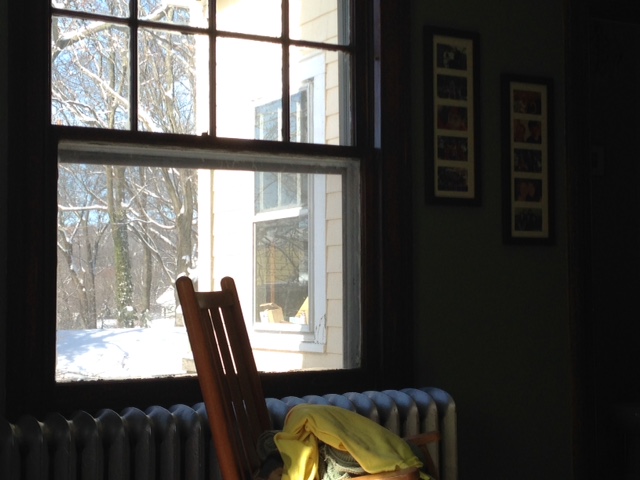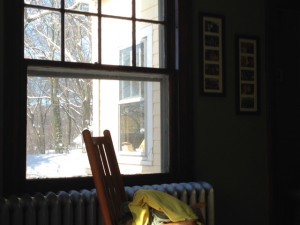 Gerry called some very dear friends in NJ & they welcomed me into their home. Their son and Max used to be best friends, and we parents became good friends, too!
So here I am, in a very beautiful home, on a snowy & beautiful day in beautiful Maplewood, NJ.
The weekend hasn't been as I planned it, but it's been a learning, growing and reflecting kind of weekend. I needed it, and I'm glad I had it.