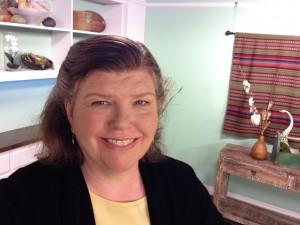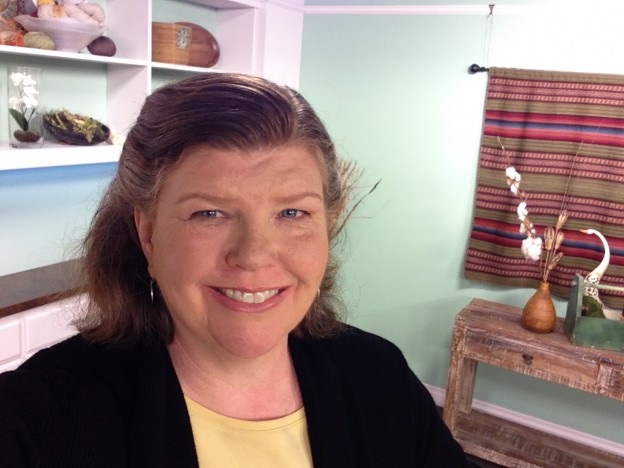 Hey Folks!
I'm writing the post that I'd been hesitating to write for over a year. [deep breath]
It's been a pretty hard 14-month period, but also an amazingly great period. A dull twilight punctuated with glimmers of pure white starlight, and dark moments, too.
The Good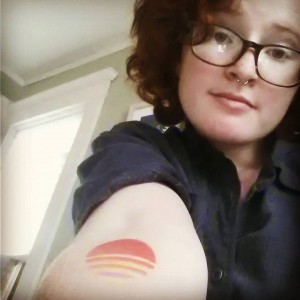 The family's healthy—for the most part— we have a home, heat, food, running water and as much love as any family could need! I have exceptional friends, excellent work, beautiful yarns to dye and sell and one of the best business partners I could ask for.
The kids are beautiful and thriving, Andy's doing well in her 2nd year at Earlham, Max is applying to various colleges (c'mon Hampshire!)
The Bad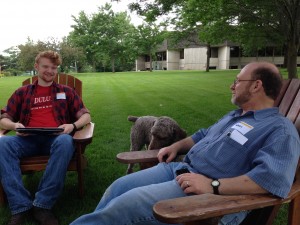 Gerry's health, which has fluctuated between very good and scary bad since his initial diagnosis with Multiple Myeloma in 2007, has been on a bit of a downswing. We've experienced worse, and as we experience the loss of friends with this disease on a regular basis we realize how fortunate we are, but it's a constant mental and emotional burden.  But our dealing-with-ongoing-chronic/terminal-illness muscles have been honed, and we generally have a pretty good attitude about it.
I can honestly STILL say that the lessons that cancer has taught all of us—mostly about ourselves and our love—are worth learning.
The Embarrassingly Bad
In November 2014 I tried to kill myself, and I'm still dealing with the fallout.
I wasn't depressed (well, no more than usual, like my father and many other members of my family, I suffer from depression and treat it with prozac, eating well and exercise)
I WAS, however, on a drug that caused me to behave in a way that was absolutely foreign to me.
Lyrica Blues
In August 2014 I was diagnosed with Shingles, and it was a bad case. The pain was overwhelming, causing me to be in and out of the ER several times. As part of my recovery, I was offered Gabapentine.  Having used it before for Fibromyalgia, I knew it did little more for me than make me dopey.
So then I was offered Lyrica, and the difference it made in my pain was outstanding. Not just the shingles, but my fibro pain as well. It was as if Annie from 5 years ago was back and I felt like a million bucks. Until I didn't.
One evening, after a VERY silly and unimportant argument with Gerry (seriously, we argue as every couple does, this was NOT a big one, just silly…) I found myself sitting in the living room with a fully bottle Gerry's pain medication that I'd picked up from the drug store that day, and without really knowing what I was doing, I poured a big handfull out and swallowed it.
It was surreal. It was almost an out-of-body experience. I still can't quite believe that I did it. It was almost as if I were watching a movie of someone doing what I was doing.
Gerry was upstairs, the kids were out of the house, and something in my brain just said, "Hey, take a bunch of those pills why don't you…?" So I did.
I told Gerry immediately. He didn't understand at first, but when he got it, we were off to the hospital.
And here's where it got interesting.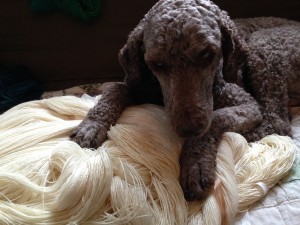 I expected to be questioned pretty thoroughly, perhaps admitted to a psych ward or something (the only thing I have to go on with this are Lifetime movies.)
But when I explained to the nurse admitting me that I was on Lyrica, and I had NO idea what happened, I just suddenly had 30 strong painkillers traveling down my throat.
And her response? "Oh, Lyrica. Yeah. We see that a lot."
I was sent to an exam room where a doctor and nurse came in to give me charcoal to drink (I chugged two bottles in record time, good to see my college education paying off) and, when I explained to them what had happened, they replied in unison, "Oh, Lyrica, yeah. We see that a lot."
They didn't even have a social worker come to talk to me, they chatted, and on my promise to see my primary care doc the next day, I was released.
The next morning I did see my doc, we worked on a schedule to taper myself off of Lyrica, and I also saw a therapist for a few months.
Since Then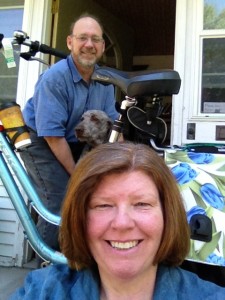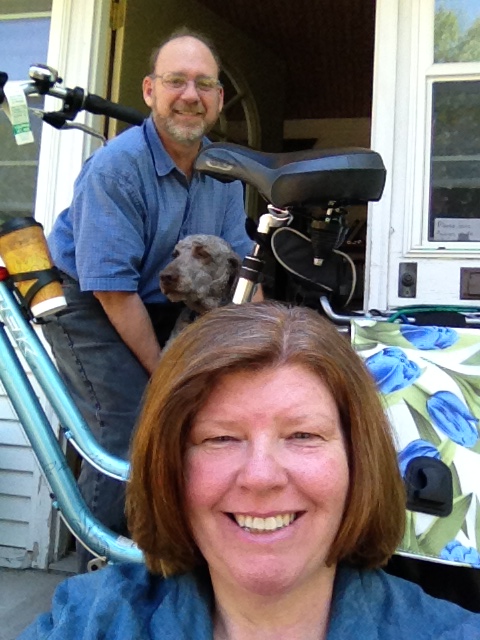 I had never had such a strong urge to do myself harm before that night, and I haven't had an urge like that since. Amen.
The fact that I DID have that urge is frightening; obviously there was something inside of me that felt entirely overwhelmed and full of despair. But it was the Lyrica that crystallized those feelings, that made them solid and compelled me to act on them.
I haven't discussed this with the world in general (until now – hi world!)  My good friends, family and some of my customers have known, though. I've had several folks come forward to tell me they've had the SAME experience with Lyrica.
I'm not saying that Lyrica should be banned, but I do think that it can be a very dangerous drug, I'm proof of that. The entire time I've had Fibromyalgia I've worked hard to deal with that ongoing pain with diet changes and lots of exercise.  My instincts in this were more right than I could know, I'll continue in this vein as long as I can.
Why Now?
So why am I telling the world this story now? I'm not entirely sure.
I feel as though there's been a dark cloud on the horizon since this episode in Nov 2014. As much as I tried to fight through it, I would wake in the early morning hours gripped with terror (unreasonable fears; financial ruin, Gerry's demise, something happening to the kids, etc.) and it's been a long road coming back from the fear surrounding this episode.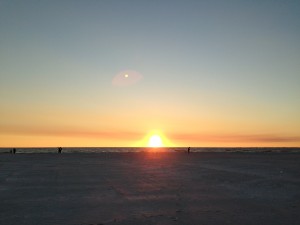 It's just been in the past few weeks that I feel I'm finally passing out of this dark phase. I knew it would happen, I knew the light would shine again and I'd feel more like my best self. But it's been a lengthy process of dealing with guilt for the fear I caused Gerry, anger at myself, and fear that I'd broken something that couldn't be fixed.
But light is filtering through again. Many folks have written to ask why I'm not blogging as much, how come I'm not on Facebook as much as I used to be; this is the answer.
Last year I talked about my experience in front of a Multiple Myeloma group leaders at a conference . Lyrica is a drug that is commonly used within the MM community as shingles is often seen among these patients.
After I'd heard Lyrica praised over and over at the conference (and it IS a remarkable pain med!)  I wanted folks to hear from someone who had personally experienced the, "may cause suicidal thoughts or actions" warning first hand.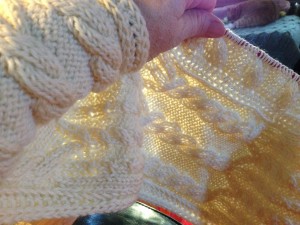 As many of you know, I'm no shrinking violet and can speak in front of a room, but this was a terrifying experience; admitting that I'd done something so stupid and potentially harmful to my family. But I feel it was an important thing to do, and heard later from someone who'd had a similar experience in the group but had never talked about it.
So now you know.
I'd like to say, "Now let's just forget this ever happened, and go back to life as it used to be!" and I'm trying to do that as much as I can. But I've stood on the cliff, I kicked a stone off and in an almost trance-like state, I followed it over. But I caught a branch on the way down and didn't go splat.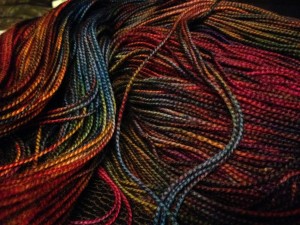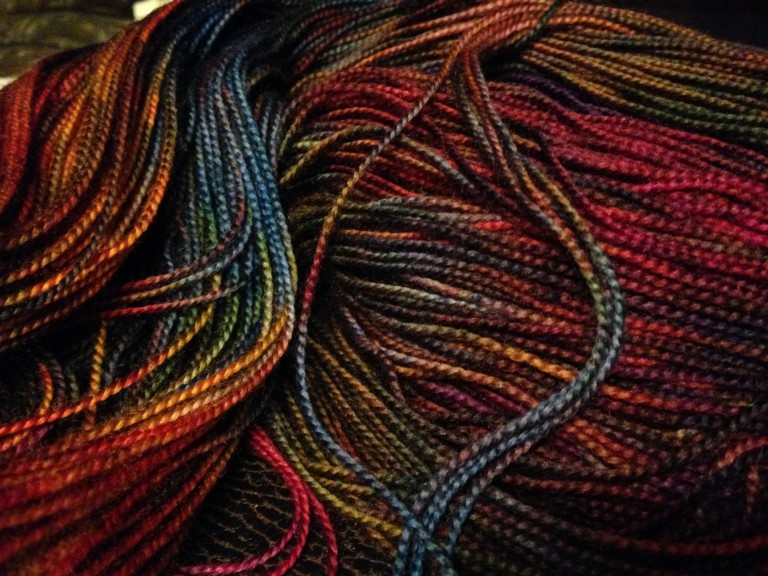 The reality of this experience had darkened everything I did for months.
I've been adding touches of black to many of our ModeKnit colors (which works well in many cases) but finally I feel as though I'm able to see many colors as they really are, pure and bright.
As much as I understand that there will be periods of light and dark in the future, I'm feeling more hopeful about moving forward than I have in – well – 14 months. Thanks for sticking with me.