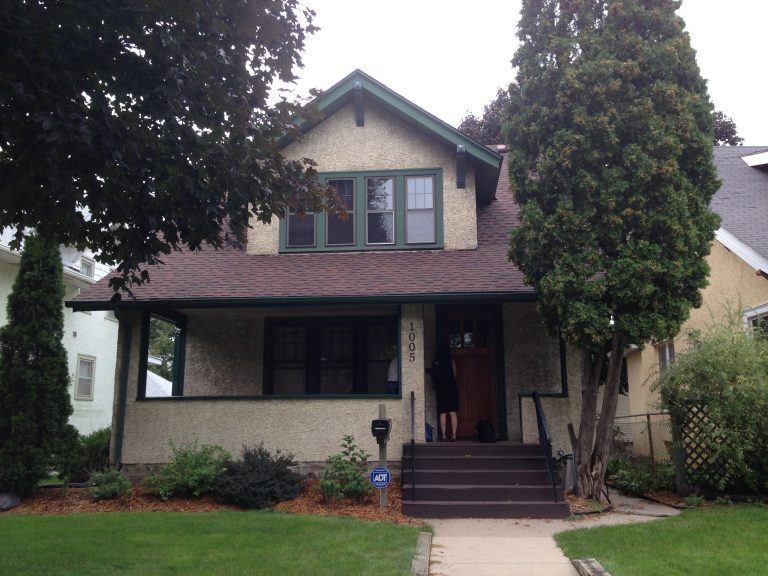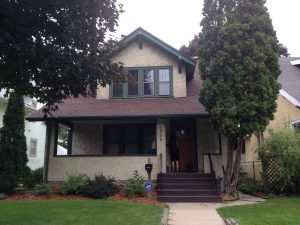 I feel like this Summer I've been a distracted, busy, active, aching, hot mess.
I'm always hot in the Summer, but I'm not usually so confused by simple things (which is the washer, and which is the dryer?) and more focused on daily tasks.  But this has been THE SUMMER OF THE MOVE, and if you've moved, you know what that's like.
From March-June we were cleaning, packing, storing, painting, repairing, planting – just basically getting our house ready to put on the market.
I started the hashtag #HomeSaleFixup if you want to see the pictures from our transformation on social media.
That was exhausting, but we had a plan.  With Max leaving for college, and Andy a Junior at Earlham, we realized it was time to downsize in some respects.
We wanted to move into a home that would make mobility easier for Gerry and myself, would have rooms for Andy & Max (but not huge ones…) and would afford me a better space from which to run the dye operations for ModeKnit Yarn.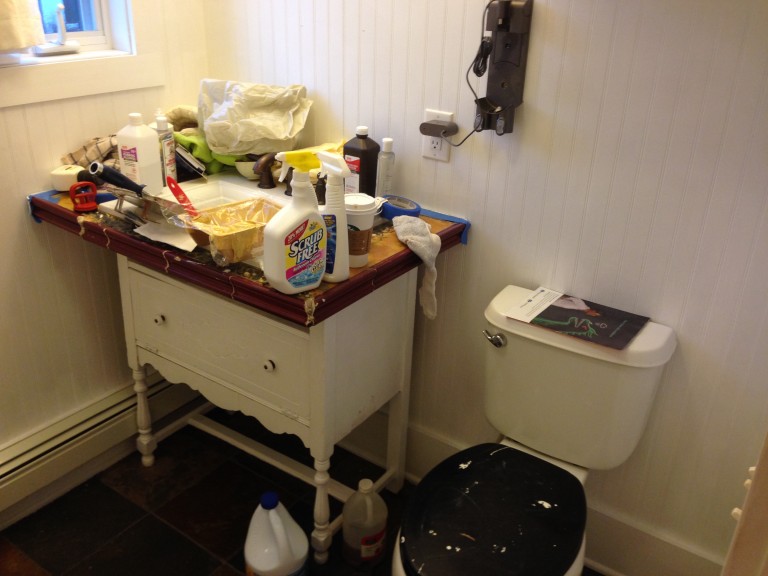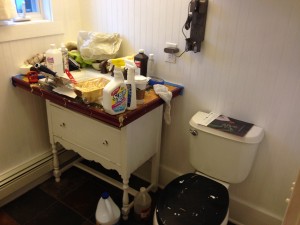 Early in our search we had included, "Garage workspace" or "Heated garage" in our search criteria on all of the real estate sites, but after finding NOTHING with a workable garage I decided to just give up and look for a functioning basement with a walk-out so I could easily transport yarn to and from our trailer for shows.
I REALLY wanted a stand-alone space like a garage, but I didn't think I'd find it.  The business is growing beautifully, and my business partner Kathleen Pascuzzi and I realized that we would have to move to a larger space, so I was just hoping somehow I could roll that all into our home search.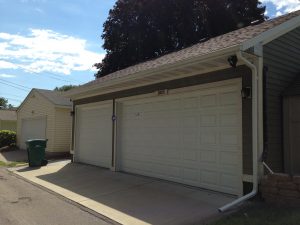 After the house was on the market we discovered that Gerry's cancer was raising it's ugly head again, as it seems to do every 3 years or so, and that added a sense of urgency to the move.  Gerry always enters a new chemo phase by trying to organize things, I think it's how he deals with the uncertainty of Multiple Myeloma. So this time he seemed determined to get us into a good space before his chemo starts in September, and I was happy to use that time frame.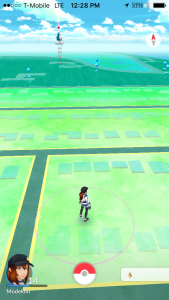 We were VERY fortunate in our agent, Claudia Assell from Home Avenue (a flat rate broker)  She was a wonderful asset as we put our house on the market!  Unfortunately, her long planned vacation coincided with the weekend we accepted a bid and so NEEDED to get out and FIND A HOME very quickly.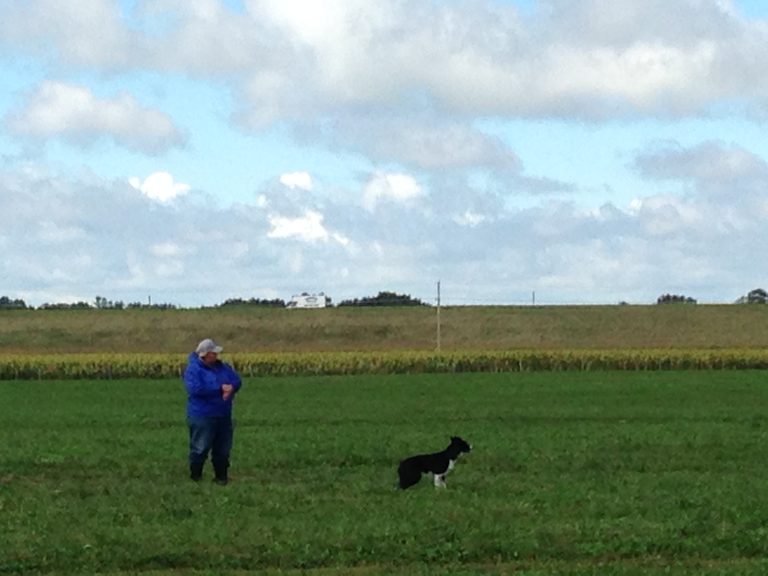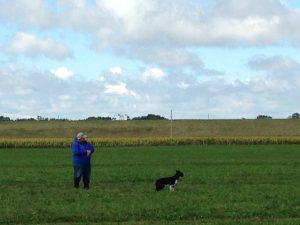 Enter Natasha Cejudo from Edina Realty.  We'd met with a few other realtors while looking for our listing agent, but none of them seemed to 'gel' with us.
We'd met Natasha by accident, and we really clicked!  She was excellent at showing us things that suited us, and we tried to make her job easier by checking out homes and neighborhoods (and thus eliminating a number of homes) before dragging her along to show us the interiors.
She'd heard of a home that was going on the market through her agency, so we were able to see it on the first day it was available for showings.  We arrived at 9:30 and we weren't the first buyers to see it – THAT'S how hot the current real estate market is here in the Twin Cities.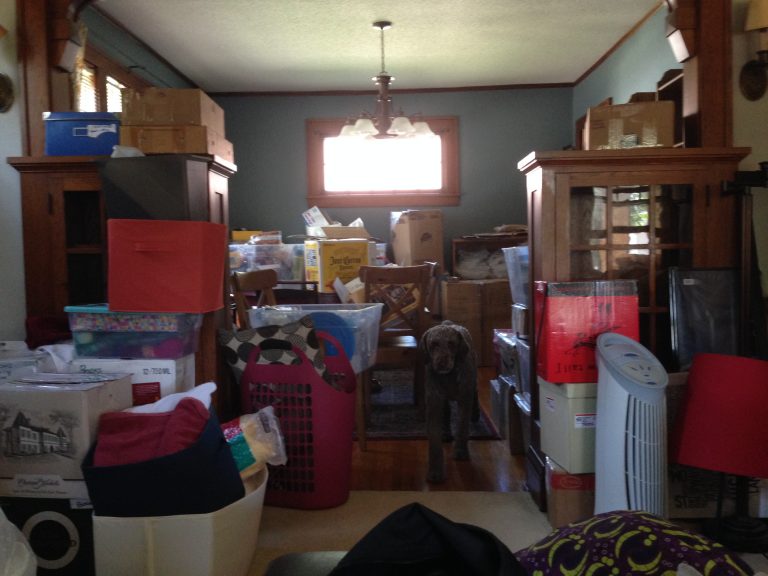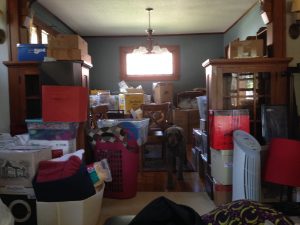 The home was beautiful; it was essentially a smaller version of the house we were selling! Similar layout, architecture and era (1910's bungalow with loads of lovely Arts & Craft wood)  We liked it, although we were hoping for something with a bedroom on the main floor.
Then we walked outside and saw The Garage.  The seller was a fine woodworker, and had built the garage to his specs in 2012.  It's modern, heated, has an attic and is HUGE! Two of the bays in this 3-car garage will be the new dye studio for ModeKnit Yarn, the third will be where we keep our solo car.
After several fiber shows in a row, and a TON of teaching, I've spent most of this week dragging boxes up and down stairs and putting together shelves, tables and work area items for the dye studio.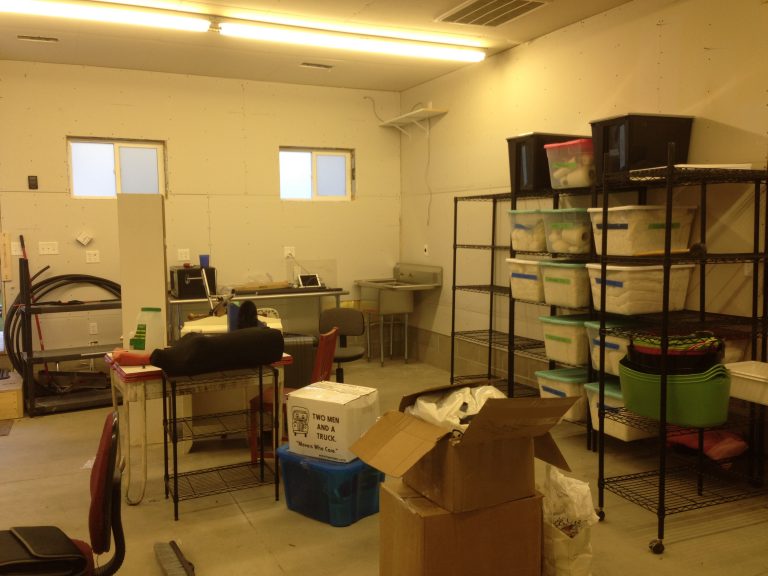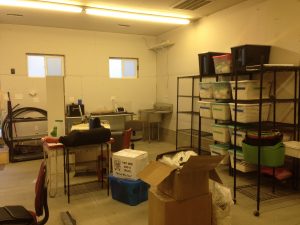 It's nowhere NEAR ready, but it should be usable by next week so I can start dyeing again!  And just in time!  We have a bunch of wholesale orders and some pretty large special orders coming up, along with two dye clubs Kathleen and I are cooking up and the regular dyeing I need to do for upcoming fiber shows.
While I deal with getting the business going again, Gerry is unpacking, putting stuff away, and dreaming of the things we need to get for the home to store our electronics.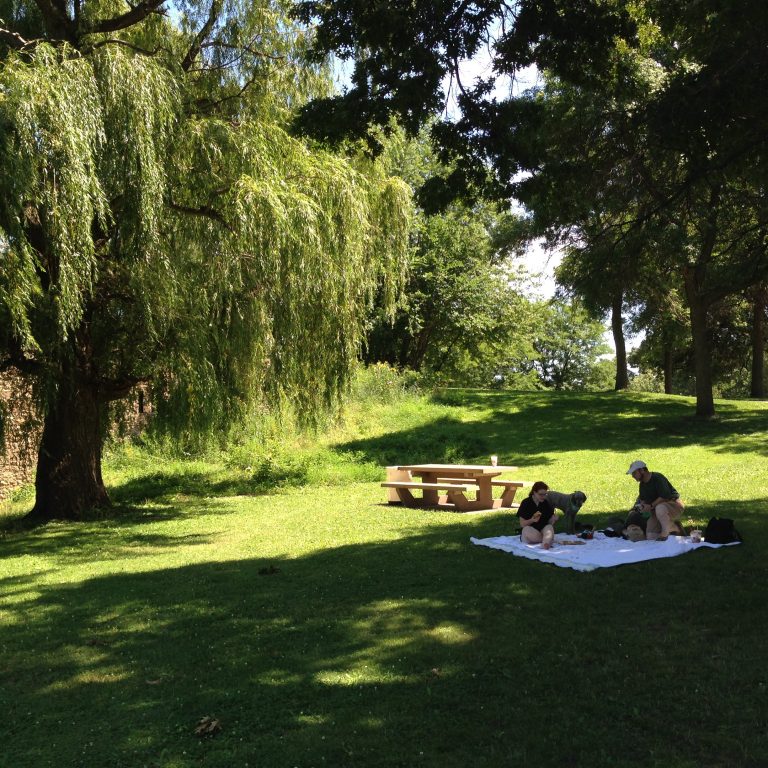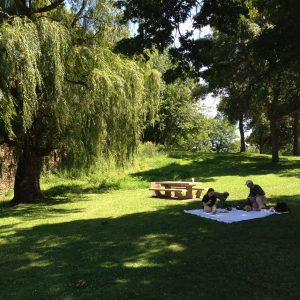 We have a fence guy coming tomorrow so we can get that put in (and the dog will be happy to be running free!) Gerry's made it a point of walking to the lake every day with Jasper, but as the days get colder and the chemo makes his days harder, we'll be very glad for the fence!
I've been working so hard, I think today I'll stop and take a break and go for a nice bike ride, I deserve it, and so does my mind and my body!
There's a big lake a few blocks away that looks as though it needs to be circled a few times!  Maybe I'll catch a few Pokemon!