Didn't I See This In "Alien?"
To be honest, most of June is a blur of cornfields and pain.
We had been considering driving in one big swing from St. Paul to Iowa, then slowly meandering down to Houston for the following week, and then home.  But I was feeling bad enough that I really needed those extra two days in St. Paul after a very hot weekend at the Iowa Sheep & Wool Fest.
I were VERY fortunate that Max was available and willing to travel with Kathleen and I to Iowa and to Houston, and I felt it was a little unfair to take him away for an entire two weeks when there was a chance for him to connect with friends for a few days between the shows, too.
Also, the Iowa show was 3 hours away, and I was in pain and longing for home, and I hate to leave Gerry entirely alone for two weeks. So back up to St. Paul to regroup, a day or two to skein up some yarn and to allow Kathleen to label it up, then back on the road bright and early heading for Houston, TX!
The trip to Houston was everything we'd expected; sweeping vistas of Iowa, Missouri and Oklahoma, truck stops, feed caps, hot car, motel rooms with extra side rooms & pull out beds (or trundle bed, in one place…) for Max. I was actually so impressed with how green and lovely the land south of Waco looked, it was unexpected, and beautiful!
The Berry Center, where the Houston Fiber Festival was held, is absolutely lovely. It was easily one of the most beautiful shows we'd been involved with.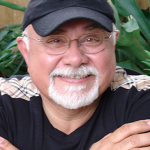 I kept thinking of it, in my heart, as the "Mary Berry" center and imagined all kinds of pie and cake judging going on inside the many conference rooms.
A bonus was that Frank Bielec from Trading Spaces was wandering around the show and really loved one of my designs, which made me feel like a mini-celeb!  I stupidly didn't get a pic with him, which made me sad. Well, it's long been said that with Frank, you snooze, you lose!
Pain Is NOT Your Best Teacher
But I was crazy busy with six classes, most of them sold out, still working under the uncertain diagnosis that I had costochondritis and a sprained back. My students were among the smartest and kindest I've ever taught; friendly, loving, hard working, considerate, engaged and eager to help me, too, because my pain was palpable.
I became so confused in my last class that I totally screwed up one of the key instructions in making the wire bracelet we were knitting, and that mistake — and my ongoing pain which was growing stronger and scarier — reduced me to tears at the end of that class.  I still feel embarrassed at how the class ended, and I am so grateful for the kindness of the students in the class who seemed to rally around me.
None of us knew it at the time, but the chest pain that overwhelmed me whenever I sneezed were lymph nodes growing, the back pain that made it impossible for me to walk or stand easily was a tumor pushing through my T10 & T9 vertebra.
I'm hoping that information will help put my limitations as a teacher into perspective.  I never think I'm someone who DWELLS in guilt, meaning—I don't try to find the guilt in myself on a regular basis—until I write these pieces.  Then all that I seem to remember are the huge pools of guilt and shame I sat between at the end of that knitting with wire class.
GUILT
My husband's family—as every Jewish family in NYC I know—jokes about the deep ocean of guilt that travels with them as they move through life. They don't even deal with pools, they jump right into the Dead Sea and float around in it for a bit.
My mother had a slightly different, more pragmatic take. She used to say, "If you feel ashamed, apologize. If you feel guilty, make it right." She did NOT hold with misspending energy on something that you should just fix.
She ALSO didn't believe that folks should be prideful. She liked folks to HAVE pride about their appearance and their general sense of being (she called this "self respect")  But actual PRIDE made her a little bit uncomfortable, a bit non-humble. And although she LOVED a good 4th Of July parade, the 80's were hard for her.
We used to go to my brother's high school and they'd have a banner up, "Panther Pride!" and my mother used to shake her head and say, half in jest, "Why can't they just say, 'Panther Self Respect!'"
Every knitting I teacher I know guards their style and their secrets for a great class (it's all the one secret, love your students…) and, sadly, we rarely get to take each OTHER'S classes!  Hmmm, maybe while I'm recovering I can sneak into a few local classes…  I think if we took someone else's classes every now and then, it would give us a healthier respect for what we ALL do!
One Favorite Teacher
I've taken one of Robyn Chachula's classes whenever I can. I started as a crocheter, I didn't knit until I was 25, but I consider the act of teaching crochet to be MUCH harder than teaching knitting. Crochet teachers have to trust their students to SEE what the teacher sees, and that's difficult in a one-hook craft. With knitting needles, it's very easy to use my two needles to "frame" a step or a stitch that a student must recreate. With crochet, it's so much of a crap shoot!
Anyway, Robyn is among the best teacher's I've ever seen. She can show five different folks five different steps at the same time and remain patient and cool. Anyway, taking a class from Robyn doesn't necessarily make me feel like a lesser teacher (although I would DEFINITELY be a worse crochet teacher than she is!) 
No, quite the reverse. Taking a class with Robyn allows me to see the LOVE that pours out of a good teacher, and I think I feel that same love between myself and MY students.  Being a better student makes one a better teacher, what an odd concept.
And, like any love, sometimes it can be difficult to express it this teacher student love in the space of 3, sometimes tense, hours. Add to that pain, which is one of the strongest love blockers I know, and it's an uphill battle.  When you're in pain, all you can think about is YOU, YOUR BACK, YOUR PAIN.
The Cost Of Pain
It's a terrible thing when a friendship or marriage ends. I think, quite often, there's been some deep pain episode which supersedes either parties ability to rally and connect with each other. Gerry and I have talked about how lucky we are that, at the advent of his cancer, he was covered by his UNION insurance (Thank You IATSE Local #1) and that made all the difference in our ability to even KEEP our home for the first 5 years.
Yesterday he said in the car, "You know, this time around you have MNSure [our Minnesota low income insurance mandated by the ACA*] and I have Medicare, we are two of the lucky folks who have landed in a place where we actually HAVE insurance.  If we didn't, if we had the fear of knowing most of our bills would go unpaid, or the pain of dealing with providers who wouldn't see us because our insurance sucked, would we even be able to WEATHER this thing?"


It was a searching question. The easy answer is, "Of course! I love you!" but when fear and pain come in the door, love sometimes slips out the back. Must have been that door god left open..
The Cost Of Fear
That same kind of fear can inhabit a teacher and ruin the chance for connection in class.  That's exactly what I felt during that last class, that some connection wasn't being made, and the source of the broken wire was me.
The thought I've failed a student is one of the worst feelings a teacher can have, no matter what you teach.  The fear that someone walks away from a class more confused than when they arrived haunts me when I teach.  I felt that way in Houston, and I swear the mental anguish increased my physical pain 10 fold.  I let my students down, and in a twist of timing my husband and Kathleen finished the booth teardown and came to "watch" the rest of my class.
Hell, I invited them, it's usually one of my most rollicking, fun classes of a weekend!
But they entered right at a point where I felt a fool, and looked a moron, and my reaction was to cry. Like a tiny, diaper baby. Boo hoo. And I'd probably cry again, because, family lore.**  
That was a low moment. But, true to the amazing generosity of the Houston Folks, they tried to make me feel a bit less terrible, and they did. And later that evening a lovely filet steak was placed before me, with thanks for my teaching, which was a very kind thing, thank you, HFF!
As I said, when I talk about my passion for teaching, sometimes I can get absolutely sloppy about my need to be better, my fear that I'm not good enough. One can see how this type of self criticism can become a comfortable cycle, so I won't let it. My mom wouldn't. Oy, It's never a good idea to become your own best punching bag.
*Thank you Barack and Amy & Al & Mark. Our former president and current and former senators & governor have made my life possible, I am grateful. I have NEVER felt more fortunate to live in Minnesota, I only hope our family can pay this amazing state back for everything they've given us in the past 12 years!
**It has long been acknowledged in our family that I can, indeed, cry easier than I can piss.