I was gifted with some Qiviut yesterday, and I've been stroking it and loving it ever since.
I generally don't knit up stuff for myself, JUST FOR ME, especially not in such a luxurious yarn. I try to use our own ModeKnit Yarn when I knit these days, but—c'mon—Qiviut ?  This is very special.
I've been told by my Med Onc, that I'll be losing my hair.  I'm debating allowing Andy to just go ahead and shave it, it's pretty short already, but my condition will be that ANDY will have to be my Sampson and will NOT cut their own hair.  It will make me so happy to see lovely, rich, deep auburn locks growing while my own bald pate is shining with Dex-induced fever sweats.
But I will need some kind of head covering. If nothing else, for the AC I'll be in the rest of the Summer, and my chemo will be going FAR into the Fall and Winter and perhaps Spring of 2019.
SPLIT CABLE WIMPLE
Instead of a hat, I think I'm going to knit up a cowl and use it in various ways.  I love folding and twisting a cowl to create a sort of hat, and that will probably be the way that I utilize this beautiful Qiviut. Cowls and wimples are my go-to, I find them so useful, so this will be my Joyful Personal Knit for the coming weeks.
Would you like to knit along with me?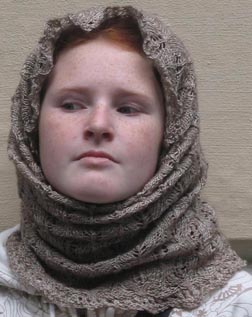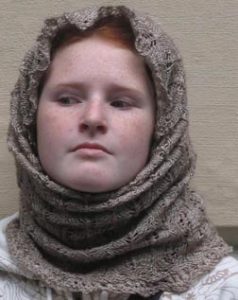 In all honesty, the pattern is NOT well reviewed (there's only one 2-star review…) but it's always been one of my favorites. There's no accounting for taste, but I have met folks who've knit this up and have loved it.
It's NOT my best selling pattern, but I love the idea of company to knit this together with me.  So if you purchase this pattern it before I start my Chemo on Monday, Aug 20, the price will be $4.00.
Blog Support
I'll be happy to blog about the how my knitting is going every week or so, point out highlights and address issues that folks may be having.  It will be a nice change of pace on the blog from "Ow, I hurt." or "Ish, I'm tired!"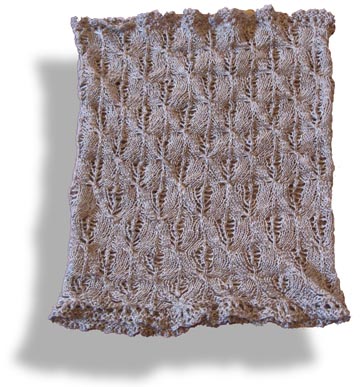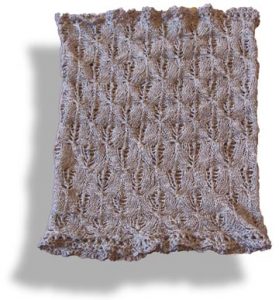 If you've never knit lace, this may be easy enough to get you going. There IS a cable in it, and I'll be happy to discuss my technique for cabling without a cable needle.  The lace work is simple and very repetitive, and once you get the first repeat you SHOULD be able to read your work and memorize the lace.  Or not.  I don't like to put expectations on folks for their personal knits, I just hope this will be simple enough to be fun, and challenging enough to be interesting.
We could treat this as a casual, online class. I'll post tutorials as I can, and you guys can share info with each other if you want.
How does that sound?
You can use WHATEVER fiber you want!  I'm using the aforementioned Qiviut, which is slightly heavier than a fingering weight.  I'll be working it up on size 7US/4.5mm needles because that's the drape I'm looking for, but with a cowl the beauty is gauge is NOT vital, so you can just aim for the lightness (or heaviness) of fabric you're looking for and start there!
A note about lace: Do NOT fall under the misconception that because you're knitting lace you'll want to use HUGE needles.  I like to knit my lace on a needle that's NOT too large for the yarn. If there's too much space between stitches (which can happen with larger needles)
You get the pattern, you find some yarn, and let's get going on Friday, okay?  See you then!