Uniforms are something I don't have a lot of experience with.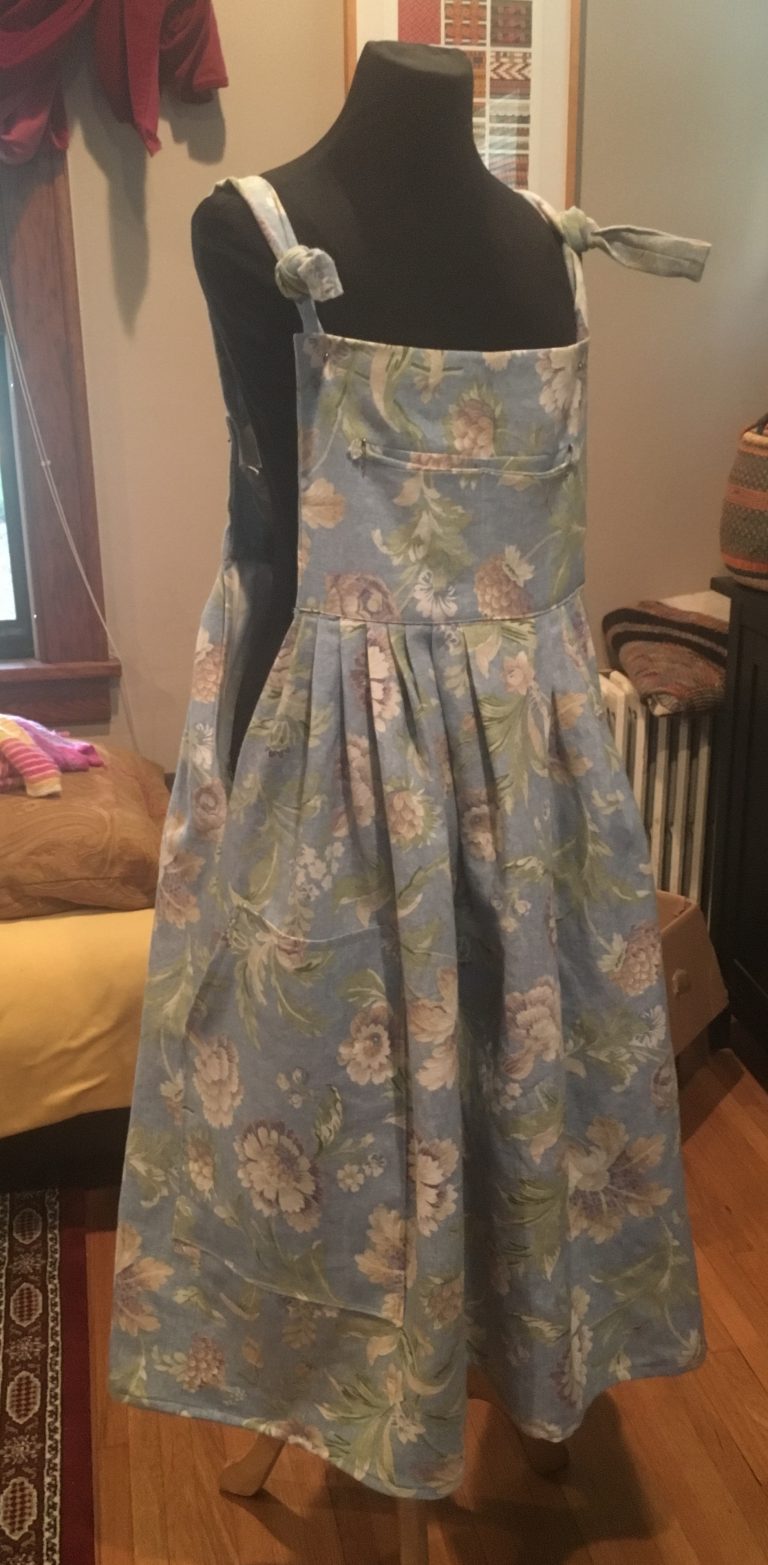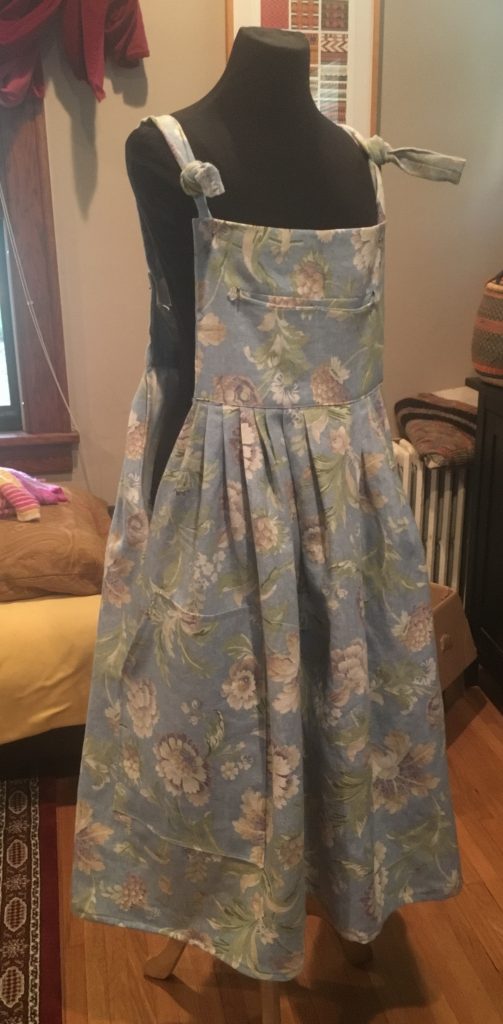 I never wore one in school, even in gym class we were able to wear whatever we wanted (that had changed a few years earlier, much to everyone's great joy!) and my few forays into the fast food industry in my teen years were about as close as I got to life in a uniform.
But now I want one.  I want a Chemo Uniform.
I want something that's easy to put on, take off, wash and just NOT THINK ABOUT.
Perfection would be a pretty linen dress that's a big apron with lots of pockets. So I made it.  I may make another (in a different fabric) because this is going to be going on for more than a few months, and I just don't want to have to spend time deciding what to wear each day.
So after pondering many images on pinterest, considering the important elements that matter to me, I pulled out some Laura Ashley fabric that I'd had squirreled away for almost 20 years and got to work in the wee hours.
Sleep comes around 9 or 10pm, and I enjoy it.  Then around 2 or 3 I wake, around 4 I get incredibly uncomfortable in my bed (laying can make my back ache, especially now that there are MORE tumors that have appeared in my hips and tailbone) so I get up and sit, read, knit, just change my position.
This morning my position was at the dining room table, sewing away on a machine I purchased last year at Stitches Midwest, and I finished my little dress in just a few hours.  All that time working in costume shops pays off when I want to whip up a new dress idea!
I'm gravitating to blue, which is my favorite color. I have SO MUCH BLUE in my box of fabrics, and I have ideas for more dresses and for a few pair of pallazzo pants which are easy to wear and easier to sew up.  I have a pair that I made in an exquisite rayon fabric back in 1990 that look pretty much as they did the day I sewed them.
Quality fabric is NEVER a mistake, buy the best fabric you can afford and you'll have a piece you can wear for years!  If cancer's given me anything so far, it's time to stop and contemplate things I'd like to do, and realize that if I don't do them now, I may not get another chance to.
A very dear friend, Jolanta, who some of you may know as the "bead and jewelry woman" from Stitches Midwest, sent me a care package yesterday with beautiful wafers, some chocolate AND a gorgeous Lapis Lazuli necklace.  Blue, and calm, and lovely.  Perfect for chemo therapy.
Fear Returns
The fear of cancer is always here, but the fear of BONE PAIN haunts me like my insane fear of flying, stinging insects.  I just received a note from MyChart (HealthEast's portal) that I'll be getting another lumbar puncture on Tuesday morning. This is a surprise, and I'm sure we'll be spending a good deal of the day on Monday explaining that I WILL NOT HAVE THE PROCEDURE if they don't include some anesthetic.
The place where I've been scheduled to get it is exactly where Gerry went for his first, with NO anesthetic, and it was absolutely horrible.  The two procedures I had along these lines this past week were both under anesthetic, and even then THEY hurt like hell for a few days after.
I keep running into folks who say, "Oh, I didn't even FEEL it!" and I wonder at their strength. I know I'm a baby about a lot of things, this is one of them.
Another Class
On a MUCH brighter note, I signed up for another class at the MN Textile Center.
We are SO fortunate here in Minneapolis/St. Paul to have a wealth of museums, fibre and fabric resources and an AMAZING textile center.  The class I took in rug hooking in the Spring was SO exciting for me, so enjoyable.  It's funny, I felt myself becoming weaker, more tired, with so much pain as the class went on, but I LOVED the class so much.
Now I'll be taking a class called, "Wearable Art" and I'm really looking forward to utilizing some of the lovely fabrics I've been collecting over the past 30 years. Andy will be accompanying me to class as I'm not allowed to drive (too many drugs in my system.)
I'm looking forward to being in the class with Andy, who is beginning to find a love of stitching and fibery things.  Perhaps that's something else that cancer will give me, a chance to connect with my kid on a whole new level!
I've never been shy about explaining how Gerry's cancer, as scary and terrible as it was/is, was in many ways a gift to our family.  We don't hesitate to tell each other we love each other, we know that time is never on our side.
So this morning I contemplate a nice amount of hand-sewing to finish my dress, and I ponder how lucky I am in the midsts of such a scary shit-storm of malignancy.  Please don't think I'm a Pollyanna, I'm having a rough time dealing with many aspects of this journey I'm on, but I KNOW how ungrateful I'd be to NOT recognize how fortunate I am, too!
Fundraiser
We still haven't heard whether I'm approved for SSDI, but I'm crossing my fingers.  Until then, life is a bit scary because so much of my projected income this year was going to be from classes I was going to teach at various fiber shows.  Add to that the medical expenses (it feels as though every week I'm dropping another $150 or $200 for copays and not-entirely-covered procedures.
If I DO quality for SSDI, the kicker is that it will be at a pretty low rate since I've been self employed while caregiving for Gerry for the past 12 years.  In our Social Security System, women who care for family members NEVER get a break, and it stinks.
Compared to what this adventure MIGHT be without insurance, we are lucky.  But it's terrifying to see the bank balance go in one direction when I've been so used to seeing it rise and fall (like everyone else does, I'm sure!)
When I mentioned that I wanted to do a knit along, I hadn't really thought it through – especially not as a fundraiser!  But the amazing folks at Mason Dixon Knitting (Hi Kay!! Hi Ann!) picked up on this and put it out there as a quick and easy fundraiser!
That was absolutely brilliant, and so many folks have responded by purchasing the Split Cable Wimple Pattern (currently $4.00 until I start my Chemo)  Thank you to EVERYONE, I can only say how humbled and grateful I am to each of you, and to the exceptionally kind folks who have also donated to my Paypal Fundraiser.  I feel crass even talking about it, but YOU are helping me pay my co-pays.  YOU are helping us put gas in the car for doctor visits.  THANK YOU.