Gather 'round, kiddies, it's time for Granny (me) to relate the famous story of How I Met Your Granddad.
I'm writing this as if future me is telling
yet unmet grandkids our story,
because that's the dearest wish of my heart;
that I will someday be able to meet a grandchild,
and hug them,
and teach them cool stuff.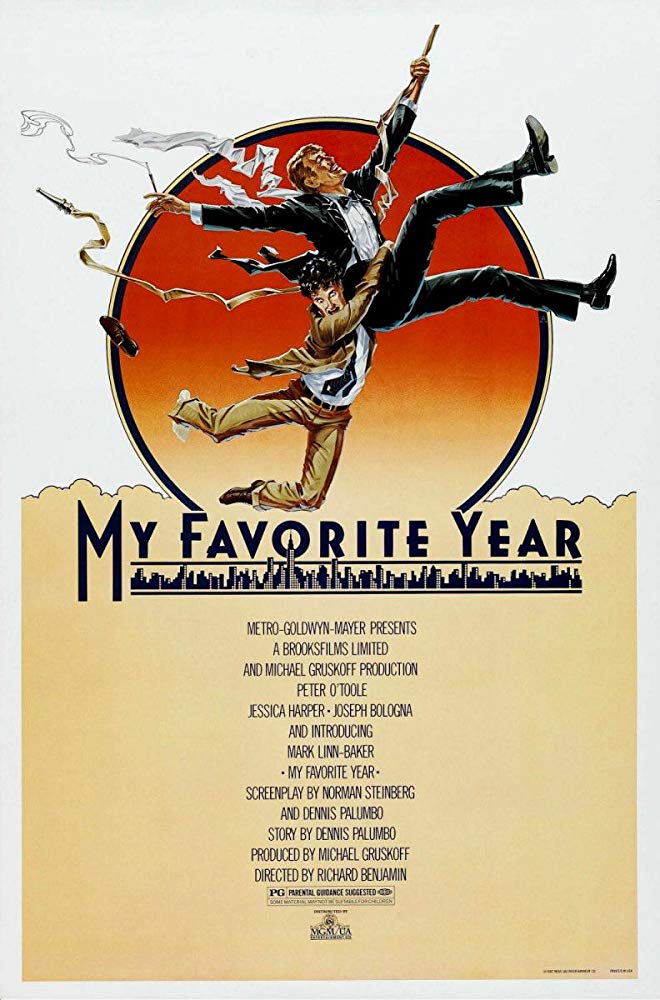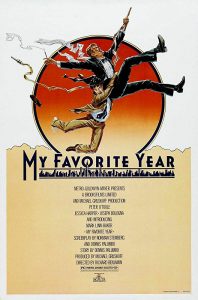 There was a popular 1980's movie starring Mark Linn-Baker and Peter O'Toole called, My Favorite Year  It's a lovely, warm film about a young, father-less, TV writer's first real job in the industry, his adventures with a movie star who he has long idealized as the 'perfect dad' and the way he deals with the disillusionment of learning your heroes have feet of clay.
Go — watch it — I'll wait.
I love that movie. It came out the year I graduated from college, I thought I wanted to work in TV, and I love Peter O'Toole.
Fast forward 10 years, it was 1992 and I had just been awarded my MFA in set and costume design AND had been initiated into Local 629 United Scenic Artists Union (USA)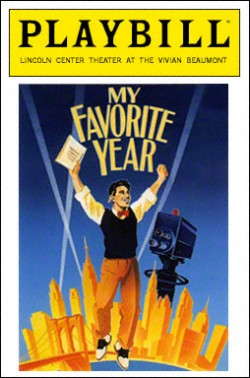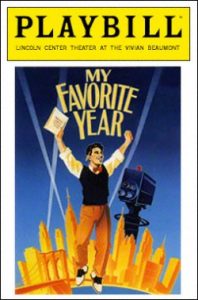 After spending the summer designing costumes for a huge outdoor theater fest in central NJ, I'd snagged my first real job on Broadway as a costume assistant on a musical based on My Favorite Year, to be staged at Lincoln Center.
The size of the house determines whether a play is on or off Broadway, but my memory was that this was designated a "Broadway" production.  I may be mis-remembering.
Working with designer Patricia Zipprodt, who I'd long admired, was heady stuff. Even more heady was being assigned to be the "shoe buyer" for the whole production
There were some triumphs (finding shoes to fit tiny male dancers's feet, shoes which were perfectly in period and beautiful!  Thank you, Nordstroms!)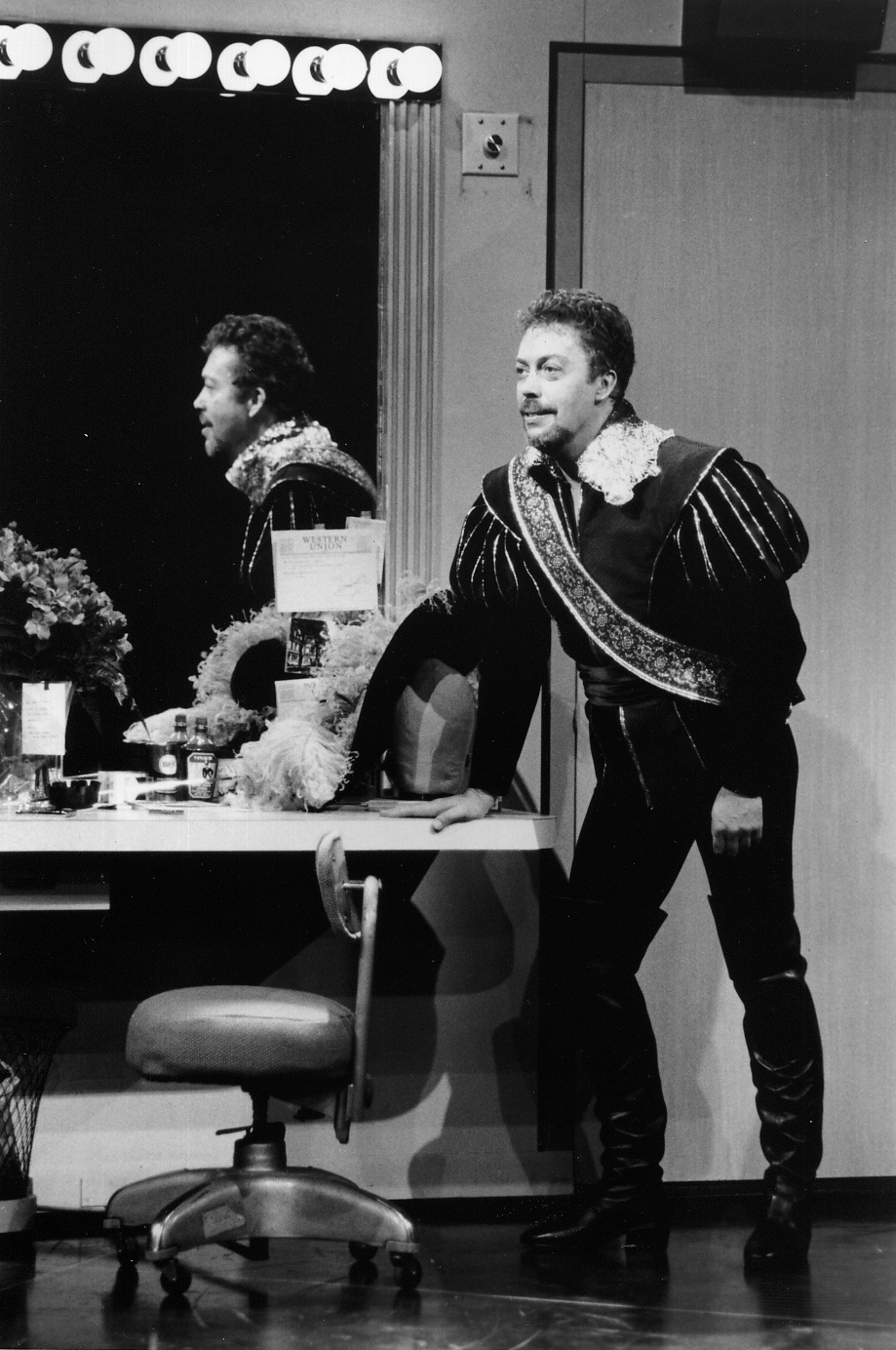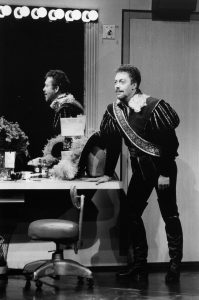 And some debacles (getting shoes re-heeled in the wrong size so the dancers kept getting stuck in the 'tracks' along the set – dang!) 
But anything I did wrong was fixable, and I did a LOT wrong.  But I did some stuff right.  And I learned SO much. And it was my first BROADWAY SHOW.  And I was happier than I'd ever been in my life.  It was a reason for celebration, and my mom and her good friend Ruth Clark flew out to witness my triumph as 4th person mentioned in the program under Costume Assistant.  Could life get any better?
When one works in costuming, the day the show opens your job is essentially over and wardrobe (a different union) takes over.  So upon opening of My Favorite Year I finally had my weekends to myself and began pondering what would be next in my brilliant career as Broadway Shoe Buyer.
THIS is how one pays for that $20,000 degree in folding
I'd just acquired at Rutgers, one shoe at a time.
In a side note, the star of the musical, Tim Curry, happened to wear the same size shoe as myself (European 42)  He had MANY pair of shoes, and I was responsible for breaking them in, which was fun and pretty damned cool.  Yes, I have walked in Tim Curry's shoes, and I can say that he was a delight to work with!  And thank GOD none of the shoes were stilletto 6″ heels.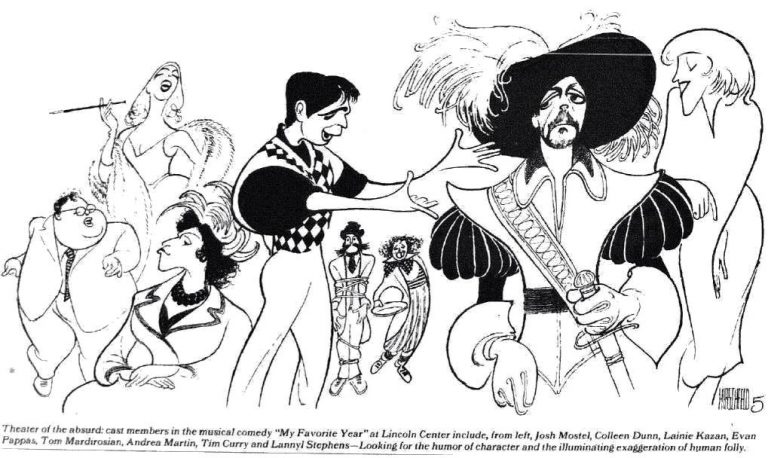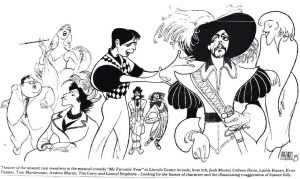 Also in the cast were my personal heroes Andrea Martin and Lanie Kazan.  Could a young wanna-be designer get ANY luckier than to be able to work with such a kind, funny and exceptional cast?
The show opened in Fall 1992, and not long after I found myself at home, in my teeny-tiny Brooklyn apartment, listening to NPR on a Saturday morning and calling in to try to become a contestant on the Wisconsin Public Radio game show, Whad'Ya Know? which was broadcast live from Madison, WI.
I actually got on the air, and I answered the qualifying question ("Which couple was the first to SHARE a presidential bedroom, not have separate rooms for President and First Lady?") by, basically, begging the host, Michael Feldman, for the answer.  (The Fords)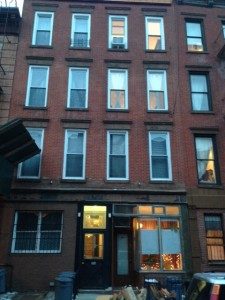 I was paired with a fellow from the studio audience named Tom, and together we proceeded to win the BIG KIELBASA of prizes.  I'm afraid that I talked pretty much non-stop, which I do when I'm nervous (and when I'm not)  I'm a talker.
Poor Tom didn't stand a chance.  I think he was able to say maybe 2-3 words.
I talked about me, my hair color, my purse, being from the midwest.  I talked about Kilroy (as in Kilroy Was Here) and driving and making two different types of stage blood (edible and washable)
I did NOT shut up.
And we won!  I don't remember if we shared the same prizes, but my own prize pack was a book on tape, a cat toy, a 36″ inflatable figure from the Edvard Munch paining, "The Scream" and a tiny chocolate cow.  All of them VERY Wisconsin Public Radio type of gifts.
And then I promptly went on my way, dining out on my very exciting
story of When-I-Won-A-Cat-Toy-On-NPR, which tells you a bit
about my friends at the time, and didn't think much more about it.
UNTIL a few weeks later when, leaving my Brooklyn apartment for a long 3-bus trip to NJ to visit my dentist (I'd moved from NJ to Bklyn in late Summer, and still had some filling work at the U of NJ Dental School to get cleared up.) I discovered an odd letter in my mailbox.
My dentist was Vinny, a southern NJ cutie who was just about the most handsome dentist I've ever met.  I loved Vinny, we had a great rapport and he did a lovely job on my teeth. There is NOTHING like a handsome dentist to get a girl to floss.
So stopping by my mailbox to pick up reading material for the bus rides, I was confused to find an envelope with a Queens, NY return address, but a postmark from Madison, WI.
The letter was — Odd. This was happening during and after the 1992 presidential campaign, and the letter opened with a quote by Admiral Stockdale, Ross Perot's running mate, which (being a bit of a politco) I found amusing.
"Who am I?  Why am I here?"
Then the letter went on to explain that the writer was in fact living in Queens with his brother after recently relocating from Vermont, but had heard me on the radio and thought that he would like to meet me.  He stressed that he had NO IDEA where I lived, that Ruth Ann Bessman, the producer of Whad'ya Know, had agreed to forward his letter on to me.
So there we were.  Would I like to get together and meet?  He understood if I already were seeing someone, but he thought I sounded "nice" and "funny"
I had NO idea what to do.  I showed Vinny the letter and he thought I should just walk away.  I showed a group of undergraduates from The Stern Yeshiva For Women (the cast of a production of the Dybbuk I was designing) and they all thought it was VERY romantic!
I showed my married friends, and my single friends, who pretty much lined up with married friends warning me off, single friends saying, "Go for it!"
I compromised by sending a Christmas Card.  And I waited.  And apparently the card got lost under a stack of mail at Gerry's brother's apartment.  When he finally found it, it was late December.
So Gerry called, we met at the famous Peacock Cafe in Greenwich Village just to have a cup of coffee and scope each other out.  The date was Dec 23, 1992, and on the way I ran into a friend and cast member from My Favorite Year on the subway and told them all about my upcoming adventure.  They told me they had a really good feeling about the meeting.  They were right.
All I knew about Gerry was he was 5'9″ and had a beard.  At that time I was about 6′ and was at my thinnest (I think for about 36 minutes in 1992 I was a size 12, this was that period) so I figured my height wouldn't be a deal breaker.
This is how tall women used to think about dating smaller men;
if our body mass is relatively equal, it will be okay.
I, being a Virgo Methodist from Ohio, showed up early. I swear that EVERY man in the greater NY area who was 5'9″ with a beard was at the Peacock Cafe.  It was a veritable CONVENTION of them. I should note here that Gerry INSISTS that he NEVER told me he was 5'9″  But I swear he did. And I also swear he WAS 5'9″  So there.
With my recent compression fracture in my spine, I'm currently 5'9-1/2″,
so I understand how important that half inch is.
After asking, and dispatching, a number of bearded fellows, I looked up at the front of the restaurant and saw the sweetest guy looking SO nervous in an ill-fitting jacket. My immediate thought, "I can work with that, I can make him look better…" 
I walked up and asked him, "Are you Gerry?"
Gerry: Yes.  Annie?
Annie: Yes.  I have a table in the back, it's a bit nicer, let's move there.
And that brief conversation set the tone for our entire relationship.  We can always do better, and let's move to my table.  Odd, how those things resound through the years.
I don't remember Gerry eating anything, but I had a bowl of Minnestrone soup and it was delicious.  Then we went for a walk around the village, and ended up at the Prince Street Cafe.  It seemed like a nice date, but nothing earth shaking.  And then we noticed that all of the chairs were upside on the tables and the wait staff was eager for us to leave. We'd closed the place down, and I felt as though I'd been talking to one of my best friends for 3 hours.
Gerry walked me to my subway stop, a brief little peck on the cheek kiss, and we agreed to get together again.
Of course, that proved to be more difficult than we'd expected.  Crossed wires left me with NO DATE on New Years' Eve (for whatever reason, after asking me if I were free on NYE, Gerry felt that he was supposed to WAIT until I called him. I assumed he would call me, since he brought up a party he wanted to take me to…  Poor, shy, Gerry.)
We did have a few dates in January, then I asked him over to dinner on Feb 13 so we wouldn't have Valentine's Day pressure.  I made him my mom's fried chicken with some veg and some starch.  Nothing spectacular.  But he fell in LOVE with it, and it's become his favorite meal to make for me.  Gerry does most of the cooking in our household these days, he's exceptional at it, and whenever he makes this for me it's as if my mom is cooking dinner, and it's lovely.
The Feb 13 date was when I realized that I loved this guy.
Not long after that I headed to North Carolina to work on a Japan-bound Arena Stage Production called LUCAS LIVE!!, featuring scenes from several block buster George Lucas films. My job was to make the Wookie costume and mask.  It was spectacular.
While away, I asked Gerry to cat-sit as I had found a stray a few months earlier, and evidently she got knocked up, and kittens were on their way.  I didn't want to leave her alone.
One day upon returning to my hotel in Carolina, I had a message at the front desk, "It's a girl, it's a boy, it's a girl, it's a boy, it's a girl!!" and the clerk said, "I REALLY hope we're talking about some kind of animal…"
By the time I returned home, Gerry'd settled in, and he never moved out.  My neighbor across the hall, wonderful Rose Verde, had lived in a 600 sq ft apartment (the match of mine) and had raised 3 kids there.  She kept an eye on me, watched out for me, and was VERY concerned that Gerry and I were living together.  I promised her we'd be getting married, and then it occurred to me I should pass that by Gerry.
He agreed.
So much for romantic proposals.  It doesn't matter in the least, because when you know, you KNOW.
We called my mom on Mother's Day to share the joy with her.  My mom, a lovely and kind person, was also a child of her environment.  She was born in 1919 in West Virginia, her father had been in the Klan (although "only for a week, until he figured out what it was!" my mom always insisted) and, although she and dad had several Jewish friends through his business, she was a product of a different generation.
I knew we'd have to handle the matter delicately.
Me: Mom – I'm calling to tell you that I'm in love!
Mable: Oh, honey, I'm SO happy for you!
Me: There are three things you need to know about Gerry, though…
Mable: Ok…
Me: Number one – we're living together right now.
[pause]
Mable: Well, you KNOW I don't like that!
Me: Which is why I'm calling to tell you we're getting married in August!
Mable: Well, that's a relief!
[pause]
Me: The second thing is — he's Jewish.
[pause]
Mable: Well, you wouldn't be the first…
Please note how absolutely enlightened this is coming from someone like my mom.  I like to think Mom was just thrilled that he daughter wasn't a lesbian.
Me: The third thing is — Gerry's shorter than I am.  By about 4 inches.
[pause]
[pause]
Mable: Oh, honey.  Oh, HONEY.  Are you SURE you love him?
So the biggest problem my mother had was with Gerry's height.
Eventually Gerry became so deeply entrenched in my mom's
(and Aunt Wanda's and Cousin Jan's) hearts that they told me if we ever divorced,
THEY would get custody of Gerry.  Thanks, family…
And THAT was how Gerry and I met.
One of the plot points of My Favorite Year was that it was the year the protagonist began his career AND found love.  And the same thing happened for me.  Which is why 1992/93 will always be my OWN favorite year!
This Monday will mark 25 years since Gerry and I were married in Judges chambers in Brooklyn.  The next day we had a more spiritual ceremony with no minister, but led by my best friend and his brother.  A lovely day.
We remain two of the luckiest people in the world.  At this point we're sharing cancer (he diagnosed with Multiple Myeloma, a bone marrow cancer, in 2006 – myself with Lymphoma, a blood cancer, diagnosed this July) but I wouldn't trade anything for our 25 years together, and our amazing family of gingers.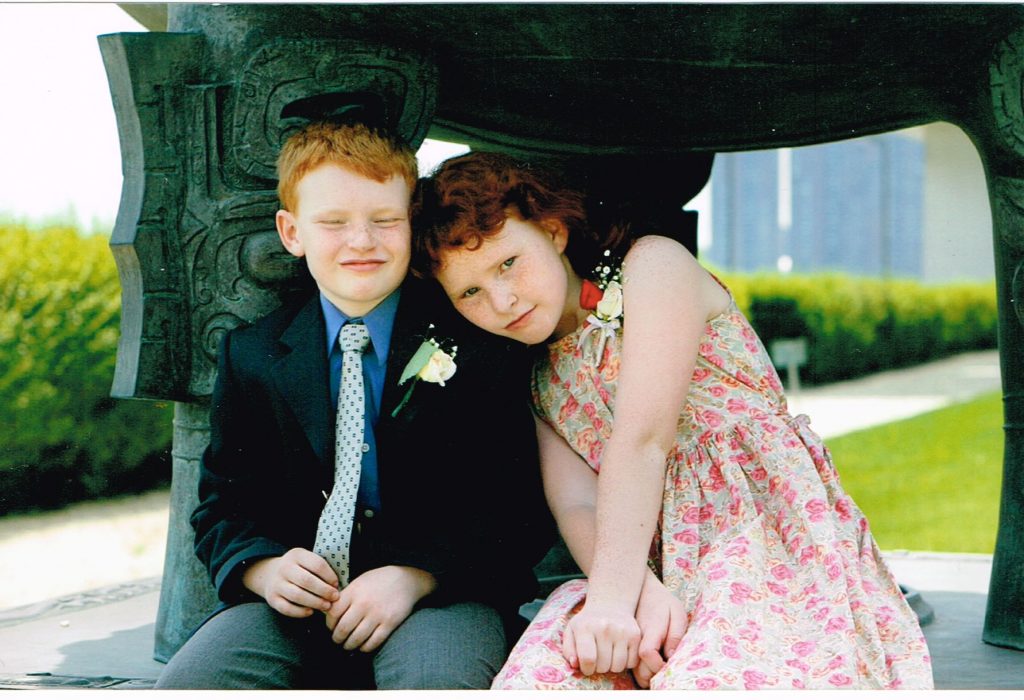 I love you, Gerry.  You make me the happiest woman in the world every day!