I love baking.  A year ago I was all about the cake, this year I'm more about bread.  It makes sense, bread is slower, there's less timing involved, and it's easier for a person with pain and exhaustion issues to plan out a loaf and deal with it ON MY TERMS.
I can move slowly through a bread recipe, feel I've made something special for my family, and NOT knock myself out trying to make something special and memorable.
There are SO many excellent bread resources out there that I'm not going to even TRY to list them.
Right now my favorite source of recipes to try for bread items is the King Arthur website.  In full disclosure, I'm a member of their baking club. I pay a certain $ each year to get free shipping on my orders and other little treats.  
It's a luxury, but when I break down how cheaply I can whip up a loaf of bread for the family, and how much they enjoy it, it actually makes good sense, financially.
Bread + Pain Strategy
So this morning, waking at 2am with intense pain (2 is when my 8-hour Oxycodone wears off, and at this point I could set my clock by the pain) my strategy has become to
Take my 2am pain pills (short lasting Oxycodone for breakthrough pain)
Get up and take care of nature's call
Try to stay in bed for at LEAST 1/2 hour
Read a bit from my current bedtime book
If all of this leads to me falling back asleep, then I am what's known as le Happy Camper.
The kids won't have hot, fresh bread waiting for them in the morning, but they WILL have a well rested, happy, mom, and that's worth EVEN MORE!
However if, like this morning, pain won't abate until I move a bit, I get up and wander the ground floor of the house, putting stuff away, emptying the dish washer, trying to do anything that isn't too noisy.
If I'm still awake at 6am, I can take my entire pain pill regime (three times a day, 6am, 2pm, 10pm.)  To my list this morning I added, "Make Japanese Milk Rolls!"  Because – why not?
Soft Bread
I like soft bread, and I cannot lie.  Recently I like it even more.  When approaching a chewy crust of bread, I tense up a bit as hard chewing can really bother my teeth these days.  I'm such a sensitive flower…
I love this recipe from King Arthur Flour because it uses a warm milk starter, called a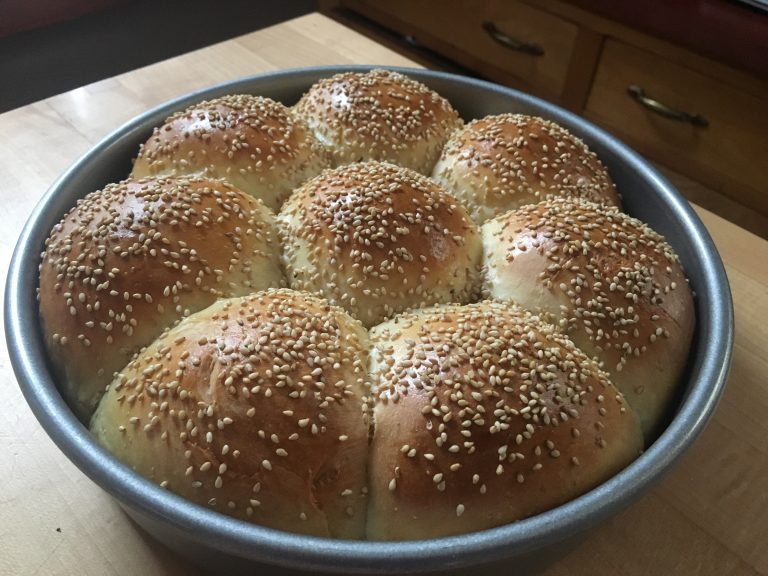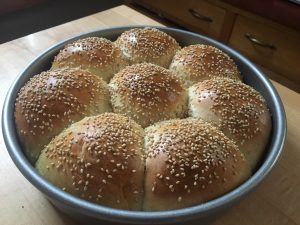 "Tangzhong Starter" which really does seem to make the bread soft and easy to eat.  When I was a kid my dad used to buy a loaf of bread called, "MIlk Toast."
I don't know if this was an Ohio or WV thing, but we'd get this special bread at A&P, in a blue wrapper, sliced VERY THICK.  I remember it was a soft and comforting bread, and my dad would toast it, then cover it in cinnamon and sugar and warm milk and eat it like a pudding.
These Milk Rolls give me the same feeling when I eat them.  There's a pleasant density and softness to the bread that makes me feel like I'm 5 again.  This is wonder bread, x100 for taste and texture!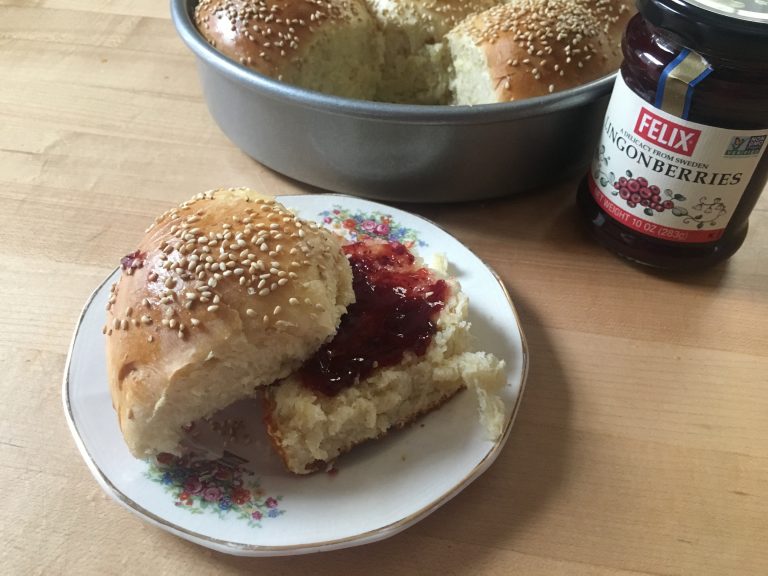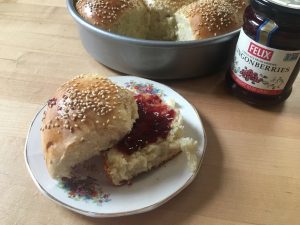 Once I've created the starter (I do it 30 seconds at a time in the microwave) and mixed together all of the ingredients, I knead it in my mixer, then give a few extra kneads on my table and put it in a buttered, covered bowl to rise.
60-90 minutes later, the dough's been raised and it's time to shape it,
Versatility
At this point there are a number of ways to utilize the dough.  One of my favorites is to create the above rolls, which are very easy to make.  If I feel the need to fill them with spices or nuts or chocolate or cheese, it's easy to do and makes a beautiful change up from plain bread.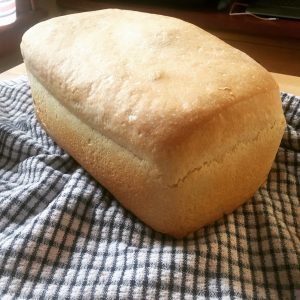 Other times I roll the dough out into a rectangle, fold it up in thirds (like a business letter) then turn under the edges and slip it into a loaf pan.  Once again, when folding the dough I can add fillings to different section of the bread if I feel so moved, and can make a sweet or a savory treat.
I've used this recipe as the base for a nice Babka, too.  It's such a versatile dough!
I think this morning I'm going to make a kind of cinnamon roll using a nice mix of Cinnamon, Cardamom, Nutmeg and a bit of Vanilla. That sounds like it would be great with a cup of coffee (I seldom drink coffee, but this morning I might!)
When the bread's had a second rise I'll roll a Cinnamon-Spice mixture into the dough, then do some creative twisting and try to make something pretty.  Once it's baked up, I may add a bit of icing and there's Sunday morning, done and dusted!
What About The Gluten, Annie?
And, for those of you keeping score, YES this is filled with gluten.  But I'm using an organic wheat which should guarantee that a Monsanto product wasn't used in the harvesting of the grain.
I was experimenting with using organic wheat vs gluten free, and felt that I was having some good success, and then the cancer happened.
I'm so full of various pain killers that I wouldn't even FEEL the side effects that I'd been chalking up to eating gluten.
So I'm giving myself permission to eat a bagel every now and then, and I'm ESPECIALLY giving myself permission to eat a wheat product I bake at home using organic wheat.  So far I haven't had any terrible side effects from this, the pain I feel tends to line up with the pain from my lymphoma and metastasized tumors.
So, whether you consider yourself a baker or not, I have found this recipe to be a VERY good soft-bread, and not really difficult to make at ALL!
I hope you'll give it a try, and let me know how it turns out!  From start to finish this generally takes me about an hour's work and a few hours of rising/waiting.  Perfect for a 2am wakening on a slow pain-filled morning.
SO who wants to come by and have some bread?