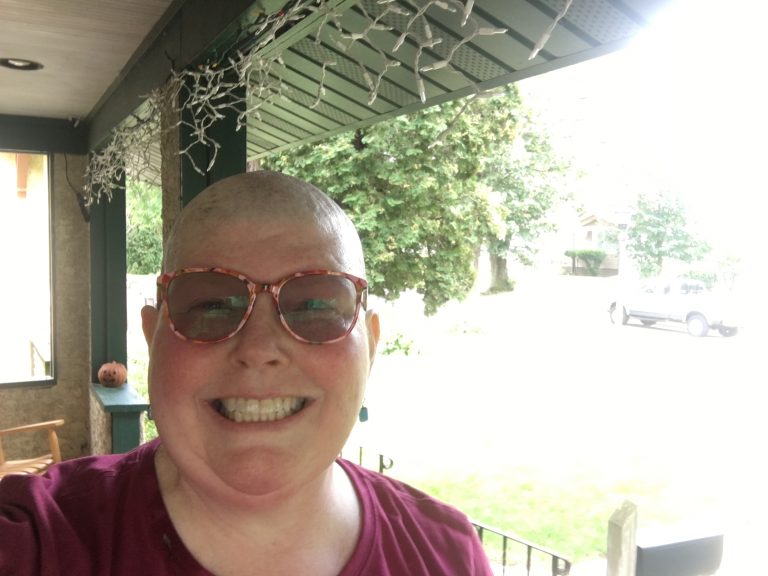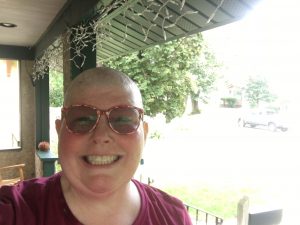 Thank you.
It took me SO long to learn how to say those words.
MUSIC MAN
I remember high school as years of pain, I was the poster child for "outcast" and ate my lunch just about every day up on the stage in the auditorium, surrounded by paint buckets and canvas flats, usually alone, happier than I would be at any other time during the day.
But a magical thing happened near the end of my last year in high school.
I became, briefly, popular (in a vague sense of the word…)
I left high school a year early and went to college at 16 (I turned 17 my first day at Denison University, in Granville, Ohio)  My last year of high school was my Junior year, and that was the year our Theater department put on The Music Man.  I was cast as Mrs.  Paroo (Marilyn's mother) and I was damned good.
Let's face the fact that character parts are WRITTEN
for overweight outcast high school juniors.  It's simple truth.
So there I was, extremely funny; hilarious, even!
The day before the all-school matinee performance I couldn't walk through the halls without being assaulted with cries of "BIG RED!" or "MOOOSE" (did I mention I was overweight…)
…and then the tone changed, and the cries I heard were, "Hey, it's MAMA PAROO!" or "DAMN, GIRL, YOU ARE FUNNNNYYYYY!"
…and I had NO idea how to respond.
My first response was to flee.  To run.  To head to the bathroom and hyperventilate into my lunch bag.
My second response was to cry.  Publicly.  After all, "If you do something well, you should do it often!" (my mother used to say…)
But I did neither.  I found that the best thing to do was to simply say, "Thank you!" and smile.  So I did.  And I learned a lesson that most folks learn when they're 12, when they're not hiding from school bullies and/or their father, just being "normal" kids, trying hard NOT to draw attention to themselves while at the same time CRAVING that same attention.
I learned to simply say "Thank you."  Two simple words.
And that's what I say to all of you right now – THANK YOU!
MAYO GO?
Yesterday, faced with the fact that if I didn't find a way to come up with money for lodging while undergoing my chemo at the Mayo clinic I might possibly NOT be able to actually GET the chemo, I became overwhelmed with frustration.
This "Cancer Road" has had both good days and bad, there have been many more good days, but yesterday was a very bad one.  It was my birthday—a happy one—but I was plagued with fear about NOT being able to go to Mayo for my chemo.
Mayo is where Gerry was treated 12 years ago for Multiple Myeloma.
An expert in my type of cancer has agreed to take on my case,
and there's a chemo protocol she'd like me to enter into that I can't get anywhere else.
Going with the Mayo Clinic seems like a no-brainer.
However, an oddity of Mayo is that most patients are treated as out-patients, which reduces the stress on their staff taking care of admitted patients, and also reduces the chances for cross-contamination or infection.  We discovered this when Gerry was being treated, and it makes sense when you think of how many infections and diseases are 'picked up' at the hospital these days.
This means, though, that food and accommodation must be figured into the budget of any Mayo patient.  There is a whole sub-economy of apartment and house rentals, and there are SO MANY HOTELS in Rochester (just about all of which have a discount plan in place for patients) that there should never be any question of being able to FIND a room.
The problem comes with PAYING for that room.
My own chemo will be on an odd schedule; a week on, then two weeks "off" when I can return to St. Paul and be monitored by St. John's Cancer Center (where I'm currently being treated with a less strong chemo regime) 
This is different than most Mayo patients, who come and stay for a period, then go home.  I'll be coming and going, but the overall time frame will be at least 4 months.
CHARITY HOMES
None of the charitable homes run by the American Cancer Society (or other helpful organization which hold rooms open for folks) in need have ANY vacancy.  These are amazing resources, and I wish that I had the luxury of a clear schedule to arrange these kind of accommodation a few months out.  But I don't.
I have a very fast-moving cancer, it's already changed SO MUCH in the short 6 weeks since my diagnosis, it's not something we want to play with.
AIR BnB
All but the priciest of Air BnB's are booked up during the weeks when I'll need them (obviously folks would MUCH rather book someone in for a month instead of a week or two each month!) 
Air BnB can be an amazing bargain, but only if you can find the accommodation to fit your needs at the right time.   I'm looking for a small 1 or 2 BR apartment, hoping one will open up for the dates I need, but right now all that's showing up during my proposed chemo rounds are upstairs apartments (I'm no good with too many external stairs right now…) or larger full houses which are too expensive.
When you glance at the homes on Air BnB, it may look like there are SO MANY BARGAINS! And there are.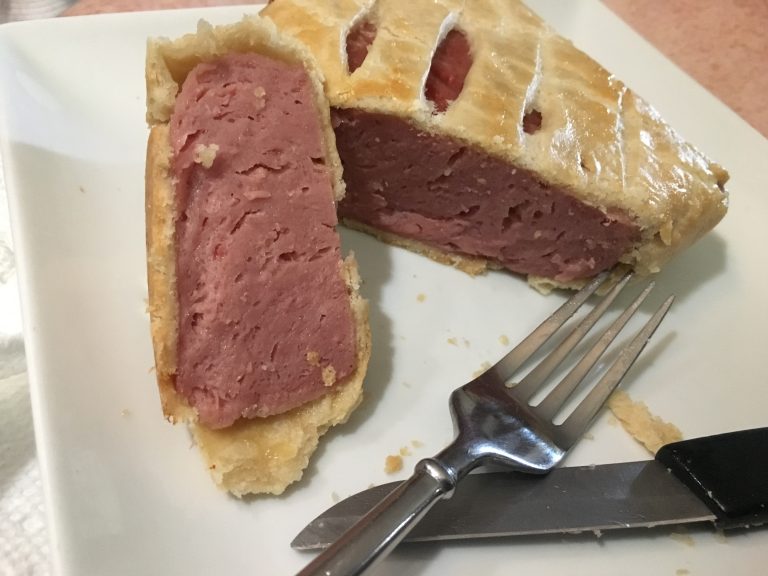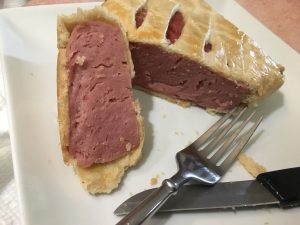 But there are also SO MANY FEES, and by the time you've found a place where the available
dates mesh with chemo and physical needs, the price has easily crept up into hotel costs,  but without the convenience of an elevator, cooked breakfast, shuttle service, covered parking,  or any of the other things that make such a
huge difference in the life of a cancer patient.   Having been through this with Gerry,  I know how much those silly little things really matter.
HOTEL
This leaves hotels as the best fit.  Hotels also tend to be more sanitary, with new towels each day and daily cleaning.  For the most part, the hotels in Rochester are aware of their special role in recovery, and take hygiene very seriously.  Also, because Kathleen and I travel so often for business, we are signed up for several mileage programs, which can get me an extra night here and there, and will make a difference.
Doing a cost work up (thanks, Deb!) I realized that for a four-month round of chemo I would need approx $2,000/month to cover expenses for myself and my caregiver (Andy)
So I did what I was loathe to do.  I set up a GoFundMe.
It bothers me that GoFundMe presents themselves as part of Caring Bridge, gets a ton of good press for being so pro-patient (over 70% of GFM campaigns are for medical expenses) BUT they also take a cool 5% off of each fully funded campaign PLUS additional fees.  I know they're a biz and have to make a living, but that's steep.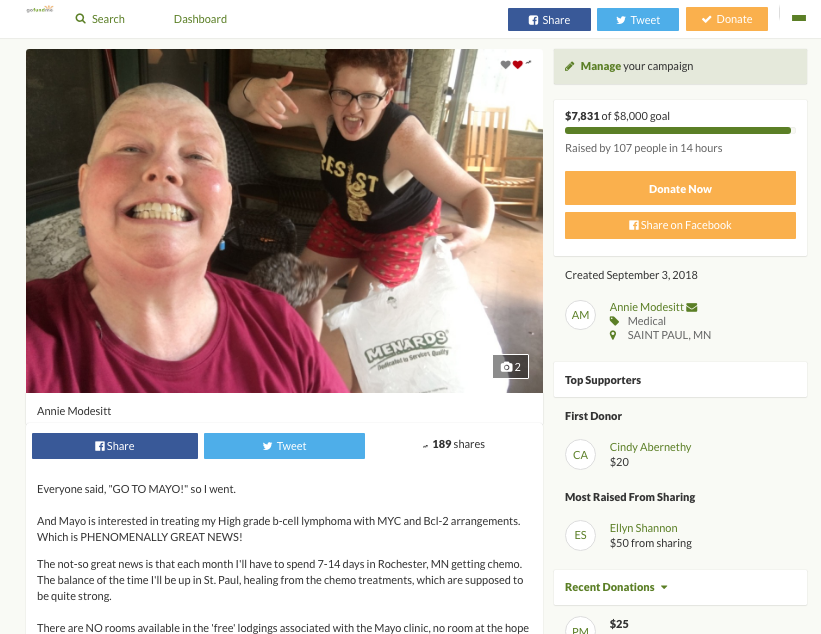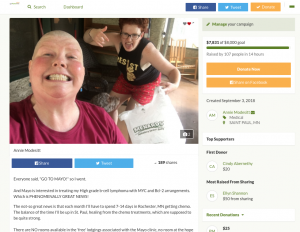 GoFundMe
Part of me wants to run and hide; after all, it's a bit shaming to have to go, cap in hand, and beg real and cyber friends for money to be able to embark upon life-saving treatment for a deadly cancer.
Part of me wants to be all blown up with pride: LOOK WHAT MY FRIENDS DID!  But that is a terrible response to such kindness.
And it would be, in itself, unkind to those who aren't lucky enough to have the large circle of folks I've lucked into!
WALK UNDER LADDERS
I happen to be among the luckiest folks I know (money issues not withstanding)
I am lucky because I get to do what I love, and in so doing it, I get to make hundreds of friends each year (otherwise called "Students" and "Customers" and "Fiber Biz Owners") and, even FURTHER, I am so DAMNED lucky that I get to actually MEET these folks again and again at fiber shows and in classrooms.
Freelancing; owning one's own income, this is not an easy road to walk in our American society.  We talk about loving independence, but our entire financial system is set up to reward 'Company Men' who throw in with a corporation in exchange for a low-wage paycheck and any kind of health insurance.
I've chosen a different route; creating my own business, and in so doing creating a couple of extra jobs in our community.  Living in Minnesota where the ACA hasn't been dismantled makes this possible, but it's never easy.  I know exactly how lucky I am to be here, and I am VERY grateful to the legislators of MN who help make this possible.
But self employed means, generally, skimping on things like Disability Insurance.  Or very good supplemental insurance for things like lodging when seeking treatment.  This is just one of the truisms of life.  Health insurance; check. Car insurance: check. Disability insurance? We can live without that.
OVERWHELMING WEEKEND
It was, overall, an incredibly overwhelming weekend.  Unexpectedly, I'd had to spend 2 days at St. Mary's hospital in Rochester (part of the Mayo campus) because I had a pretty high fever and very high heart rate when I had my consultation and my new doc wanted to admit me.  It took 2 days to get my numbers back to 'normal', and it was a very stress-filled weekend.
Bye, Bye, Hair!
Then my hair started falling out in MASSES.  I can take a bit of hair-fall, but when it began clumping into my lunch, I was over it.  I knew it was time for the head shaving, and Andy and I made a fun video of it, but it was STILL one of the more stressful adventures in this journey.
Then there was my birthday to consider.  Yesterday I turned 57, the age my dad was when he passed, and in a yearly fist-shaking admonishment to his memory, I have sworn to OUT LIVE him, live beyond 57.
The irony of having THIS cancer during THIS birthday hasn't been lost on me.  I can see Dad shaking his fist right back at me.  But he missed me this time!
FALL DOWN
And then there was a fall that I haven't talked about.  I fell on Sunday morning, in our driveway, while I was out for one of my walks.  It was raining horribly, just pouring down, and I lost my footing at a very slanted part of our narrow drive.  I feel backwards, twisting my ankle pretty badly, but not doing any other damage.  I fell right into an incredibly soft bank of earth, so I was dirty, but fine.  Except for the ankle.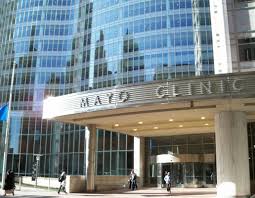 By Sunday evening the ankle had swollen pretty badly (it's MUCH better, now, thank you!) and that was in my head.  I did NOT want to go to another hospital just to be told, "Ice it, elevate it, you'll be fine!"  Besides, tomorrow I'm seeing my doc, so if there's anything untoward I'll be right at St. John's, close to the ER or anywhere else.  That added a good amount of stress to the weekend.
So by the time I fully realized that my ability to accept the gift of a Mayo treatment plan hinged on my ability to pay for a hotel, I was ready to fall to pieces.  In fact, when Kathleen came over to drop off a lovely ice cream birthday cake, I was in quite a state.  Weeping, sad, scared, all of the emotions that are so difficult, but so necessary, to get out.
Perhaps because of this need to deal with the emotions, I finally decided to start the GoFundMe I'd been secretly afraid of, and it looks as though I'll be fully funded very soon.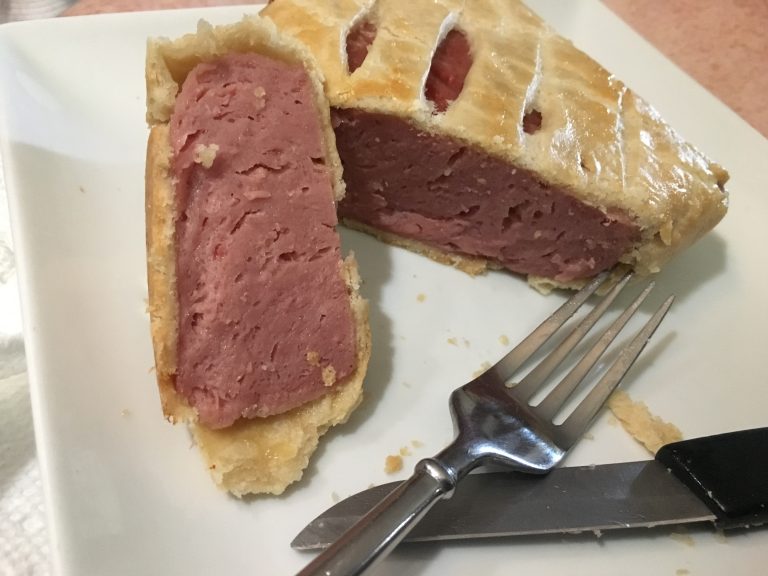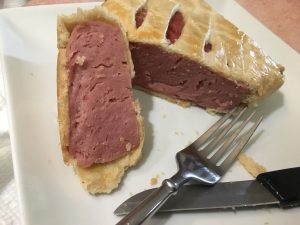 Which is insane. AND amazing, AND which truly feels like an out-of-body experience.
Which leads me to pure gratitude.  THANK YOU.
And, apropos of NOTHING, I give you a dish I whipped up this past week. Spam Wellington. 
Because it was my birthday.