Yesterday I had a visit with my oncologist and, his exact words (as he shook my hand) were, "Congratulations on surviving cancer…"  The tumor in my spine is officially gone.  I am in remission, and that is amazing news!
From this point I have doctor visits ever 3 months, and a scan every 6 months.  We'll keep an eye on the lymphoma to make sure it's really gone (it has a way of sneaking back…) and keep our fingers crossed.
BUT
…I'm not well yet, and it may be 6 months to a year before I'm able to walk well, and function as the Annie Modesitt I want to be!
I'm so at odds with the thought that CANCER is gone, but I STILL feel so damned miserable.  Pain continues, I'm exhausted, I have no balance, I walk as much as I can, over and over, from my room to the bathroom and back, but the progress is SO SLOW that many times I feel in danger of losing hope.  My legs are numb from my toes to my hips (neuropathy) and that makes it hard to walk, too!
But, the tumor is gone! The cancer has LEFT THE BUILDING!  So champagne all around, everybody celebrate!
BUT
…don't expect much from me in the next year or so. 
I'll give what I can, but until I can get this damned chemo out of my body, I'm going to be a shadow of what I have been.  I hate that I can't 100% celebrate the remission of my cancer AND the end of the pain and sickness that keep me in my bed all day and all night.  The tumor may be gone, but the fractures in my back and chemo remain.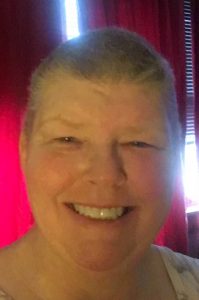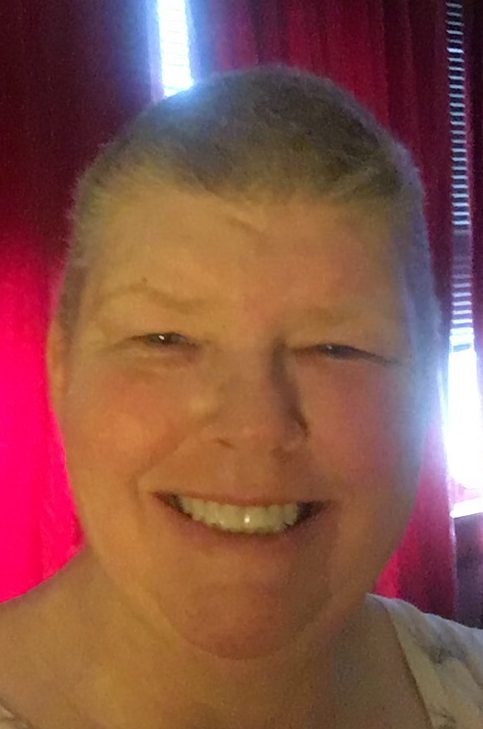 Seriously, except for my walks to the bathroom and forays downstairs, I'm generally in bed.  My sitting up time has increased to about an hour, then I just lose the ability to be upright and have to lay down for a few hours.  Exhaustion, it's not fun.  None of this is.  But we've moved a comfy chair into my room and I sit in it as much as I can each day.  Sitting up is an exercise, it helps my balance and strength!
Thank heaven I have good friends and family to support me through this.  I feel like one of the luckiest people in the world, especially with my Andy to care for me.  And I'm growing some more hair, even if it's hard to tell in the photograph!
Thank you all for your love! I feel it!