I've been pretty vocal during my recovery from cancer/chemo about different instances that arise and thwart me, or spur me on, toward a full recovery.
Recently I've had a nice amount of positive steps forward, but I always hold in the back of my mind that recovery isn't a straight line, but there are a lot of peaks and valleys in my [generally] upward journey.  That's why I blog and facebook about this so much, so I, myself, can go back and read my posts and SEE how far I've come.  Sometimes being able to quantify a positive change is so hard, having a record of the changes is helpful in keeping a positive outlook!
Today is a low day.
I live in Minnesota, so I'm ready for a blizzard on any given day*, and it's not a surprise to wake up after a few days of upper 60's temperatures to a day that's wet and cold and blustery.  Today it feels like the cold's crept right into my bones (especially my knees and back) and is laughing at me.  Ha, ha, cold, I hear you, and I laugh back!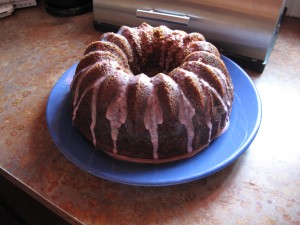 I had big plans to make a chocolate cake today.
It doesn't sound like a huge deal, but it is.  Getting downstairs isn't the marathon it was just a month ago, but it's an effort.  STANDING is harder than anything, and baking is more about standing than anything else.  Silly things like lifting up the mixer to move it over by the electrical outlet, carrying eggs, sifting flour, etc., are very difficult when the back is so painful.
So once I got downstairs, ready to make the cake (whose recipe I've long memorized!) I found that I could barely stand.  There were also several 'gifties' from the pup to be cleaned up, and THAT had a painful effect on my back, too!
So no cake for me.  Or for the family.  I was really looking forward to it (it's the chocolate bundt cake I make, this time I was going to add white chocolate chips and some walnuts) and I'm probably healthier and happier NOT making and eating it.  But I wanted to make it.
More than making the cake, I wanted to have another day with low pain.  But that's not going to be the case today, so I need to find a way to be at peace with that, deal with the pain, do what I'm able to do and not feel bad that I can't do more.
Today my expectations outpace my limitations.  But tomorrow may be a cake day!  Stay tuned!
In other news, Max and his girlfriend Sophie have finished their semester in Vienna and are visiting London before they come home.  Right now they've traveled up to Scotland and are staying with our friends, Di & Colm, for a few days.  I can't explain how wonderful and amazing it is to have friends who are SO kind as to host the kids for a few days, and show them so much of the beauty of Scotland in just a few days.  THANK YOU DI & COLM!
*Not really, it doesn't generally snow in May here…