I bake for fun, I really love making things (and I love decorating them even more!)
In fact, in 2016 I auditioned for the American version of the Great British Bake Off.  The Great American Baking Show (they can't use the term, "Bake Off" because Pillsbury owns the rights to it in the US) most likely won't be produced again after the last season, which was due to air on ABC at Christmas 2017.  Unfortunately one of the judges had been involved in an unsavory episode when he was a chef in NYC 10 years earlier, and in the midsts of #MeToo ABC felt that the most prudent thing would be to just cancel the entire program and air some show on Christmas lights instead.
So even if I'd made it onto the show (I was in the final group of 12, they only chose 8 for the show, I wasn't even an alternate…) the show wouldn't have aired.
Yet I cling to the hope that someday I will be able to bake IN THE TENT in England (where they also shot the US show, oddly enough…). It's a dream.  I know I'll never be on the Amazing Race, but there's always a slight hope that I can bake!
Until this past month baking was a bit of a pipe dream, too.  Not only was it very difficult to get downstairs, once there I was so wiped out that all I could really do was sit.  Standing was (and continues to be) a very painful activity, and so much of baking is standing.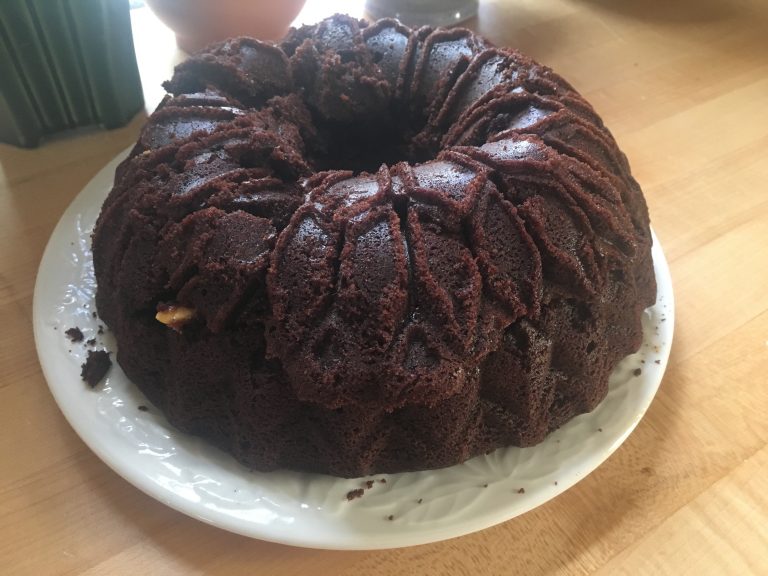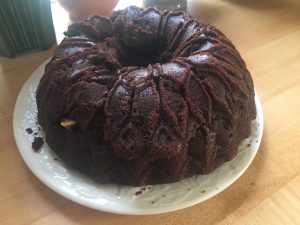 This week I made my first cake in a year, my chocolate bundt cake (based on Joy The Baker's recipe) and it was delicious.  I had to pace myself, doing about 20 minutes of work for every 20 minutes of working, but I did it (and I even cleaned up after myself!!)
Today I'm going to make some cookies.  I've entered myself into the Minnesota State Fair under the Decorated Cookie category (this year's theme: Minnesota Flowers) and I'm raring to go!
I'm planning on making up a bunch of royal icing using meringue powder (so it will keep, in an airtight container, for up to a month) and I will practice a few different types of flowers and decorating techniques in the two months before I have to turn in my cookies.
I'm not certain if I'm permitted to enter multiple groups of cookies, I'm going to look that up, because if I run across several decorative techniques that work well I'll want to show them off.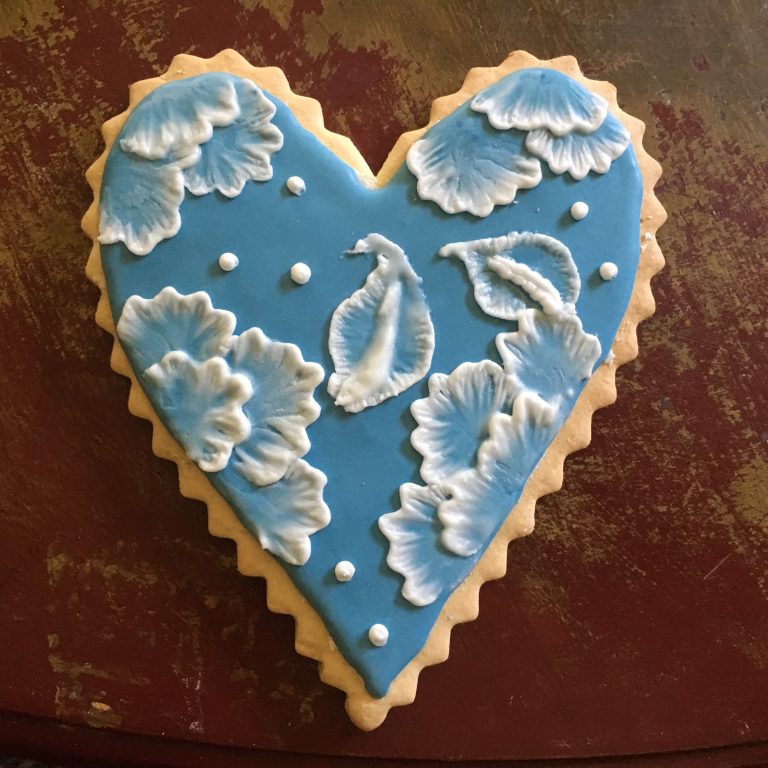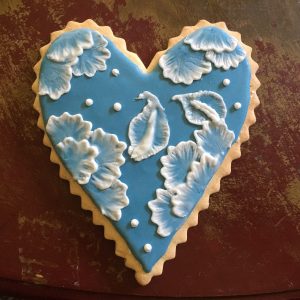 So in preparation, I have sugar cookie dough in the fridge (my favorite, very simple recipe with added cinnamon, nutmeg and cardamom) and I'm watching The Great British Bake Off!
I had avoided watching the show because for so long I wasn't sure when, or even if, I'd be able to bake again.  I'm feeling more hopeful about that these days.
Even if baking is a drawn out process for me (rest, bake, rest, bake…) I know that it can happen, and that has lifted my spirits more than I can explain.
Obviously I love knitting and crochet, even though I haven't done much of THAT since my diagnosis, either.  It's just been recently that I've been sitting and knitting or crocheting for any length of time, and it's just been swatching mostly (although I did just finish a little crocheted doll for my small friend, Charlotte, who lives nearby…). But baking is also a great love of mine, and the results are more immediate, and more immediately shareable.
Now that I have both kids home for the Summer, plus an extra kid who's dating Andy and is a lovely addition to our household, I have a captive audience of young adults who will eat just about anything I pull out of the oven.  Perhaps I'll even get back to making a daily (weekly?) loaf of bread for us, which is SO delicious.
One huge change in my baking since the cancer is that I'm not limiting myself to gluten free flours, I WILL be using wheat flour, but only organic (so I can avoid the Round Up that is used in some non-organic wheat harvesting, and which seems to exacerbate my fibromyalgia symptoms.)  Using organic wheat in place of gluten free is still an experiment for me, but it seems to be working well.  And it CERTAINLY makes baking easier and a bit more fun.
As I struggle with the residual pain of the tumors that lived in my spine and hips, I don't want to return to the terrible fibro pain in my shoulders and legs that I've been dealing with for the past 10 years.  Avoiding gluten, taking vitamin D3 and exercising kept the pain at bay, I'll continue with that but instead of GF I'll be using organic wheat flour.
My knees are doing well thanks to the cortisone shots (more successful in my left knee than in my right knee) and the TENS until I bought at Amazon has been an incredible aid to help me manage my extreme back pain.  All in all, I'm doing about as well as can be expected.  All I'm missing is the bike, but that's a tale for a different blog post!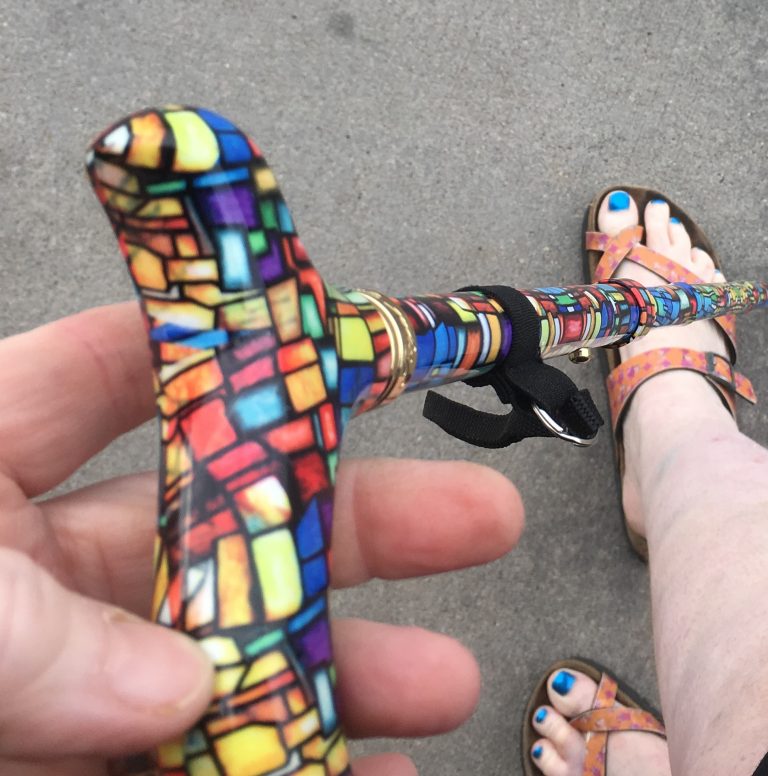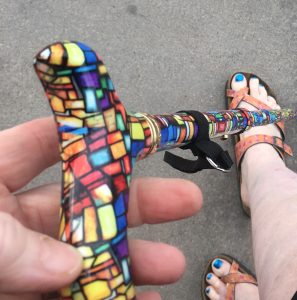 I'm walking better now, for the most part I've moved onto the BEAUTIFUL cane that my friend Deb bought me last Fall, and leaving the walker for longer strolls.  It feels very freeing to be able to drive again, and take the car with a CANE only, not dragging that walker everywhere I go!
What a difference a few months make!