As my recovery progresses, I find that I am 'testing myself' many times each week to quantify how much independence I've recovered.
A few months ago I was sleeping around 18 hours a day.  I'd sleep 12 hours at night, and take two naps during the day.  I needed all that sleep, but now I'm down to only needing about 12 hours a day (sleeping for about 10 hours, with a 2 hour nap in the afternoon)
I've been working on my 'sitting up' skills.  It wasn't long ago that I couldn't sit up for more than 10-15 minutes.  Then I was able to sit up for a half hour.  It took me FOREVER to be able to sit up for an hour, but after that I shot ahead in leaps and bounds and now I can stay upright for about 5-6 hours before I NEED to be horizontal.  But it's still progress.  I'm working on increasing that even more as the start date of my new tutoring job grows closer!
On not insanely HOT days (like today), I've been getting out for a walk.  THIS is the most draining thing I do.  A 6-block walk will knock me out for about 5 hours.  A 3 block walk (to Wong's Kitchen…) will knock me out for about an hour (just long enough to eat my Chicken with Broccoli…)
I try to make at least one thing each day; some cookies, a loaf of bread, a piecrust for quiche or a berry pie, a bundt cake.  Making these things makes me feel more like myself, AND with three young adults in the house, there is ALWAYS a need for baked goods.
TRAVEL
But this weekend I tested myself further than I have before!  I drove 3 hours up to my friend, Myrna Stahman's lakeside cabin, and visited with her and Bob from Friday to Monday.  I learned several things:
I can do this.  It was a long drive, but I did it easily.  I wouldn't want to drive much longer, but I think I could if I needed to.
New = Difficult. It takes a LOT more energy to be in a 'new' place, even if friends are making it as easy as they can!  Just NOT being home made dressing, sleeping, getting to the bathroom, feeding myself, so much harder.  When you have a disability (as I do with my now screwed-up back) you can't rely on the old rules of logic.  I have visited Myrna many times, and I figured this trip would be about the same level of difficulty. Just the – newness – of being in an environment that hadn't been tailored to my needs (as my bedroom has been) took a lot more energy and work than I anticipated.  I slept WAY too much for a good houseguest, but Myrna and Bob didn't seem too put out by their house guest masquerading as Sleeping Beauty.
It's good to have a friend to travel with.  I took Jasper, he's friends with Myrna's dog, and Jasper adores Bob.  It was wonderful to have pupster along as a travel companion, he made me feel more at home.  Even though he refused to do ANY of the driving.
Vape is FAST! Using the new cannabis vape that my pharmacist prescribed for me is an INCREDIBLY efficient and fast way to get immediate pain relief.  I'm not terribly fond of any kind of smoking, but I can't argue with the results.  I have much better pain relief when using my "battery" and cartridge.  I stepped outside a few times this weekend to imbibe, and each time the results were fast and long-ish lasting, hooray!
Memories are hard.  Gerry and I used to visit Myrna and Bob, and every room had different memories of Gerry.  Tears were shed, both with Myrna and alone.  It was hard.  I don't think it will ever be easy.
There's no place like home!  I drove home via Costco, where I gassed up the FIAT (touch me!) and then drove on home.  As I was getting my luggage out of the back, and wishing that Andy were home, right around the garage they came!  (I thought they were at a doctor's appt.)  And, like a good kid, Andy carried my bags and suitcase into the house, got me settled in, and now I sit, recovering from my 4-day excursion.
I don't think I'm ready for fiber shows yet.  There'd been some talk with Kathleen that I may be able to come to Stitches Midwest, but I don't know if I could handle it, pain-wise.  Also, the looks on Myrna and Bob's faces when I walked — even though they were as kind as they could be and tried not to give anything away — told me quite a bit.  Unless you're used to my herky-jerky movements, I think it's a bit of a shock to see how I have to swing my body around to make my legs work. I think I would feel WAAY too self conscious, and I think the pain level would be too high.
I'm hoping I will get better; much, much better; but until then it's so hard for me to see the look on friend's faces who are so worried about me.  Andy, Evan and Max have all sort of learned NOT to show me how worried they are, but that's a hard ask of friends who don't see me every day.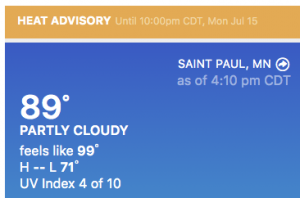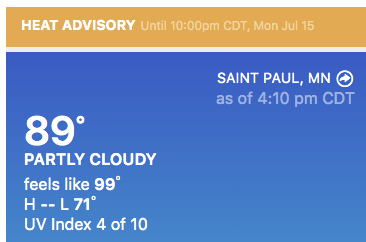 So I'm taking a few days off from the tests, and I'm just going to relax over the next week while Andy and Evan are off on a camping trip.  Max will be with me every evening, and as exhausted as I am, I may just SLEEP for most of the period!
Life is hard, but life is good.
Today life is stupid hot.