This morning I was up at 4:30am.  Heaven only knows why.  I guess my body is still readjusting to a new time, and the stresses of the trip may be catching up.
Of course, there are WORSE things than being awake to see a glorious morning over Donegal.
ROOTS
Yesterday we visited the Ulster Irish-American Folk Park – a wonderful recreation of life in 16th-18th C Ireland, then walk through a ship, then a recreation of life in 17th-19thC America.  It resonated with me in ways I hadn't expected.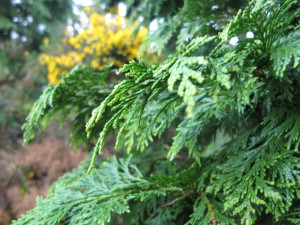 I don't think of myself as Irish – partly because my mother and grandmother were insistent that we were Scots-Irish, a totally different thing (in their eyes, and I'm certain in the eyes of many)
That strong belief sprung in no small part from the religious convictions my mother's family held (I was raised Methodist, but my mother insisted I be baptized Presbyterian. I'm STILL trying to figure that out…)
Gerry does a dead-on imitation of my mother, "NOT Irish, honey.  Scots–Irish…"
In my mother and grandmother's minds, it seems that Irish = Catholic, and we were not Catholic.  We have more than one John Calvin Modesitt or James Calvin Modesitt in our family tree. Thus, we were – like so many others in Appalachia – Scots-Irish.
Greater minds than mine have been unable to clearly explain what I'm dancing around here.  There's such a painful history of religious and class persecution, and as I try to explain to the kids my own understanding of it, I realize how little I can truly comprehend.  All this while driving a stick shift with my left hand and driving on the opposite side of the road.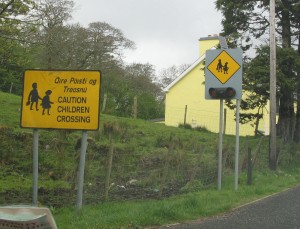 Oh, I DO read a lot.  I try to immerse myself in different historical texts when I visit a place, but each person's perspective can be so different based on where they stand (or their ancestors stood.) A well-intentioned comment made in ignorance might be perceived as insulting.  At least, that's what I try to get across to the kids – who see themselves as Jewish.
Wandering the historical recreation created a few peaceful hours of introspection.  The kids had a blast with the animals (especially the chickens), the antique methods of existence and  the freedom to RUN and burn off energy in a very engaging environment.
For my part, I spent my time pondering that although my family is over 300 years removed from Ireland / Scotland / Wales, I'm only 2 generations removed from a time when spring houses were necessary to keep butter cool and if you couldn't make do you went without.  My mother was born in 1919, her mother in 1889.  In grandma's corner of West Virginia, in many ways it may as well have been 1789.
I spent a good deal of time in the Weaver's hut, talking to the spinning woman (she was lovely!) and then in the American area I was unprepared for how homesick a red maple and dogwood would make me.  Dogwood always makes me think of my mom – her favorite tree – and there was on in lovely bloom yesterday next to the pig sty.
Chatting with another lovely re-creator I told her about my family history, the whole Scots Irish thing. She waved her hand and said, "Oh, same thing.  You're Irish."
FRENCH?
For my entire life I've believed that my dad's family name was French, but my notions are all falling away like dogwood blossoms.
Recently while digging through my family ancestry at the LDS website and Ancestry.com, I've found that the Modesitts who arrived in Maryland in the late 1600's seem to have sprung from nowhere.
Mysteriously, at around the same time a family named Mothershed can be traced from England to Maryland, all with the same first names as my Maryland ancestors.  I've read a theory on some of the genealogy boards that the name changed upon arrival in the New World from Mothershed to Modesitt.
The two names DO sound an awful lot alike, especially the way my family's always pronounced it – Mod-uh-set.  Food for thought while I'm away from home.
One things for certain, we certainly LOOK like an Irish family!
THE SMELL OF PEAT
As a perfect augmentation to our history lesson yesterday, the home we're staying in is a blend of old technology and eco-friendly modern practices which are in themselves an excellent lesson for all of us.
The house has central heating, but it's a BIG house with 19C inefficiency, so our host family heats the living room and kitchen with burning stoves.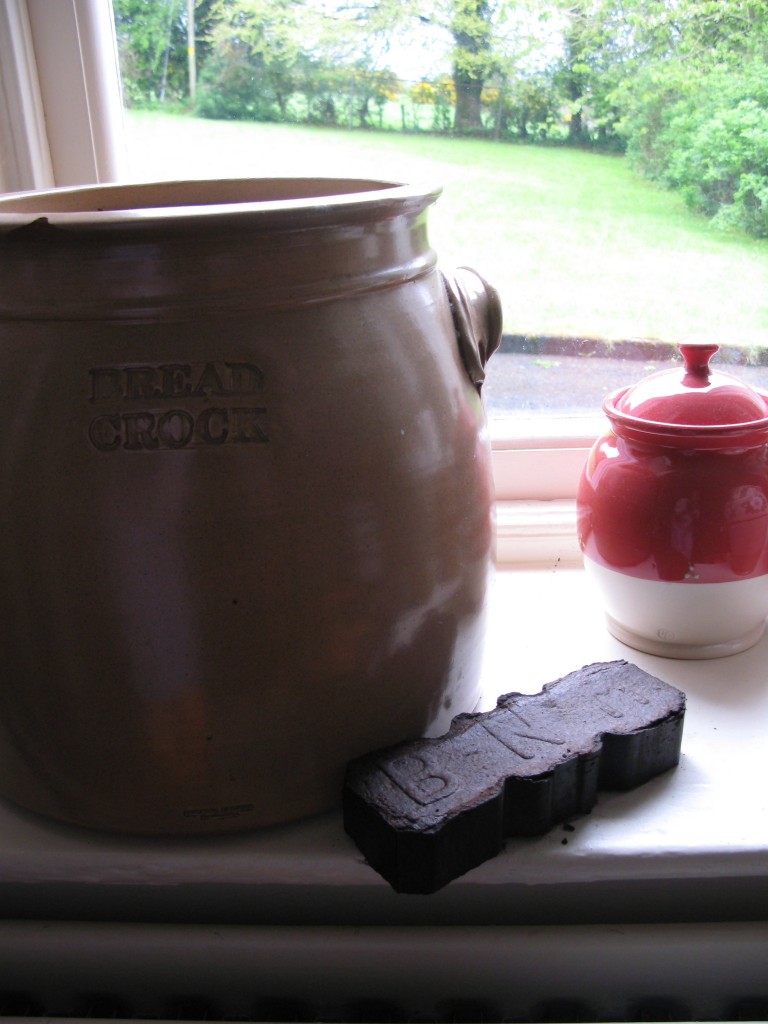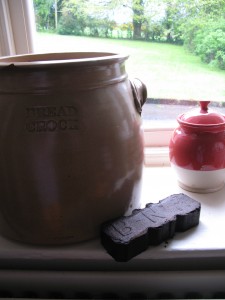 They don't burn wood – they burn long bricks of peat wrapped in a layer of charcoal – with additional charcoal chunks tossed in when some more immediate warmth is needed.
The fires have to be de-ashed a few times a day, and if they're not started (or revived) early in the morning we have a very cold kitchen to eat in. Peat and charcoal have to be carried in by one of the kids regularly.
The kitchen itself is divided so the refrigerator & cooktop is in one room, the sink in another, and the 'warming stove' in a third.  Cooking dinner is like running a relay, no microwave here! 
Thank heaven for M&S prepared dishes or we'd be spending more time than we'd like cooking, or more money than we'd like eating out!  We're not lazy, but it IS our holiday…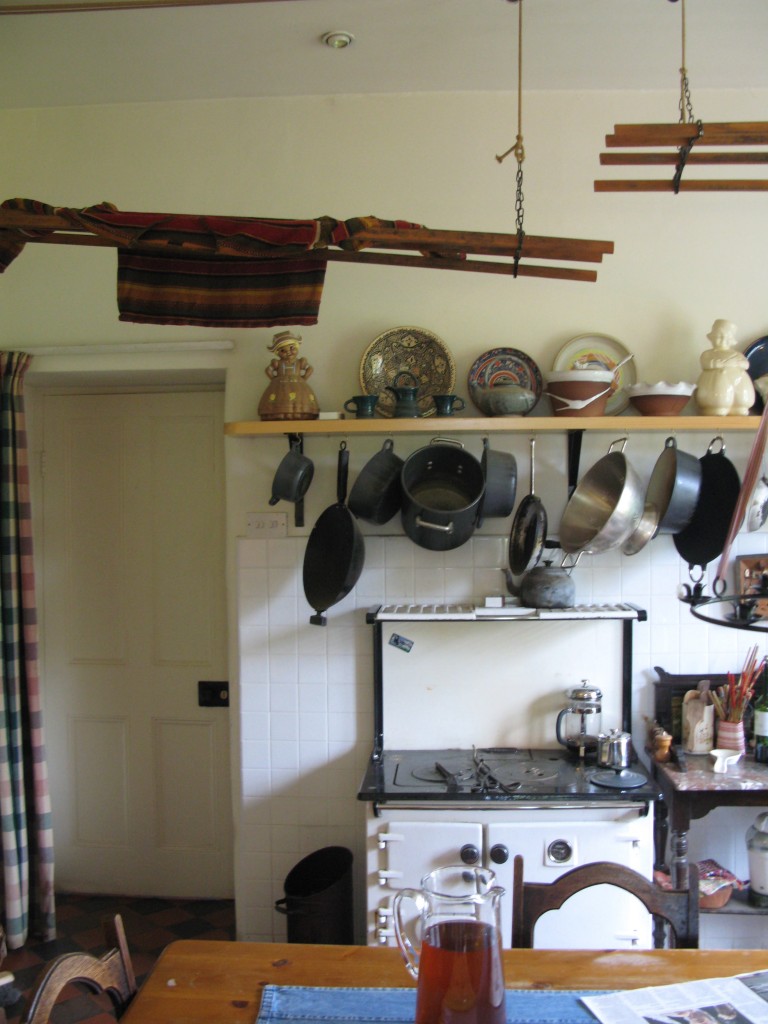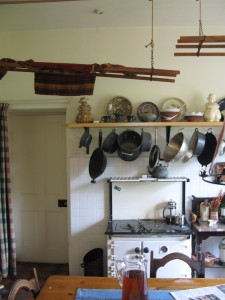 There is a washing machine, a nice one, but our hosts use Laundry Balls instead of detergent (they kindly left some detergent for our American needs, we're giving both methods a try…) And they have no dryer.
Clothes are washed and spun and hung above the kitchen stove, where in about 12-24 hours they're dry and peaty-fresh.  It certainly makes one think twice about wearing a shirt only once – not a bad lesson!  We may put a laundry line on our back deck when we get home (but not inside, we lack the big old-fashioned kitchen! with room for clothes!)
RESIDUAL NERVES
Perhaps it's like the physical sensation after taking a long, long walk, or a hard bike ride, when 30 minutes later your body kicks in and THEN you start getting hot all over and sweating.  Delayed physical response.