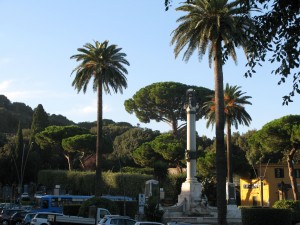 I'm home!!
It took me a few days to get my internal clock back to St. Paul time, and I'm not entirely certain I'm there, but I'm feeling more 'present' every day!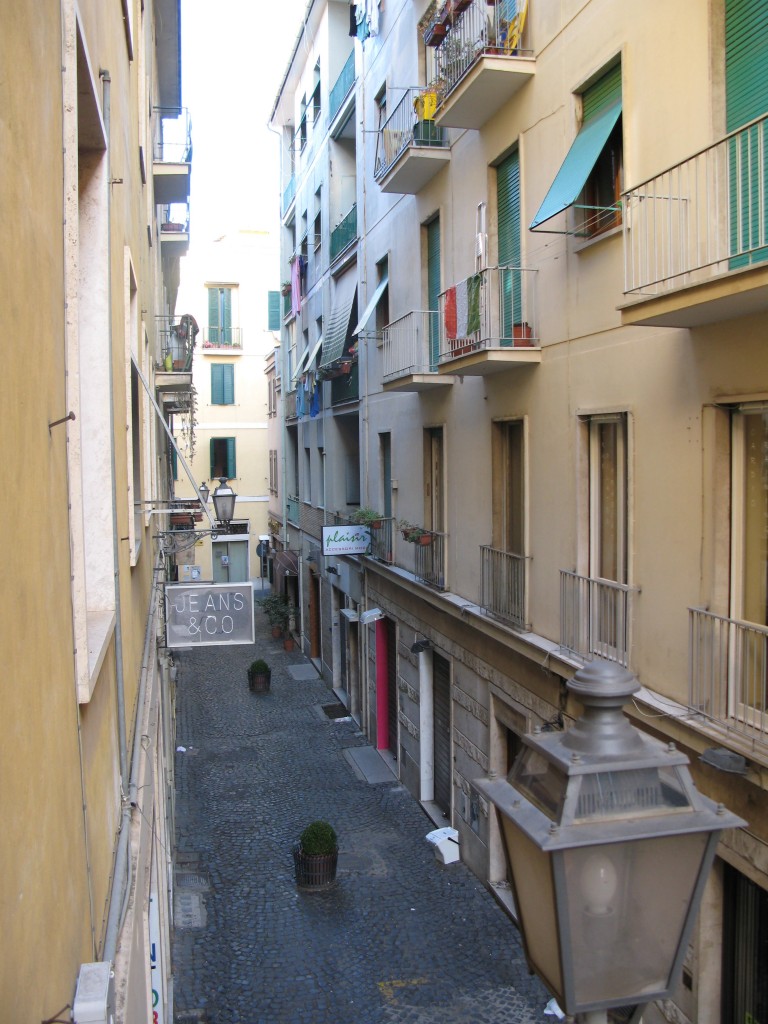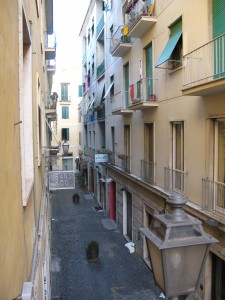 Italy was absolutely amazing.  Frascati, the town where our tour stayed, was a beautiful, hilltop, sun drenched maze of cobbled streets and shuttered windows.
We stayed at the Hotel Colonna, which was much nicer than any of the pensiones I was able to afford the last time I visited Italy 30 years ago!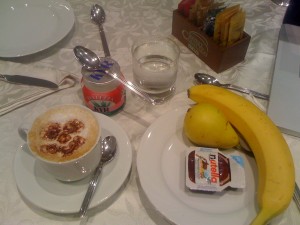 Each morning breakfast was laid out for us – a full spread of fruit, yogurt, breads (but not for me!), juices and water, a HUGE tea selection AND any coffee drink that we might want.
I'm not a huge coffee drinker in the morning, but I did allow myself a few cappuccinos while I was there!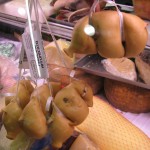 After a few days the coffee became a bit too much for my system, so I retreated back to my world of tea, but I enjoyed my trip to coffee-land!
I am not sure how Alanna did it, but the Tactile Travel group was diverse enough to be absolutely fascinating, similar enough to create very good friendships, with each individual bringing a great deal of enthusiasm  to our entire experience.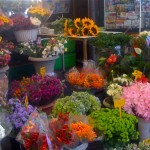 She says this is how all of her tours are, which is pretty amazing!
I arrived later than the rest of the group and jumped in with both feet on my first teaching day showing everyone the finer points of entrelac (using my charted entrelac handout) and discovering what other techniques they'd like to learn in future teaching sessions.
The group was exceptionally skilled.  In every group there are very fast learners, and folks who digest all the information at a more measured pace, which was certainly true here.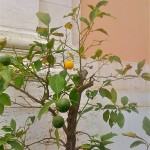 But – as usual – the folks who take their time learning the techniques seem to work on a deeper level, so everyone gathers a great deal of information.  We all learn, some get it at once, and some get it at last! It's simply the distribution of information that changes from student to student.
But my teaching was not the main reason folks traveled halfway around the world – ITALY was the reason!
The relaxed Italian attitude of la dolce vita is a life enriching experience.  Each conversation, meal and moment are enjoyed to the fullest, which is an extraordinary thing.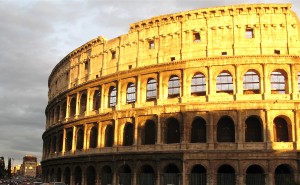 This attitude also kept Alanna on her toes, matching our group size to available transportation and taking the steering wheel when necessary (she's QUITE a good driver!) Alanna was constantly revising our itinerary so our group could get the most out of our time in Italy.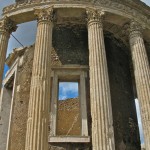 Folks were flexible, and they weren't disappointed.  So much can happen on a trip, but having a flexible attitude and a good sense of humor brings it all back to a joyful place – which is where we found ourselves again and again!
Our group was FUNNY!  Each person was so full of laughter, so full of fun, and we played off of each other – encouraging our silliness – in a wonderful way.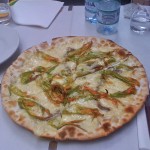 There were 3 "couples" – two friends, a mother/daughter and a husband/wife – and a solo traveler (like me!) so we sort of hooked up together for some stuff.
Imagine my surprise and joy when I discovered that Robin & Jack, the husband/wife duo, live near me in Minnesota!  We hit it off beautifully, and I hope to introduce them to the entire Modesitt-Landy clan in the near future!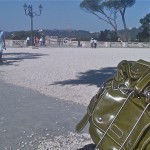 I'm hopeful I'll get to see Rosie & Linda, two friends who took the trip together, at Knitters Day Out in Pennsylvania next weekend!
I was thrilled to see that my friends Jill & Sheryl (daughter/mother) who I stay with when I'm teaching in their home towns, were on the tour. 
They both suffer from wheat sensitivity, so I wasn't the only gluten free diner for most of our meals!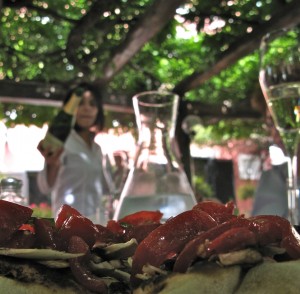 Rounding out our tour was Katherine, a lovely, funny, unexpectedly scintillating knitter from Washington, D.C.  I loved spending time with her, I only wish we could have arranged it to 'do' Rome together for a day before I fly home!
The food was tremendous – molto delizioso – and the greatest surprise was that when I got home I'd actually lost a bit of weight!  It certainly wasn't for trying!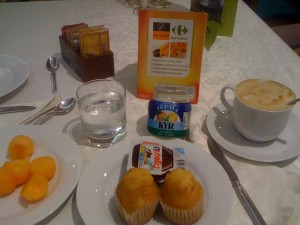 Not eating wheat while in Italy may have helped, but I did have some pretty amazing gluten free pasta (Jill told me that 30% of all Italians have some form of celiac) and I did NOT want for food at any time on the trip!
At one point Sheryl and I escaped to a grocery and came back well stocked with gluten free goodies (croissants!!) which became a welcome part of our prima colazione each day!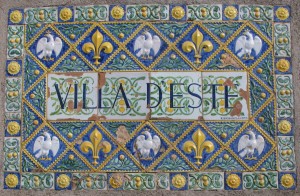 Along with the scheduled group trips, we each took separate and small group trips to Rome, Ostia Antica, or just walking – or, given the main export of Frascati, stumbling – around in the beautiful village.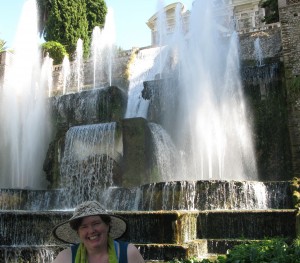 I didn't go on all the day trips, I enjoyed being with the group, but I also was happy to have some me-time to recharge my batteries so I would be a more pleasant traveling companion! I'm an extrovert much of the time, but I have enough introvert tendencies that
I really do need my alone time if I'm going to be fit company!
I heard from the everyone that the trips I missed were absolutely amazing, and based on the day trip to Villa D'Este in Tivoli which I did participate in, I would believe it.
ME Time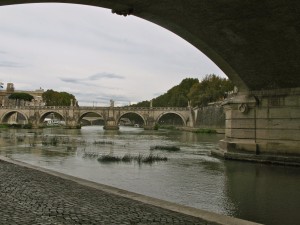 While the group visited a villa on Friday, I took time to gather my thoughts, take a train into Rome, and rented a not-great bike near the Coliseum and rode over 13 miles.  Absolutely amazing.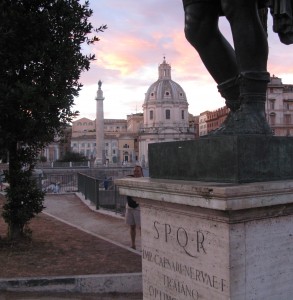 I was on a wild goose chase for a restaurant that had gone out of business, but having a goal allowed me a sense of direction.  I enjoyed myself on my wild ride more than I had in months!
I'd read that Rome was a difficult on a bike, but I found it to be a very good biking city.  There are a lot of scooters, and therefore the traffic is used to small, quick things darting in and out of the way.  As long as I rode intelligently, signaled, stayed to off roads where possible and bike lanes, I was golden!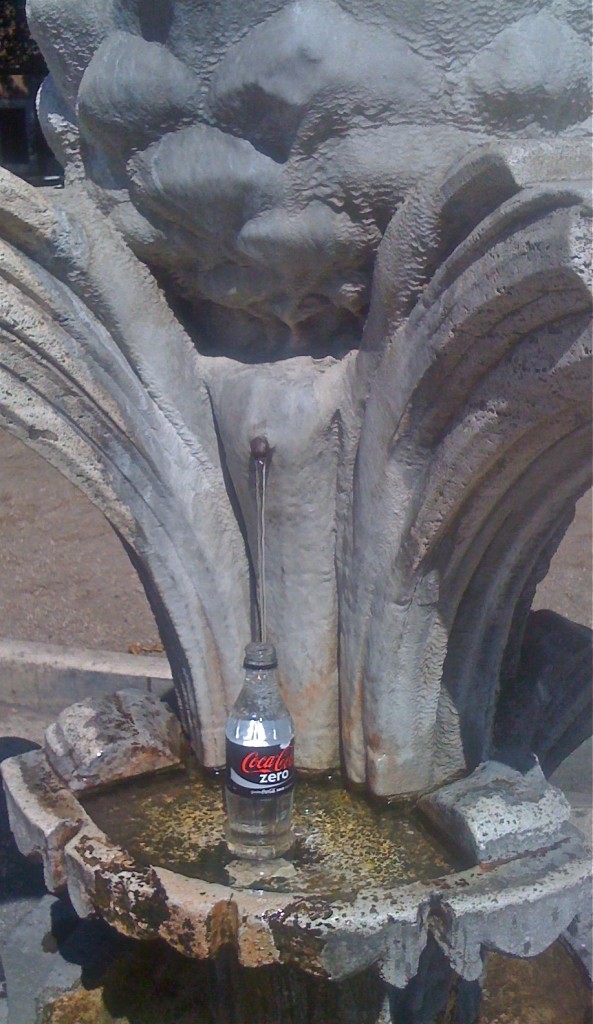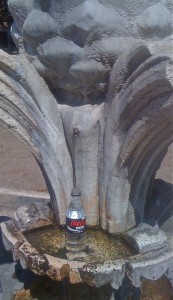 Unfortunately, in two bike rentals I blew two tires.  Whether that's a commentary on Rome's streets or my weight, I'm not sure, but with my blowout in Scotland that makes me a triple threat.
There are small fountains, like constantly running hydrants, all over Roma.  The water is clear and cold and sweet, and my bottle was seldom empty.  Most welcome was the fountain on the Via Garibaldi at the top of a LONG stairway (I carried my bike up) where I drank about 3 bottles full.  I had such a hard (read, sweaty) ride that I felt like I drank my body weight in fountain water, but I saw more on that ride than I ever would have with a group or on a bus tour.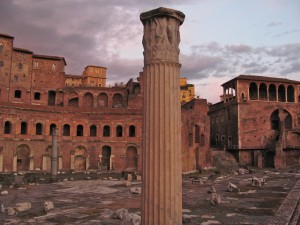 As a doctor recently pointed out, I'm not fit.  Well, not perfectly fit, but I'm doing better than I was… I get around.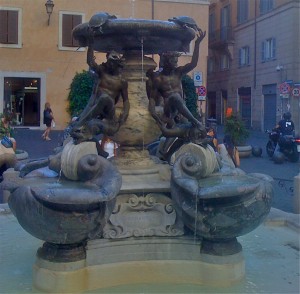 I'm an almost 50-year-old, overweight Minnesotan.  If I can handle the hills on a bike in Rome, there's a good chance that many other folks can, too!
A bike is a great way to get the 'lay of the land' – to get a sense of the scale and layout of a city – and the €10 I spent on the bike rental that Friday was some of the best money I spent!
The next day, Saturday, our entire group went into Rome for some button and fabric shopping, some eating, and some walking around.  Part of our group then visited the new MAXXI museum and had a feast of contemporary art.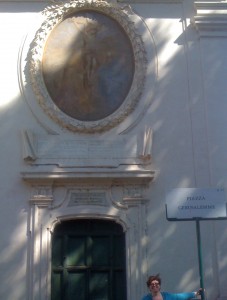 Jill, Sheryl and I sought out a wonderful gluten free pizzaria, Voglia di Pizza (nom, nom, nom) shopped, and took a walk through the Jewish quarter.
We also got a bit – ahem – lost (entirely my fault) but a happy cab ride later and we rendez-vou'd with the group at the lovely yarn shop Pippi Calzelunghe Roma.
See my last blog post for more details…
TEACHING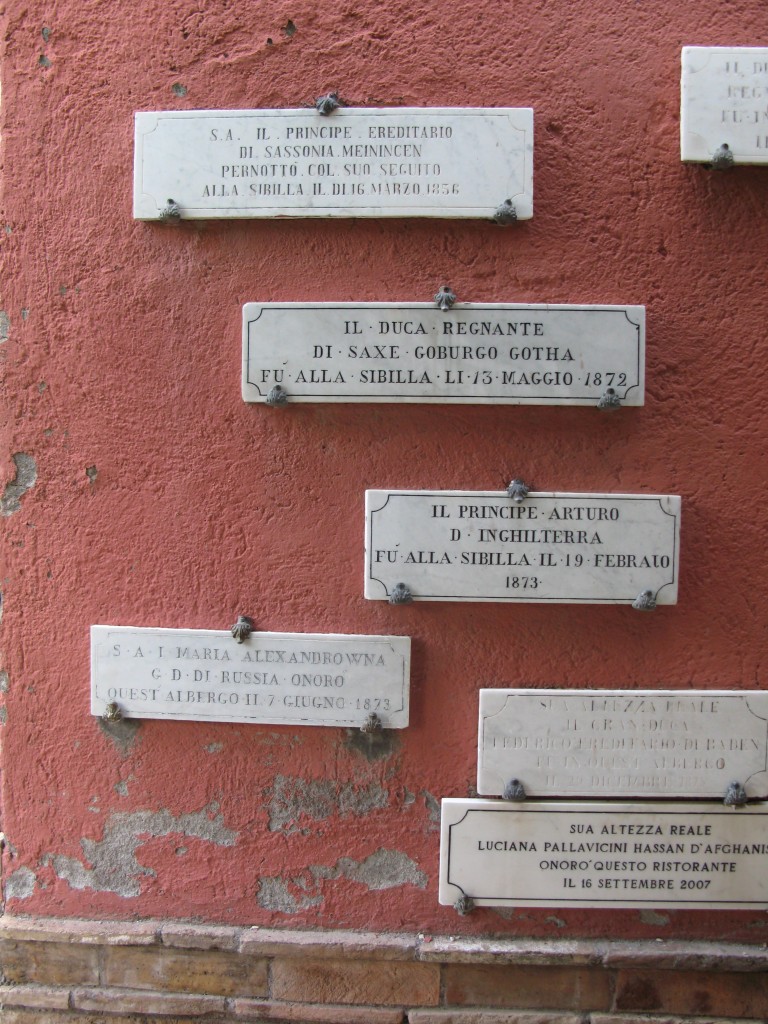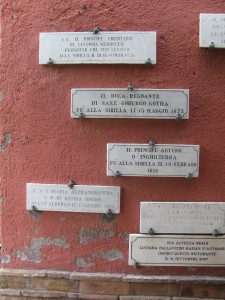 Sunday was more teaching – a morning class, then a few hours in the afternoon – covering some tips and tricks and fun stuff.  It's always odd to teach to a smaller group of accomplished knitters – I don't want to teach down to anyone, but I want to make sure everyone gets something that's new and exciting to them!  I tried – and I think I succeeded – in giving everyone a little something new for their various knitting toolboxes.
I tried to spend one on one time with folks who wanted/needed it – I let everyone know that I was available at any time if they wanted to stop by my room or grab me if they saw me lounging in the piazza.  A few took me up on it, but I always walk away feeling like I should/could have done more.  I guess that's what keeps me hungry for new techniques to share with my students!
MORE ROME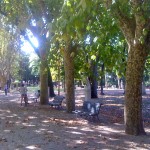 Monday evening a tour was scheduled for our group to travel around Rome by van, guided by Alan Epstein (author of the book, "As The Romans Do") but the finalized plans were up in the air (the availability of promised, reserved tour buses was a constant headache for Alanna!)
There was a question as to whether the bus would be large enough to accommodate our group PLUS the guide & driver, and I didn't want anyone feeling uncomfortable (either physically squeezed, or feeling bad that I couldn't fit into the van…)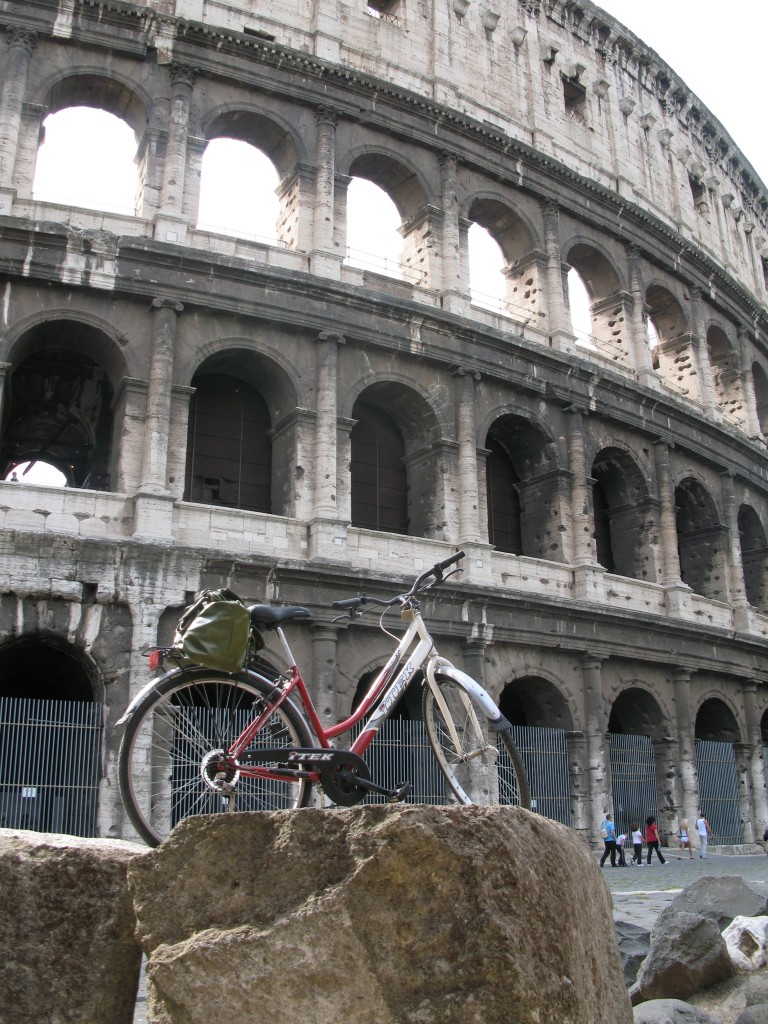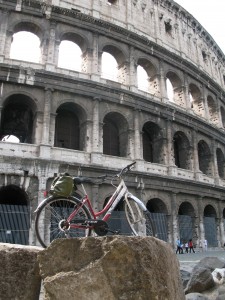 So after teaching in the morning I headed off to Rome where I'd arranged to rent a second bike, this time with a more reputable bike rental place, accompanied by Jill – she was ALSO dying for a good ride!  We rented from Top Bike Rental, and I cannot recommend then highly enough!
Our bikes were excellent!  Well maintained, all gears worked great and we had helmets, a lock and a cable.  All for €13 per person for the full day.
We arrived very late and the proprietor felt badly that we'd only have half a day.  He suggested that if we had a safe place to lock the bikes up all night we could keep them until midday the next day.  SOLD!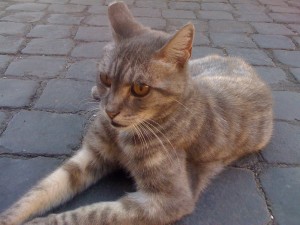 Of course, that meant that we had to make sure we caught the 'bike train' back to Frascati and could not return with the group as our bikes would definitely NOT fit in the van (we weren't even sure if we would!)
So off we headed, all over Rome, having the most MAGNIFICENT ride!  We headed to the Coliseum, along the Circus Maximus (watch my wheels, Jill!) then down the stairs to ride along the Tiber River.  As in St. Paul, there are metal gutters along many stairways to allow folks to roll bikes up and down easily – yay!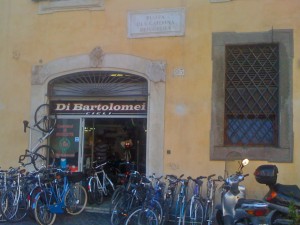 But once we hit the river-ride, I had a blowout and we were reduced to limping our bikes back to the bike rental place.  On the way it occurred to both of us that there was NO need for Jill to go back with me, that she could ride around and have a great time on her own, so we split up with a rendez vous point of Voglia di Pizza.
Off she rode, I waved goodbye and turned a corner and happened right upon a – BIKE SHOP!  And not just any bike shop, but Bartolomeo!
For €5 my tube was replaced (I was happy to pay that rather than walk uphill 2 miles to the bike place) and I was off again with an hour to kill before meeting Jill!
Life is good when fortuna smiles on you!

We ate (desserts!) and rode and shopped and ate and shopped – what a great day!  Then we rode over to the La Taverna dei Fori Imperiali, where the group was meeting for dinner, arriving at around 8:30pm.
We'd been texting folks in our group all through the day, updating them on our change in plans (overnight bikes) and checking on their progress.  As the last train for Frascati was leaving at 9:52 and the group was due to arrive at the restaurant at 9:00, we were terrified that if we waited to eat with everyone we'd never make our train.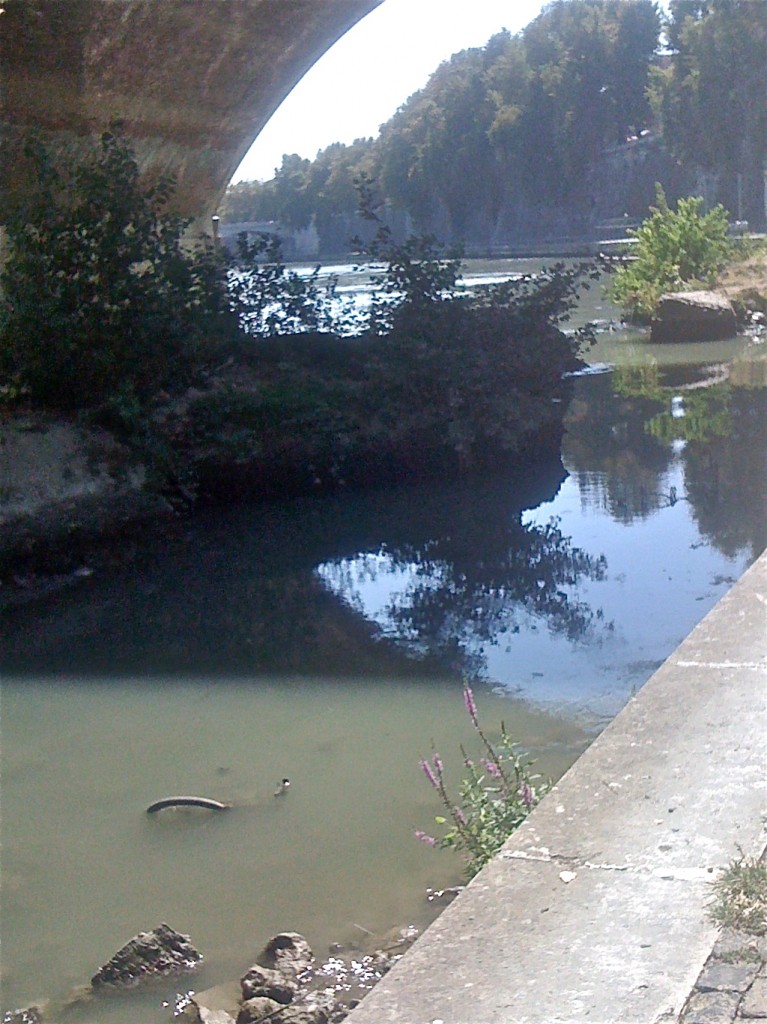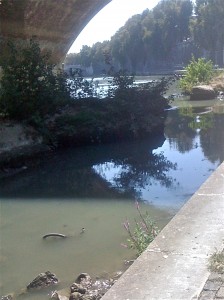 So we ate early!  The restaurant treated us like royalty – we ate alone at a HUGE round table for 9 – and had a magnificent gluten free dinner.  YAY friendly, amazing Roman chefs!  We were just finishing dessert as the group arrived and could only stay with them for 15 minutes.  We thought we'd allowed a good amount of time to get to the station, but one wrong turn + one HUGE hill + two very full bellies made the ride much more exhausting than we'd expected.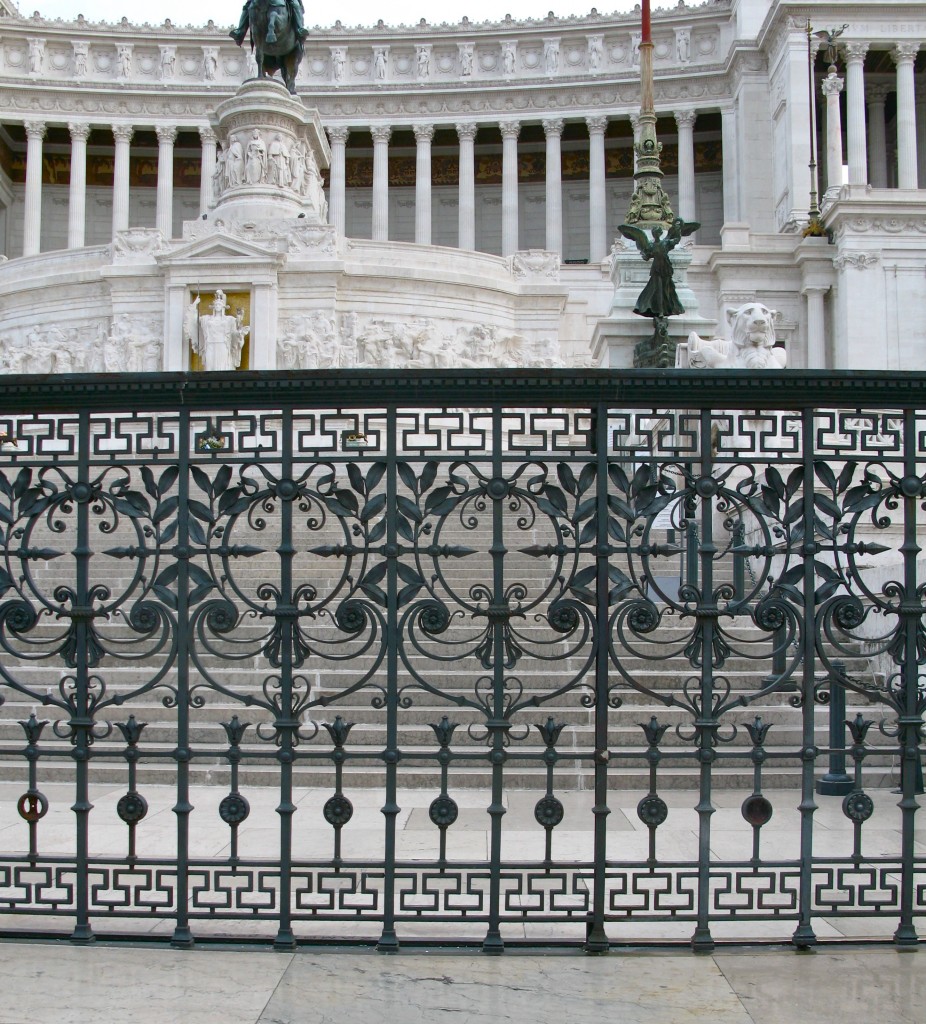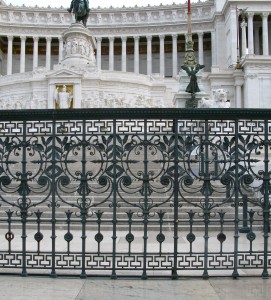 But we made it (whew!) and immediately collapsed into our train, the bikes stowed in their little holders, our happy full bellies finally able to rest.  What an amazing day!
The hotel staff was kind enough to allow us to park the bikes in the garage.  It was quite a run – literally a run – to the garage.  The clerk ran ahead and Jill and I biked to keep up, it was some kind of crazy midnight running-of-the-bulls and we giggled like hyenas (including the clerk!)
The next morning, bright and early, Jill and I biked to the station and caught the 9:30 to Rome.  Other members of our group were on the train (we didn't see them until we got off!) and they headed from Rome off to Ostia Antica.  I was sorry to miss that non-official trip, but we had bikes, and the bikes were calling our names!
VILLA BORGHESE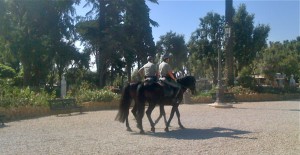 If you do get a chance to bike in Rome, GO to the Villa Borghese park!  It will be one of the best things you'll do!
The closest I can find in comparison would be Central Park in NY – and we found the equivalent of the Literary Walk up by the Pincio area of the Villa Boghese Gardens.  Amazing, beautiful, wonderful!  And if you don't already have a bike, you can rent one there!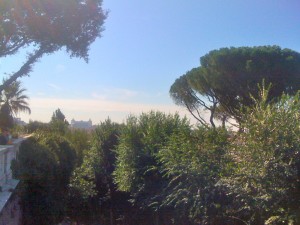 Of course we had to stop and have a Caffe Latte Freddo and some chocolate (keeping up our strength!) before riding down to the Piazza del Popolo, and then heading up the Via Flamina crossing to a point where I'd discovered a slightly scary-steep ramp down to the Tiber edge path.  No walking/carrying our bikes down THIS time!
Ride by the Tiber.  It may seem touristy, but it's wonderful.  And I saw a LOT of broken glass (maybe THAT'S what happened to my tires?) so be aware and be careful.  But it's a lovely, rather isolated place to be while still in the middle of everything, and the views from the river edge are quite wonderful.  Just amazing.  And no blow out that day!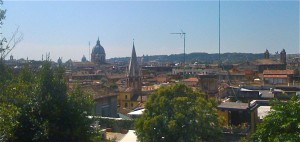 Extra bonus for us, when we decided to walk our bikes back up to street level we were right by the Tiber Island, where the stairs are not steep and the metal bike gutter is far enough away from the wall that rolling them up was a breeze.
A bit more riding, just to get ourselves back to the bike rental, and then we were on busses or walking for the rest of the day.  More eating, more shopping, more fun – wonderful!
The train back to Frascati was an adventure (my bobble head gladiator fell on me…) and then finally home to shower, check email, and meet the group for our last, sensational dinner at – well – I don't remember.  But it was fun and delicious and wonderful.

Just like Italy!