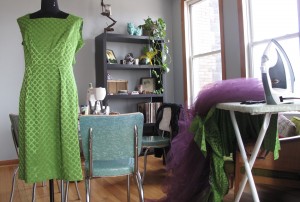 It's been SUCH a busy week – lots of work combined with lots of family time (kids were off school last week), throw in a road trip to Chicago (12 hours of driving in 2 days) and the resurgence of the Chest Infection Of Death, and you have a small idea of why I haven't blogged for a week.
Oy.
Some cosmic gig-switch seems to have been flipped and in the past week I've received more invitations to teach around the country, and sold more designs to publications than I did in the previous three months.
Why?  Well, Spring is here, there's always a bit of buzz in the Spring.  And I feel the knitting / fiber world is having another swell of interest (happy to ride that wave!)
I've also been putting myself out there more, letting folks know that I'd like to teach again and that I'd like to design more – it doesn't hurt to let folks know I'm open for business!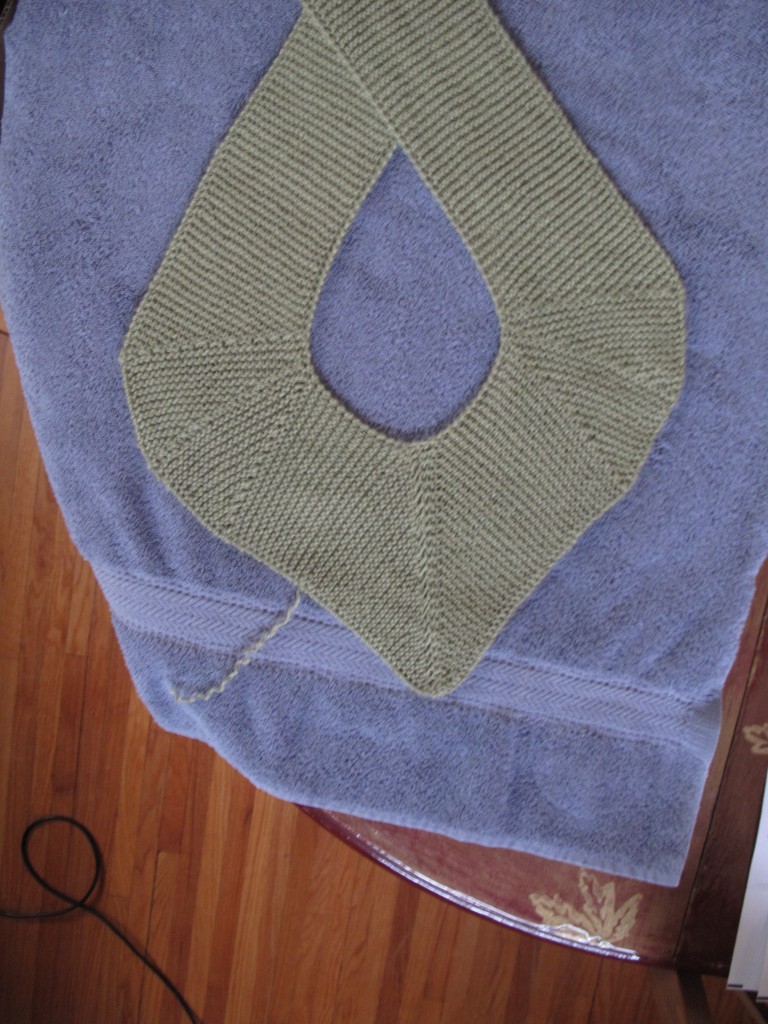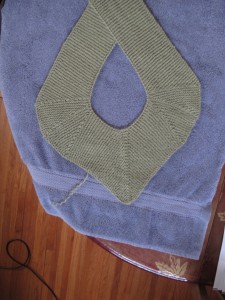 I just finished up a garment I'm calling a "Multidirectional Kimono" which is put together almost like a puzzle.  I'm hoping the instructions I've written will be clear, and will also inspire folks to work through the garment step by step.
The yarn I received for the project was a bit thinner than I'd anticipated (I swatched in a worsted/aran weight) and it proved to be one of the more unforgiving yarns I've worked with (any misstep and the yarn let me KNOW how unhappy it was!)
I did a good amount of ripping out before I realized that no matter HOW carefully I set my tension, the yarn was just going to pout every now and then.  And garter can be unforgiving sometimes…
But now that pattern's been written, I've emerged from "math hell" (oh, crap, I have an article on "Math Hell" that I need to write!) and I wanted to poke my head up just long enough to post about a cool dress I'm creating.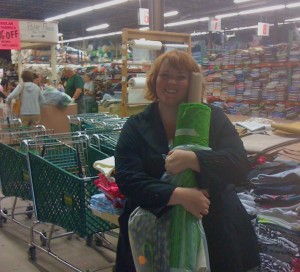 Wedding Bright
Last October my friend Kathleen was married, and I made her dress.  It was my gift to her, because I like to sew and because I like weddings.  When I learned my friend Amanda (of Lorna's Laces fame) was going to be married, I offered to make her dress, too!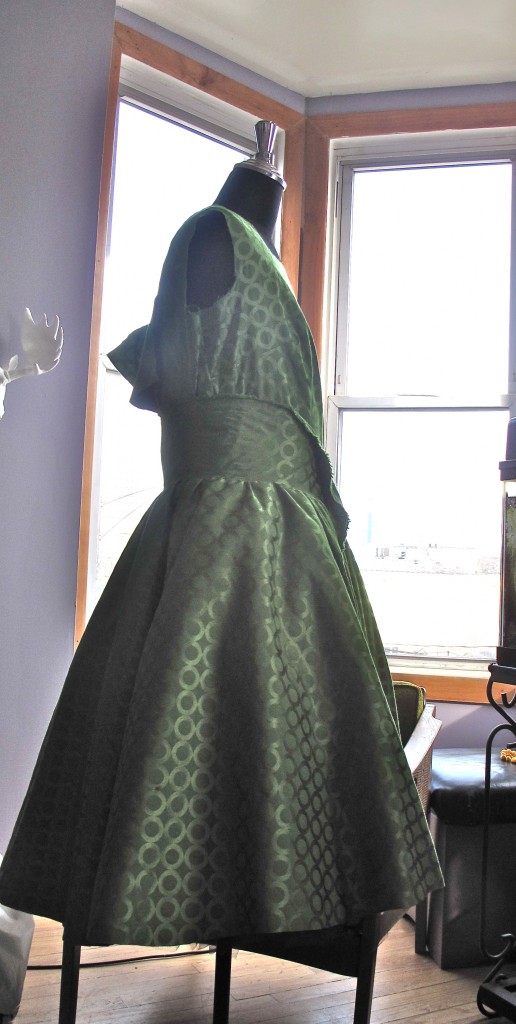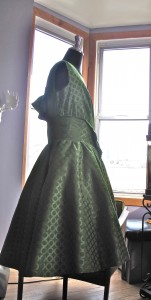 Amanda's a singular woman, individual and unlike any other person, and she loves green.  SO her dress will be individual, one-of-a-kind, and it will be GREEN!
It's going to be in two parts; A sleek, fitted under dress, very "Mad Men", with a square neckline and curve accenting darts.  When I fit the dress on Amanda this weekend (that was the reason for the Chicago road trip) I squealed with delight – it fit, and it fit WELL!
The second part of the dress is a very full partial over skirt with a few layers of rich, deep PURPLE tulle to give it oomph.  Amanda can wear the over skirt, or take it off – she has that option throughout her big day.
Hannah accompanied me to Chicago and while I sewed she and Amanda did touristy things and had a great time running around.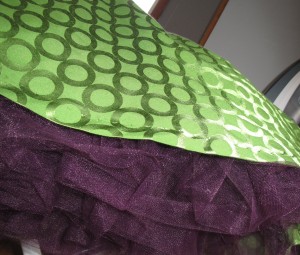 Derek, Amanda's squeeze, is currently in a play but although I seriously wanted to go, I was just TOO exhausted (the onset of the cold?) so I stayed home and knit while the kids ran wild and visited a diner.  Go on, I'll be fine here…
While I wait for yarn to arrive for my new projects I'll be working up a mitered stole for my own purposes.  Hmmm, what could those be?