Today is the eve of Rosh Hashana, the Jewish New Year, and the start of the period when we reflect on what we may have said or done that impacted others (and the world) in a negative way.
Ideally we identify these things, we atone, we ask forgiveness, we make amends and we move on.  Next week is Yom Kippur, the Day of Atonement.
I like to think of it as the day when, if we've examined our past year and have addressed outstanding issues with folks we've affected, we are finally at peace with the world around us.  We stand in unity with the world.  We are one.
It's the Day of At-one-ment.  I can just hear the Rabbi at our temple slapping his forehead at that…
I'm privately addressing the various activities that haven't been my proudest moments this past year, trying to honestly assess how my actions may have impacted on others (even when I wasn't aware of the impact!) and figuring how to take on the coming year so that I have fewer regrets.
I'd like to say, "Je ne regrette rien!"  However, being human, I do have regrets.
One thing I'm NOT regretting, though, is the delicious gluten free Apple/Honey/Pecan cake I'm baking up right now!  We're having dinner with friends and we're supposed to bring the dessert (and I think that jelly-fail-apple-syrup I made will be delicious on this cake, too!)
The recipe is below, and if you want to gluten it up just remove one of the eggs and substitute wheat flour for the gf baking mix.  Enjoy!
Apple Honey Bundt Cake
Original recipe from allrecipes.com, adjusted for gluten free by Annie Modesitt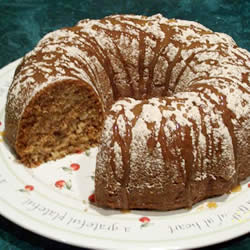 Tools
9" Bundt cake pan
Large mixing bowl
measuring cups & spoons
chopping tool for apples & nuts
Ingredients
½ cup light brown sugar
¾  cup vegetable oil
3 eggs
¾ cup honey
1 teaspoon vanilla extract
2 ½ cups gluten free baking mixture
1 teaspoon baking powder
1 teaspoon baking soda
1 teaspoon salt
1 teaspoon ground cinnamon
¼ teaspoon ground nutmeg
¼ teaspoon pumpkin pie spice
3-4 apples – peeled, cored and finely chopped
¾ cup chopped pecans
Optional
3 tablespoons Ground almond flour
¼ cup honey, warmed (extra)
Directions
Preheat the oven to 325 degrees F (165 degrees C).
Grease and coat a 9 inch Bundt pan with gluten free baking mix or ground almond flour (optional)
In a large bowl, stir together the sugar and oil.
Beat in the eggs until light,
Stir in the honey and vanilla.
Combine the dry ingredients & spices into the batter just until moistened.
Fold in the apples and nuts.
Bake for 50 to 65 minutes, or until a toothpick inserted into the crown comes out clean.
Let cool for 10 to 15 minutes before inverting onto a plate and tapping out of the pan.
Optional: Drizzle with warm honey before serving