Max and I are home – YAY!!  Today Gerry and Hannah arrive (I messed up when I booked the flights, entirely my own fault) but this arriving on different days is kind of cool, too!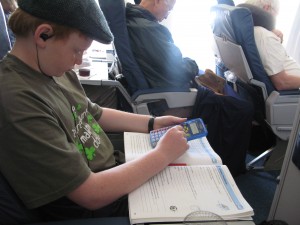 I've realized over this trip that traveling with the 4 of us can be like herding cats.  In traveling energy, Max and I are similar while Gerry and Hannah are two peas in a pod.
A very slowly moving pod.
Max and I get up early, travel quickly, and plan ahead.  Hannah and Gerry tend to want to sleep in, stroll, and let things take them by surprise.
These are two VERY different energies that can clash in an enforced high-pressure setting like international travel.  Thus, although I didn't consciously plan it this way, it's probably VERY good that our travel was divided in this manner.
PART I, THE WORST
Why am I starting with the worst?  Because it's like a spicy appetizer to a VERY satisfying meal.  Tomorrow I'll write all about the BEST stuff we did, but today is catharsis…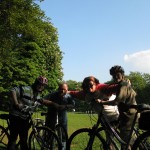 In some ways Dublin was the BEST of our trip (This Is Knit, The Book of Kells, biking in Phoenix Park – all AMAZING memories!)
And in other ways Dublin was the absolute pits.
Having lived in New York for 20 years, I understand the dynamic of a large city, how cramming so many folks into a limited space ratchets up the tension a few notches.
Each large city – no matter how wonderful – has it's own flavor with a slightly sour after taste.  To me, NY feels brusque, LA feels self absorbed, London feels a bit patronizing and Dublin feels like an inefficient-but-controlling nanny constantly telling one that they're being naughty.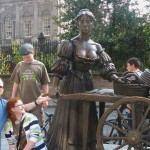 Naughty tourists.
Most of the negative interactions we had in Dublin revolved around us misunderstanding what someone in authority wanted us to do, and thus our inability to walk the invisible line they'd drawn.  See my post yesterday about the Nanny Hotel experience.
The wallet loss aside (which could have happened ANYWHERE) there seemed to be an almost – delight? – when our family was confused or had a hard time understanding something, and thus had to be admonished.
There was a, "Well, that is what happens to naughty children who don't follow the rules…" attitude in Dublin, which we hadn't run into at ALL in the rest of Ireland.
I'm sure it springs from the huge number of tourists who come through, and the Dubliner's exhaustion with dealing with them.
An example was when we visited the National Museum.  We'd looked forward to this, there were exhibits that interested EACH of us, and after seeing the book of Kells we wandered through Georgian Dublin over to the Museum.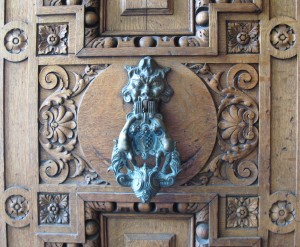 As you walk in the building you're overwhelmed with the architectural detail – the carving, the tile work, the interior of the entry dome, it's all AMAZING!  I love architectural detail, I take photos of parts of buildings all the time and spent a few minutes outside photographing the front doors before walking in.
What I didn't see was the hidden image of a camera with a line through it which was etched into a glass wall (seriously, it was HIDDEN behind a door.) No photography.
Now, I would NEVER photograph an exhibit unless I had permission or knew that it was allowed.  I wasn't in the exhibition area, I was in the gift shop area.  What I was interested in photographing was the tile in the floor.  But if no cameras are allowed, I totally understand and I'm happy to put the canon away.
Unfortunately, I didn't see the sign.  No one did.  NO ONE.
So when I pulled out my camera to photograph, I was yelled at.
"NO CAMERAS!" Very harsh, like the Soup Nazi.  SO I put it away.
But the fellow who'd yelled had to come over and say,  condescendingly, "You cannot take photographs in the museum, you have to put your camera away." (it was away)
But he wouldn't stop.  I don't know if he was making an example of me in front of the other visitors, or if it just made him feel good, but he walked over to the "no camera" etching (which was only visible once you were INSIDE the museum looking back out through the front door) and said, "The sign is right here, there is NO photography."
Thanks.  No pics.  I get it.
Once through the entry foyer we did what we usually do at museums; separated to view what interests each of us most with a 'meet up time' set about an hour later.
Now, I swear it was NOT my paranoid take on things, but I am positive that there was one guard who was trailing me to make sure I didn't whip out the camera and sneak a black market pic of a stair railing.  I'd go upstairs, there he was.  I went downstairs, there he was.  I watched a video, he was outside the theater when I left.  I went to the cafe to meet the family and get a bite, he was right behind me.  Very odd.  I hope he had a good time – I know I did!
One of my favorite places to eat are museum cafes.  Often the food is just wonderful, and it's usually not terribly expensive.  This cafe was strong on the great dishes, but the prices were higher than I'd expected.
They weren't listed on the items, they were posted clearly on the wall by the cash register, but I found it hard to match the long descriptions of the dishes with the written text.  Let's face it, reading a menu board, especially at a oblique angle, is NO ONE's favorite thing to do.
So I was totally unprepared that an entree for me, a few cookies and tea for 4 would total €36.  We put back the cellophane wrapped cookies (much to the disgust of the woman at the counter) bringing my chicken roullade and tea for 4 to €24.  Looking at the receipt I saw we were charged for something we didn't order, which further PO'd the cashier when we pointed it out (she looked at us as if we'd just made a big mess in her cafe – "Naughty, naughty Americans…")
However, the museum was AMAZING.  We could have spent days there.  The cases themselves were not labeled extensively, but there was very good text along each exhibit and the arrangements were very good.  I saw a WONDERFUL video episode from a series called "Legacy" (which I would LOVE to find and purchase!) and seeing the bog people close up was an experience no one in the family will forget.  Amazing.
I also saw a knit beret-type hat with a flat brim that had been found in a bog, dated to the 16th C.  It was definitely knit in the round.  Food for thought.
As we finished up at the museum and started to leave,  I asked one of the gift shop cashiers about the video,
– "Hi – I have a question; the video I saw about Vikings, would —"
– [clipped & short, interrupting] "'S'not available.  Don't have it."
– Okay.  Thanks very much.  Sorry I bothered you…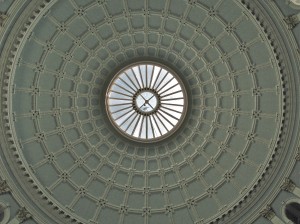 Just then Max looked up and saw a DUCK sitting on the glass in the oculus of the dome  and asked the guard if it would be okay if he took a picture of it.
Happily, the guard said, "Yes" so the kids snapped a few shots of the duck
(And in the process the kids got a nice shot of the ceiling for me, too!  A nice companion to a ceiling at Aughnanure Castle)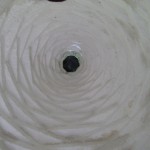 Unhappily, some other visitors saw Max with his camera, so they took theirs out, and were  swiftly deterred with a strong and snappish, "NO CAMERAS!"
Naughty tourists.
The duck was not admonished.